There are several poker table games that are popular at both live and online casinos. One of the most popular is Texas Hold'em Bonus Poker. Texas Hold'em exploded in popularity following the 2003 World Series of Poker Main Event win by Chris Moneymaker. Casinos began looking for a way to capitalize on this popularity while retaining a house edge.
This ultimately resulted in the creation of Texas Hold'em Bonus Poker. If you are a fan of Texas Hold'em, you will probably like this game. It does have a few differences from the standard poker game and we today we will teach you how to play Texas Hold'em Bonus Poker at online casinos.
Texas Hold'em Bonus Poker Rules
Texas Hold'em Bonus Poker looks a lot like the classic poker game but is played in a casinos style. As such, you are playing against the dealer rather than against other opponents. Bets are also static and you cannot bluff the dealer out of the pot.
The game starts by players putting up an Ante bet. There's generally a $1 minimum bet for this game. As the name of the game implies, there are also bonus bets you can make. The most common is the standard Texas Bonus bet which has a minimum of $1 and generally a maximum of $250. Some games have a progressive jackpot bet of $1.
After placing your Ante and Bonus bets, you will receive your two hole cards. Here you will need to decide whether to play your hand or fold. If you decide to play, you must make a flop bet equal to 2x your Ante bet. If you bet $1 for the Ante, you will bet $2 for the Flop bet.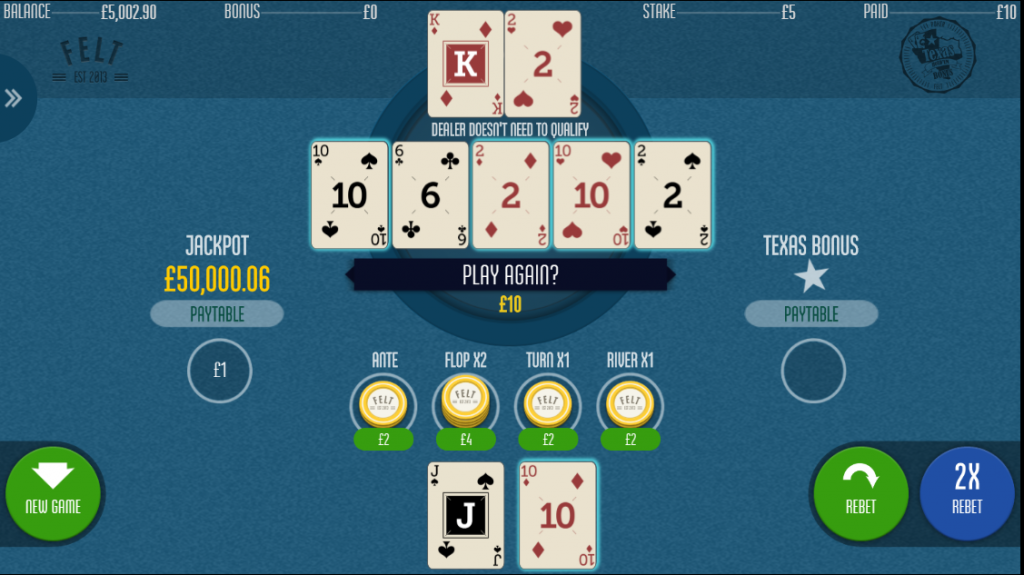 Note that once you place the Flop bet, you no longer have an option to fold. After placing your Flop bet, the flop is dealt. Now you can decide whether to pay the Turn bet or check. The Turn bet is equal to the Ante.
After your action, the turn is dealt. You can then decide to pay the River bet or check. The River bet is equal to the ante.
After your turn action is completed, the river is dealt and hands go to showdown. If your hand beats the dealers, you win!
Texas Hold'em Bonus Poker Payouts
When you win a hand of Texas Hold'em Bonus Poker without playing any of the bonus bets, you are paid 1 to 1 on your Flop, Turn, and River bets. Ante bets push. For example, if you Ante $1, your Turn bet will be $2. Your Turn and River bets will be $1 each.

At 1 to 1, you will be paid $2 on the Flop bet and $1 each on the Turn and River bets. This will return $9 on a $5 wager. Of course, the popularity of this game is due to the lucrative Texas Bonus and Jackpot side bets you can make.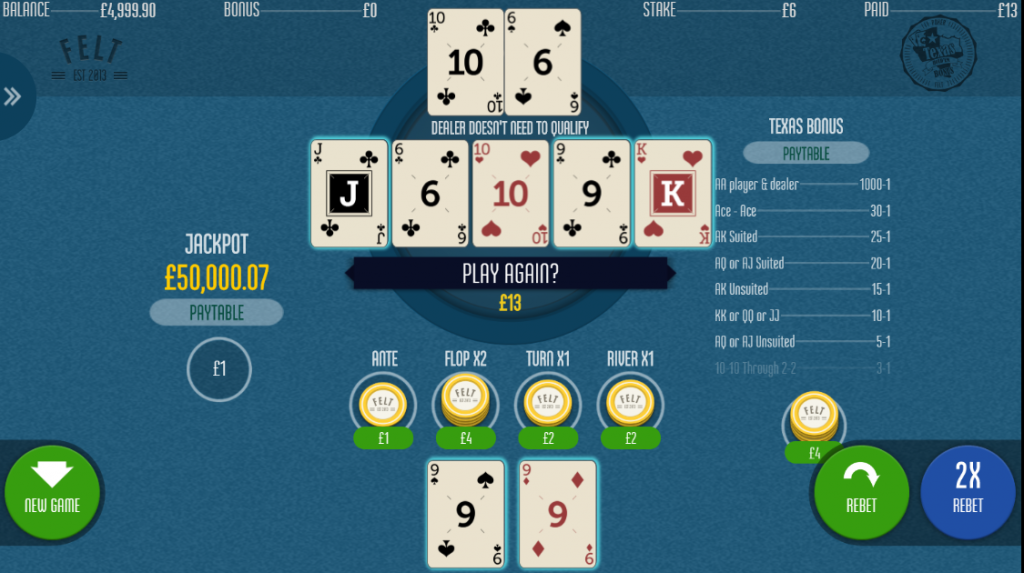 The Texas Bonus is the most popular bet and pays based on the hole cards dealt to you. Below is a standard paytable for the Texas Bonus bet:
AA to both Player and Dealer – 1,000 to 1
Pair of Aces – 30 to 1
A-K Suited – 25 to 1
A-Q or A-J Suited – 20 to 1
A-K Offsuit – 15 to 1
Kings, Queens, or Jacks – 10 to 1
A-Q or A-J Offsuit – 5 to 1
Deuces Through Tens – 3 to 1
The Jackpot side bet is tougher to hit because it is based on making a five-card hand using your hole cards and the flop. You must make at least three of a kind to hit the Jackpot side bet. Below is a sample paytable:
Royal Flush – Progressive Jackpot
Straight Flush – $2,500
Four of a Kind – $250
Full House – $100
Flush – $25
Straight – $10
Three of a Kind – $5
We generally don't recommend playing side bets of any type, but out of the two, the Texas Bonus is going to be the better bet. We recommend avoiding the Jackpot bet entirely.
Texas Hold'em Bonus Poker is available at US online casinos and online casinos around the world. It is one of the most popular online casino games and a great alternative to online slots.