Baccarat is a popular online casino table game at US online casinos. It is popular because it is easy to learn and great for those that like to bet streaks. There are many different forms of the game and today we will take a look at Super 6 Baccarat.
Super 6 Baccarat is a popular baccarat variant that you will find at some online casinos. Today, you will learn about the differences between the game and regular baccarat. You will also learn best baccarat strategy for this game.
Super 6 Baccarat Rules
If you have never played baccarat before, we recommend reading our article on how to play baccarat before continuing on. It will give you the basics necessary for playing the game. For those already familiar with how to play the game, Super 6 Baccarat will look very familiar to you, but you will instantly notice a few differences.
In addition to your standard player and banker bets, you will notice a few additional bets. Some version of this game will feature bets for player or banker pair. If you bet banker pair and they are dealt a pair of eights, your bet wins with a payout of 11 to 1.
The biggest difference between this game and standard baccarat is the Super 6 side bet. When you place this bet, you are betting that the banker will win with a total of six. Any other total and this bet loses.
When you manage to hit this bet, you will be paid 12 to 1 on the bet. Also, in Super 6 Baccarat, when the dealer wins with a six, all banker bets are only paid at .5x, meaning a $5 bet will only return $7.50 rather than $10.
Note that some versions of Super 6 Baccarat may not include bets for the player or dealer pairs.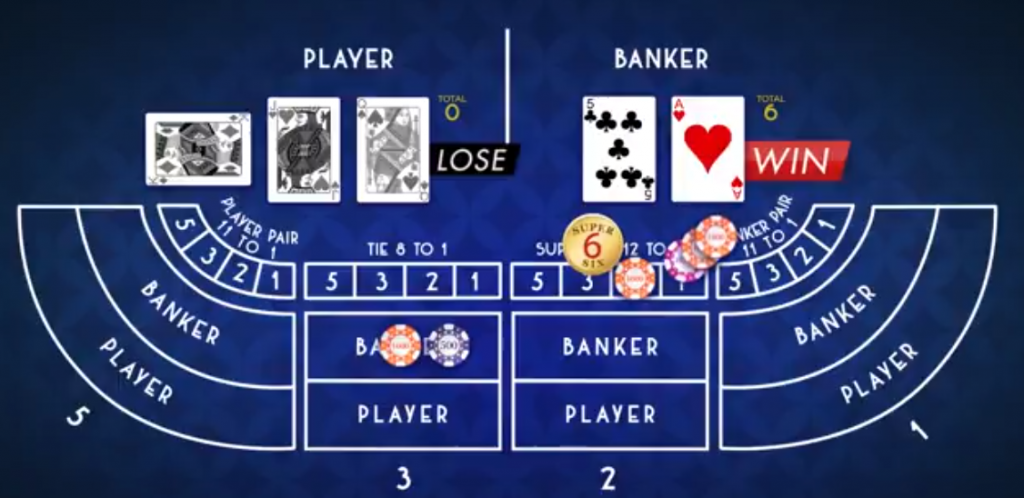 Basic Strategy – Avoid the Side Bet in Super 6 Baccarat
When Super 6 Baccarat was created, the Super 6 side bet was devised as a way to increase house profits. That's because the banker will only win with a 6 about 5.39 percent of the time. This equates to a house edge of 29.98 percent. The house edge on the pair bet is 10.36 percent, meaning the Super 6 bet has three times the house edge.
If you are playing Super 6 Baccarat looking to give yourself the best chance at consistent wins, then you have to completely avoid the Super 6 Bet. It is a sucker bet that will drain your stack. We also generally recommend to avoid the pair or tie bets as well as they also have a high house edge.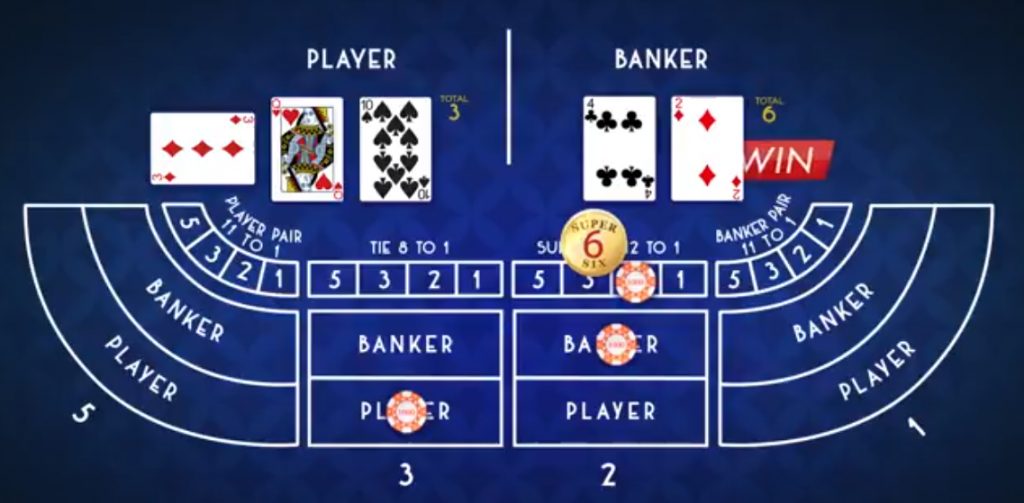 For those that have a little more gamble in your, we still recommend to stay away from the Super 6 bets and instead play the pair bet. The tie bet has a 14.4 percent house edge.
Super 6 Only Recommended to For True Gamblers
Super 6 Baccarat can be found at various online casinos around the world but is really only recommended for those that like a little more risk in their game. Due to the high house edge of the Super 6 bet, it is not recommended for those looking for consistent wins.
Instead, we would recommend sticking with standard baccarat and following the strategies we recommended in our introductory article on the game. The great thing about baccarat is that you don't have to understand the rules of the game to play. However, you do need to have an idea of the house edge of your bets. That way you can make the best decisions and give yourself the best chance of winning at the game.