Double Ball Roulette is a variant of roulette that you will find at some US online casinos and online casinos in other parts of the world. The game is European Roulette with a twist. There is a unique twist to this game that allows you to shoot a second ball that can potentially pay up to 1,200x your bet.
There are also a few extra bets you can place in this game known as Neighbours bets. Today, we will go over how to play Double Ball Roulette.
Double Ball Roulette Rules
Double Ball Roulette is a variant of roulette based on European Roulette but with a few extra twists. The biggest difference between this and other versions of roulette is that you are shooting two balls in this game.

The game starts like any other version of roulette where you place your bets before launching the balls. Your standard Inside and Outside bets are available along with a group of bets known as Neighbours bets. We will cover Neighbours bets in a moment.
There's one side bet you can place for this game known as the jackpot bet. You can bet between .10 and $1 on this bet. To hit this bet, both balls must land on the same number. If you're lucky enough to hit this bet, you will win 1,200x your bet.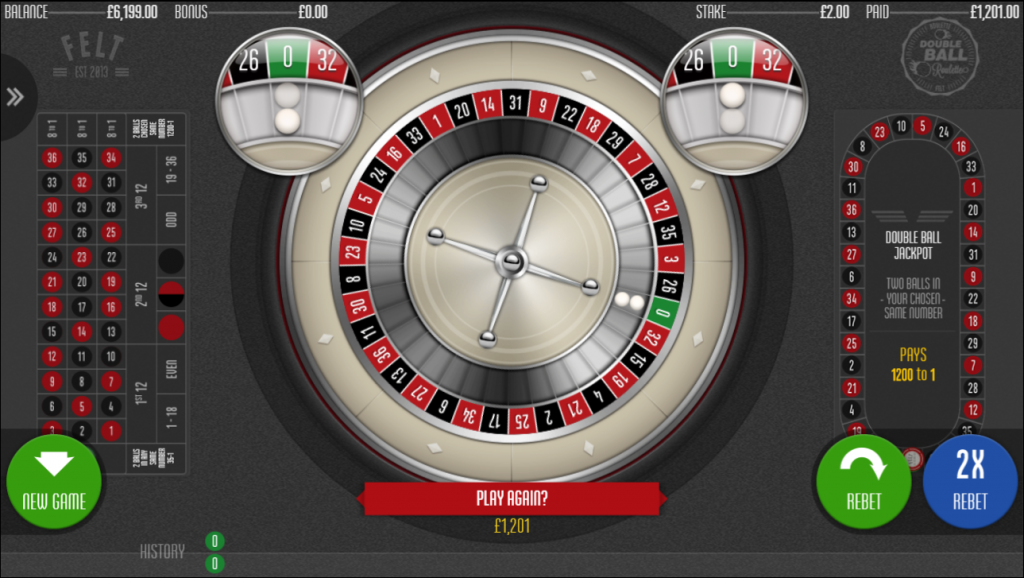 When testing this in free play mode, we bet 0 for the jackpot and was lucky enough to hit it for a $1,200 win. If only it were real money roulette rather than the demo, we could have taken a vacation.

The rules for this version of roulette is a bit different. For inside bets, you can potentially win on both balls. We placed three corners bets and spun the wheel. One ball hit red 21 and one red 18. We had placed a corner bet on 17, 18, 20, and 21 and ended up winning 3 to 1 on both balls. If you make an inside bet, you only need one ball to hit your number in order to win.
Outside bets are different. For outside bets, you must hit both balls in order to win it. If you bet on black and one ball lands on red, you lose the bet. Unlike inside bets, outside bets only pay off once when both balls hit.
Neighbours Bets
Neighbours Bets are additional groups of inside bets you can make. If you click on the Neighbours button, you will be taken to a betting racetrack. Standard bets are in groups of five. Click on the number you wish to bet and you will also be betting on the two numbers to the left and right. For example, if you click on 0, you will also bet 26, 3, 32, and 15. When you make a standard bet, you are betting 5x your bet.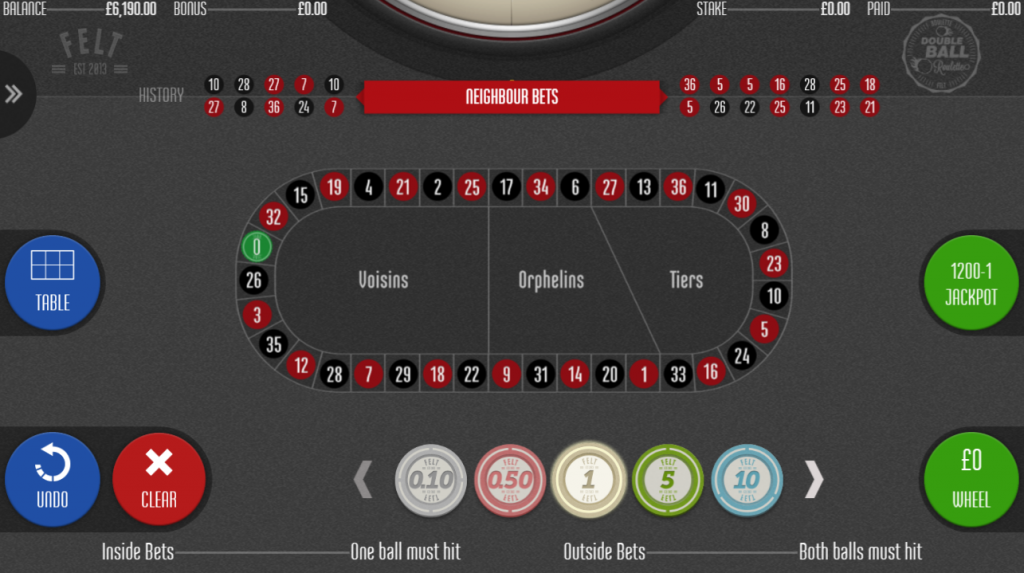 There are three additional bets called Voisins, Orphelins, and Tiers. Voisins are a group of nine bets, Orphelins is a group of five bets, and Tiers is a group of six split bets. The rules of the game will break down the individual bets for your game.
Once you go back to the main game to spin the wheel, your bets will appear on the main game board. Note, that Neighbours bets are all inside bets, meaning they can hit with either ball.
Fun Variant With Low House Edge
If you're looking for an online casino game with a lower house edge, than Double Ball Roulette may be for you. The edge on a single number inside bet is just 2.78 percent, which isn't as good as some blackjack games but is still better than some online slots.
Like most games with a side bet, we recommend largely avoiding the jackpot bet as it only pays when both balls hit the same number. We got extremely lucky to hit the 0 in the game and only did so because it was the demo version. Normally, it is a bet that should be avoided.
If you want to play this game for real money, limits are appropriate for all bankrolls with bets as low as .10. For those wanting a fun twist on the standard game of roulette, Double Ball Roulette is definitely worth checking out.