Caribbean Stud Guide – Free Games, How to Win, Odds & Payouts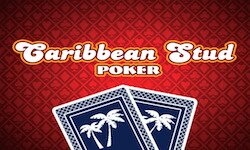 Caribbean Stud was invented in the mid to late 1980's. Since then, the game has been a favorite in land-based casinos. With the advent of the Internet, Caribbean stud became a standard inclusion among the table games menu of most online casinos. Here in 2021, real money online casinos offer Caribbean Stud for both dollar-players and high rollers. Today, we provide how to play Caribbean Stud, the payouts, odds, methods of cheating. You can also practise for free online below.
Microgaming Casinos – The free option on Microgaming casinos only works for those who haven't played for real money on that particular Microgaming site before. Players who start to pay real money for gaming won't be able to go back and play the free games anymore.
RealTime Gaming Casinos – If you're from the United Kingdom or most other places in Europe, then Microgaming or Playtech casinos are likely going to provide all the gambling opportunities you need. If you live in the United States, then the field of options is much more limited. That's where RealTime Gaming helps. RTG casinos offer Caribbean stud for freeplay or real money, so American casino game enthusiasts should be able to enjoy free gaming on about 60 to 65 different RTG sites. Seven different Rival Gaming sites offer similar play opportunities for American non-gamblers. Those are the best options for casino-style gaming for American and UK players, but let's take a look at some free options for people who don't want to register with a casino site.
Caribbean Stud Poker by Bob Stevenson – Bob Stevenson's Caribbean stud poker app as a beat the dealer mode, tactile buttons, and a progressive jackpots. Stats also show the total hands you've played and a best hand option. This free installation came online in 2011 and works for Android 1.6 and up.
22-in-1 Casino & Sportsbook – GApp Technology has a 22-in-1 Casino and Sportsbook application which includes a number of classic games, new games, and oddball options. Video poker, slot machines, and blackjack dominate the list, but players also get the option to play Caribbean stud, keno, baccarat, and red dog. Sportsbook betting is also available, with authentic odds and smooth gameplay. The current version is for Android 2.2 and up.
Grab's Caribbean Stud App – The mobile application design company Grab's marketing slogan for their "Caribbean Stud Poker" app states it's the only official app for the game. That might be the case as far as Facebook gaming goes, because users of this app who connect to Facebook receive VIP bonus chips and gifts for Facebook friends. The game itself has a 200:1 payout. Players need a 2.2 or later Android OS.
Classic Caribbean Poker – Classic Caribbean Poker is a creation of QiYo Creative Network Technology Company Ltd. This 6-deck game offers a 20,000 max chip stack and is available for Android 2.3.3 or later devices. Payouts in this version follow the standard pattern, with a royal flush paying 100:1 on the main game. Downloading the app is free.
---
Casino App Warning
Not all casino applications are the same. Our reviewers found retings for one Caribbean stud app where multiple players suggested the designers didn't know the hand ranks. Several complained they had winning hands, only to find they were losing. Another mentioned they won with 10-high against a pair of aces. Though you'd be more offended if this were a download you paid for, you have to be especially careful when choosing free apps, since the developers might not pay quite as much attention to detail. Read the reviews before downloading and go with the weight of the opinion–not just one well-written review.
---
More Free Caribbean Stud Games / Apps
Playing on Facebook, with mobile gaming devices, or at the real money casinos aren't the only options. Many gambling sites offer tutorial programs and Java script instructional tools to help new players learn the game. Money is on the line in a land-based casinos, so don't learn while you're playing for real money. Get an idea for the bets and what kind of return you can expect before stepping up to the Caribbean stud poker table at the live casino. The same goes if you're playing for real money at an online casino. Practice and learn for free, then decide whether Caribbean stud is the game you want to play.
Caribbean Stud Payout Table
Royal flush      100 to 1
Straight flush    50 to 1
Four of a kind   20 to 1
Full house          7 to 1
Flush                  5 to 1
Straight              4 to 1
Three of a kind  3 to 1
Two pair             2 to 1
All other             1 to 1
Caribbean Stud Glossary
Here are the terms you need to know before jumping into a game of Caribbean stud poker.
Ace-King – Ace-King is a five-card Caribbean stud hand. Ace-King is less valuable than a pair, but by virtue of containing both an Ace and a King is more valuable than a high card hand.
Ante Bet – Ante bet is the mandatory bet that starts the game and must be made before the hands are dealt.
Ante Box – All ante bets in Caribbean stud must be placed in the ante box, which is located in front of the raise bet box.
Raise Bet – Raise Bet is the area on the gaming surface, located behind the ante bet spot, where all raise wagers are placed. These wagers take place after the dealing of the cards. A raise bet is a wager meaning the player is not going to fold. All raise bets must be twice the amount of the ante originally placed to start the game.
Bonus Payout – A bonus payout in Caribbean stud is the amount of money paid to a player when he places a raised bet and the dealer qualifies. Bonus payout is not the same as the progressive jackpot payout in Caribbean stud.
Fold – In card games, a player folds when they choose to end the game rather than placing a raise bet to keep playing.
Progressive Bet – The progressive bet in Caribbean stud is the biggest difference between five-card stud and Caribbean stud. Progressive bets are placed before the hands are dealt and it means that the player wants to take a crack at the progressive jackpot. This $1 bet is always placed above the ante bet spot on the table.
Progressive Jackpot – In the casino, a progressive jackpot is any jackpot that builds up over time. These exist mostly in slot machine games, though games like Caribbean stud also offer progressive bets.
Progressive Payout Bonus – Progressive payout bonus is the amount the casino pays out to bettors who win the progressive bet.
Progressive Payout Schedule – This is another name for the progressive payout bonus, used in some casino Caribbean stud games.
Progressive Slot – This is another name for the betting area on the Caribbean stud table where players are meant to place their $1 progressive jackpot wager.
Push – In casino games, a push is a tie between the player and the dealer. In a push, neither the dealer nor the gambler wins, and player wagers are returned to their chip stack.
Upcard – The word upcard is used in many casino games to refer to any face up card visible to all players.
Caribbean Stud Payouts
The payouts on the Caribbean stud main game include 100:1 for the royal flush, 50:1 for a straight flush, 20:1 for a four of a kind, 7:1 for a full house, 5:1 for a flush, 4:1 for a straight, 3:1 for a three of a kind, 2:1 for two pair, and 1:1 for any one pair (which qualifies).
Caribbean stud offers a progressive jackpot payout, if you make the side bet. This bet is quite similar to the progressive used in Let It Ride (or it's Microgaming equivalent, Poker Pursuit) these days, if you're familiar with that game. The royal flush pays 100% of the progressive, while the straight flush pays 10% of the progressive jackpot. If you get a four of a kind and the side bet is activated, then you receive an additional $500. A full house pays $100, while a flush pays $50. Keep in mind that most side bets in gambling have a higher house edge than the main bet. Sometimes, the house edge is much higher, which is the case with Caribbean stud. Of course, that might not matter much to you, if you play for free. Let's talk about where you can play for free online.
---
How to Cheat at Caribbean Stud Poker
Casino table games based on poker have grown in popularity since their invention in the 80s and 90s. These games were invented in part to sell automatic shuffling machines and in part to take advantage of the boom in poker's popularity. Table games are not the most profitable games in the casino–that honor goes to slot and video poker machines, but when table games based on poker are invented that give the casino the kind of edge that turns them a big profit, casinos are quick to add them to the casino floor. These factors have led to the spread of Caribbean Stud, a table game based on the basic concepts of poker with some additional rules that give the casino a better edge.
Caribbean Stud uses standard poker hand rankings to reward winning combinations along with a progressive jackpot, popular among casino gamblers because of the appeal of big payouts. It should come as no surprise that Caribbean Stud originated in the Caribbean. In Caribbean casinos, Caribbean Stud was marketed as a variation of the traditional five-card stud poker game but without heads-up play.
Caribbean Stud and five card stud have similar rules, but the way the bets are set up and a few other rules makes Caribbean Stud a poor gamble for the casino player. That's why the progressive jackpot was added to the game, to attract casino gamblers to play a game that otherwise offered such bad odds that many educated gamblers would avoid the game.
The game of Caribbean Stud first appeared on the island of Aruba as late as 1988. Aruba's Holiday Inn Hotel and Casino invented it, they, say; the hotel has since been renamed the Excelsior Casino. In modern America, each player plays his hand against the dealer, and for an additional side bet of one dollar, players have the chance of hitting the jackpot.
All of the losing side bets are collected and placed into a pool, as more side bets are made, the jackpot increases, where eventually the next player to hit a royal flush will take it all.
Caribbean Stud Poker: Collusion & Cheating
Along with advances in the rules of the game and the technology that runs the game, advances in ways to cheat Caribbean Stud have developed. For example, early games of Caribbean Stud did not specifically disallow gamblers from sharing information about their cards or the value of their hands. This seems like a no-brainer, since in Caribbean Stud, every player in the game is playing against the dealer, not against each other. Still, knowing what cards other players have in their hands can help gamblers decide whether it is better to raise or fold. This kind of player collusion gave gamblers an edge over the dealer and thus over the casino.
Caribbean Stud available in an online format is also open to collusion. It isn't possible for online casinos to prevent players from sharing information about their hands at the same online table. It may be illegal for players to share such information while playing card games online, but there's little to stop online Caribbean Stud players from colluding this way.
Another form of collusion that Caribbean Stud is vulnerable to is dealer collusion. All casino games are vulnerable to this form of cheating, where cheats work with a dealer ahead of time to help them beat the casino. Collusion in Caribbean Stud can take many forms, from the dealer outright signalling to the players if it is in their interest to bet, to more subtle signals indicating what cards the dealer holds or what cards will appear next in the deal.
Traditional Poker Cheating in Caribbean Stud
Since Caribbean Stud is based on five card stud poker rules, all of the traditional cheats used in poker apply to the game. Card marking, passing cards beneath the table, and all other means of gaining an unfair advantage can be used to influence the outcome of Caribbean Stud.
Marking cards, by means of scratching or otherwise placing a mark on a card that is visible to the player, can be used to mark high value or important cards so that a cheater can see the card about to enter play. In a game like Caribbean Stud, where a progressive jackpot is available, the marking of a card could help a cheater know when to make a progressive bet.
Marking cards can also indicate to a cheater whether or not the dealer's hand will qualify, meaning all players who placed an ante bet will win. Marking cards may not give cheaters the kind of advantage in Caribbean Stud that it would in other games of poker, but there's no doubt that cheaters will try anything to give them an edge against the casino.
Palming or hiding cards in sleeves is another common cheating method employed by casino cheats in any game involving cards. High value cards are hidden in sleeves or other means and added to the game to help them win. Thanks to high-tech casino security and the watchful eyes of dealers, hiding cards up your sleeve or through other means is not likely to go unnoticed.
The rules of Caribbean Stud are set up so that there isn't much room to cheat. Outside of dealer collusion, cheating at Caribbean Stud is a difficult prospect. Strategy in Caribbean Stud is nowhere near the level of strategy found in other card games, so cheating at Caribbean Stud is not likely to be profitable for the casino cheat. But that doesn't stop some cheaters from trying to turn the game to their advantage.
---
High or Low Limit? What Is Best For You?
High limit Caribbean stud online fluctuates a lot from one casino network to the next. The various online casino software companies each set a range for their games. Most casinos license their software package from these companies, though some create their own proprietary software. Those who prefer to use a third-party casino software support team form a network with similar betting policies. While welcome bonuses, no-deposit bonuses, and continuing VIP rewards programs can be much different, these sites bet limits remain unchanged for the most part. For that reason, I'll discuss the betting parameters according to software providers, not individual websites.
Remember that the high limits are lower on most Caribbean stud games (online or offline), because you have to raise your bet twice to stay in the game. That means the ante bet needs to be about one-third what it would be on a game like Let It Ride, where two-thirds of an ante bet can be removed later in the hand.
Why Bet High On Caribbean Stud?
That's not such a bad thing. High rollers who want to wager huge amounts of money should consider playing games with a better house edge. If you like strategy, blackjack or video poker offer a house edge of 1% or less. If you prefer a pure game of chance, then play games like baccarat or craps, which require no skill and still have a house edge under 1.50% (at least for the best bets in those games). Some high rollers who simply love the thrill of Caribbean stud poker or who want to play a poker-style game while chasing a progressive jackpot. If that last sentence describes you, here's where to find the highest limits for online Caribbean stud poker.
Playing Low Limit Caribbean Stud in Las Vegas
Several Las Vegas casinos still offer Caribbean stud at lower bet limits. Bally's Casino and Monte Carlo Casino each offer $5 Caribbean stud poker. The max bet at both sites is $100. The Palazzo Casino and the Venetian Casino each offer $10 minimum Caribbean stud poker. The maximum bet at the Palazzo and Venetian is $500. The Wynn Las Vegas, Planet Hollywood, and Golden Nugget offered Caribbean stud until 2011 or 2012, but they have since discontinued games. Stud poker variants have never been that popular in Las Vegas and Atlantic City. Vegas is a hold'em and community card city. It's no surprise Caribbean stud is a little less popular there.
The house edge on Caribbean stud can be high, if you don't understand basic strategy on the game. For the ante bet, the house edge is 5.2%, meaning you'll give up $5.22 for every $100.00 you wager on Caribbean stud, on average. That doesn't mean you're destined to lose. Players walk out with big amounts on the Caribbean stud every day, but the average player is going to lose that amount for every one hundred bucks spent.
When you use basic strategy to raise your bets at the appropriate time, the hosue edge lowers to a healthier 2.6%. That is within the range of games like roulette and craps, so Caribbean stud poker becomes a viable game at that point. Learn the Caribbean stud poker basic strategy chart, which you can find (and have at your side) while you play.
---
How the House Edge Works in Caribbean Stud Poker
The house edge on the Caribbean stud main bet is 5.22%. The average house edge for the progressive side bet is 26.46%, though the size of the jackpot determines what the house edge is.
If you're playing at a $10,000 jackpot machine, then the house edge balloons to around 60%.
If you play on a machine with a $100,000 jackpot, then the house edge sits around 34%.
A progressive jackpot of $120,000 constitutes the aforementioned 26% casino advantage, while a $200,000 jackpot means the jackpot sit at about 5%–the same as the main bet.
If the jackpot were to increase to $200,000, you'd face an even-money wager, while anything beyond that would give you a positive expectation gambling experience. Unfortunately, that size jackpot hasn't happened yet.
If you play the progressive side bet, then you have to add together the effective house edge from the main bet and side bet. If you bet $1 on the main bet and $1 on the side bet, you would simply take the average of the two. If you bet $5 on the main bet and $1 on the side bet, then the main bet has five times the impact on the house edge that the side bet does.
If you're a high roller starting with a $100 ante bet and re-raising twice, then the main bet is factored in 300x more than the $1 side bet. That's why the high roller gets an advantage in Caribbean stud over their low stakes fellow gamblers, because their betting is much close to the 5.22% standard house edge. That extra $1 pledged to the jackpot is a drop in the bucket.
Those too concerned about the payback percentage of Caribbean stud poker probably wouldn't be playing the game anyway. High rollers playing for the thrill can afford to pay for that adrenaline rush, but I still suggest you play at a bet limit as low as possible, which still gives you the adrenaline rush. You're not trying to impress a date while playing online at home on your computer, so save the money for something impressive offline.
---
Understanding Progressive Caribbean Stud
Progressive Caribbean stud plays just like the classic version of Caribbean stud poker, except a side bet is offered. The side bet pays out when you collect a 5-card hand with a three of a kind, full house, straight, flush, full house, four of a kind, straight flush, and royal flush. The royal flush is primary prize winner for the progressive jackpot. Those who hit the royal get 100% of the progressive. If you hit a straight flush instead, you'll receive 10% of the progressive jackpot amount. The other winning hands have fixed prize amounts.
The bonus game in progressive Caribbean stud poker thus plays similarly to the payout table for a jacks or better progressive video poker table, though you won't get paid for high pairs or two pairs. In this article, I want to discuss the biggest jackpot amounts that have been hit, where you're likely to find progressive Caribbean stud, and what the house edge is on this game.
What Was the Largest Caribbean Stud Jackpot Win Online?
The largest online payout for a UK progressive Caribbean stud game was £166,280.72. This was at one of the big brand name online casinos licensed in Gibraltar and based out of the United Kingdom. US casinos are likely to have $100,000 Caribbean stud jackpots periodically, though the largest prize being offered in the American market I see right now is a little over $96,000. That's still a huge payout offer. Few players would turn their nose up at such a prize.
Progressive Jackpot Side Bet
To play using the Caribbean stud progressive jackpot rules, players need to wager $1 on each hand. If you get a royal flush, the progressive jackpot pays out 100% of its flashing total. If the straight flush is what you collect, the payout is going to be 10% of the jackpot amount.
What Was the Biggest US Caribbean Stud Jackpot?
The largest Caribbean stud jackpot in a US casino on the Internet right now is just over $72,000, but the figure varies over time. By "American casino", we mean this is a site which accept real money casino game players from the United States. These sites are going to be based in places like Curacao and Panama, while they'll be licensed and regulated in countries like Antigua and Barbuda, the Netherlands Antilles, and the Kahnawake Nation. No legitimate online casinos are going to be based and licensed in America, because the U.S. government has anti-gambling laws like the UIGEA. Even the US casino sites are going to turn away players from certain US states. The point being, gamblers from the United States who want to find a real money game of progressive Caribbean stud poker usually can find jackpots in the high five-figures.
How the Side Bet Works
When you place your $1 side bet, the casino takes between $0.29 and $0.35 into their coffers. The other $0.65 to $0.71 of the wager is paid into the progressive jackpot. If you don't hit a royal flush or a straight flush, then the jackpot grows by the amount which was paid in. The reset amount is usually $10,000, meaning the jackpot goes back to $10,000 if someone hits the royal flush. If the straight flush is hit, then the player gets 10% of the jackpot amount and the progressive is reduced by that amount, though it doesn't reset altogether.
Multiple players sit at a table of Caribbean stud, which means you both have a chance of hitting the progressive at the same time (though the chances of this happening are astronomically bad). If this were to happen, remember that payouts are made right to left according to the dealer, or left to right according to you. If you hit the progressive jackpot, but a player to your left also did so, they would be paid the total amount of the progressive jackpot. The jackpot would reset and you would be paid $10,000 (and probably pull your hair out). This is so unlikely to happen that it's hardly worth considering the possibility, but there's one case where the 10% straight flush hand hit twice and the player sitting further to the dealer's left was paid out less.
How Often Do Online Progressives Hit?
It's hard to get comprehensive numbers on the progressive jackpots online, because of the incomplete statistics that a high-traffic online casino is going to pay out on a royal flush jackpot once every month or so. It takes about 40,000 hands on average for a royal flush to appear. One prominent website publicized its Caribbean stud poker progressive winners for one calendar year and about one jackpot was hit per month. In fact, the jackpot came pretty regularly, though two hit in 2 days in July. Don't take this information and assume you can predict when a progressive is "due". Every single hand has the exact same odds of hitting the royal flush as every other hand. If a progressive jackpot has gone a long time without hitting, it is no more likely than the jackpot which reset yesterday, as the one example indicates.
What is the Expected Return on a Progressive Game?
Caribbean Stud odds are separate from the expected return on a progressive jackpot, because the payouts increase the further you go. Your expectation must be recalculated each step of the way. A Caribbean stud poker game is eventually going to become a positive expectation game, when the jackpot prize reaches a certain limit. Most of the time, that's not the case. In fact, the house edge on Caribbean stud poker's progressive side bet is often as high as 26.5%, which qualifies the progressive as a sucker bet.
How the Progressive Jackpot Works
The progressive jackpot is a side bet, so you need to make an additional $1 to trigger the bet. If the bet is triggered and you receive a royal flush, you win the amount of the progressive jackpot (for the side bet) and 100x your initial wager (on the main bet). If you don't make the side bet and you hit a royal flush, then you would only win the 100x payout.
Winning $100 on the dollar is a nice payback, but it's nothing compared to the size of the progressive jackpot. For that reason, most people who play Caribbean stud poker choose to play the progressive side bet. In many cases, that's the reason people flock to the Caribbean stud table. The jackpot starts at $10,000, but every time someone makes the bet and doesn't hit the royal flush (or a straight flush), the jackpot increases.
Odds & Payout on Straight Flush
Let me explain my oblique reference to the straight flush. While the royal flush wins you 100% of the progressive, a straight flush wins 10% of the jackpot, if you made the side bet. So if the jackpot is at $75,000 and you make a straight flush, the payout is $7,500. This is an important rule, because it increases your chances of hitting a nice jackpot by a factor over 9. The odds of hitting a royal flush are 1 in 649,351 hands. The odds of hitting a straight flush are are 1 in 72,202 hands. So while those jackpots are 10 times smaller, they are almost 10 times as frequent.
Progressive Jackpot House Edge
Don't be under any illusions, though. The house edge on the side bet is significant. In fact, it's so high that gamblers consider it a "sucker bet". The average house edge is 26.46%. Yes, for every $100 players wager on the bet, they lose $26.46. That's a worse payback percentage than most games of keno. In fact, that starts to get into the territory of the payback percentage of lottery games–just an awful disadvantage.
Why Play the Progressive?
You might ask why anyone would make the progressive wager. Many gamblers who just enjoy the idea of hitting the progressive. If they're making a $5 bet on the main hand, they see making a $6 bet for both as negligible. This is how casinos stay in business, because they realize that a $6 is 20% more and, over a whole lot wagers with a whole lot of customers, that turns into an immense amount of money. At the same time, I've talked to Caribbean stud players who say they couldn't sleep at night if they hit the royal flush and hadn't played the progressive bet.
Gamblers can have valid reasons for making a wager that don't have to do with mathematical probability. That doesn't mean they should ignore the math. If you're playing for the sake of entertainment, just know the odds you're up against. For instance, players need to understand the average house edge implies a range of possibilities. If the jackpot is less than about $110,000, then you face worse odds than the 26.46% which was mentioned a bit ago.
---
Caribbean Stud Rules & How to Play
Most games are played on a table similar to the betting surface of a game of blackjack, with as many as seven people playing at once. Part of the appeal of the game is that your only competition is the house itself; players do not compete against each other, making Caribbean Stud a friendly affair.
In front of your seat is a space marked Ante, a space marked Bet, and the usual accoutrements of a gaming table, like drop slots and other casino trappings. Your table will probably be labeled with a bet minimum; for this game, expect minimum antes of $5 or $10.
You must make an ante bet to start the game; each player that places the ante bet (and the dealer) are dealt five cards. The dealer reveals one card from his hand, placing it face-up so all players can see it. Once the dealer shows a card, you can pick up your own hand and give it a look.
Now it is decision time. Get ready to decide if you want to stay in the game or not. Once you've examined your cards, you have two choices: fold the hand by putting your cards face-down in front of the dealer or continue playing by placing a bet on the proper area of the betting surface.  If you fold, the dealer takes your cards and your ante, and you are out of this hand. If you decide to continue, you have to place a bet which is exactly twice the size of your initial ante bet. If your ante was $5, you have to add another $10 bet.
---
How to Win at Caribbean Stud Poker
There is no sure-fire way to win consistently at Caribbean Stud. The casino holds a slightly higher than 5% edge that no amount of strategy or wagering tactics can overcome. Here are some pointers to make your game a little more enjoyable and a little less likely to drain your wallet:
For starters, don't place the $1 progressive side bet. The house edge on these side bets is usually over 20%.
Always place a bet on any hand of A-K-J-8-3 or better; this bet reduces the casino's edge because it beats the dealer's lowest possible qualifying bet, which forces the dealer to play.
If your hand contains a pair or better, go ahead and place a bet.
Holding an ace and a king? Place a bet only if one of your other three cards matches the card the dealer shows.
Finally, and this is the most important tip of all, only play the game if you're having fun. Gambling is entertainment. If this game starts to make you mad, step away and go play something else. Have a drink. Take a walk. Take a nap. Just don't keep feeding the casino's coffers.