Free Jacks or Better Video Poker – Strategy, Paytables, Odds
Jacks or Better is one of the most popular video poker machines available. It's easy to play, and as an added bonus it's one of the easiest games to use the proper strategy with.
Keep reading to learn how to play, which pay table to look for, and to find a simple strategy chart so you can make the best play every time.
Playing Sequence
Once you put money into the machine you need to choose how many coins to bet per hand. You always bet five coins per hand so you win the bonus amount on the royal flush. Any time you bet less than five coins per hand you can't win the bonus and this makes the house edge go up quite a bit.
Next you hit the deal button and you receive five cards. Choose which of the cards you want to hold and hit the deal button again. The cards you discard are replaced by new cards from the deck. This forms your final hand.
If you have a paying hand, consisting of a pair of jacks or better, the machine adds your win to your balance. Now you can start a new hand by hitting the deal button. Most machines remember your choice to bet five coins per hand so you don't have to choose it every time. But verify this when you start playing.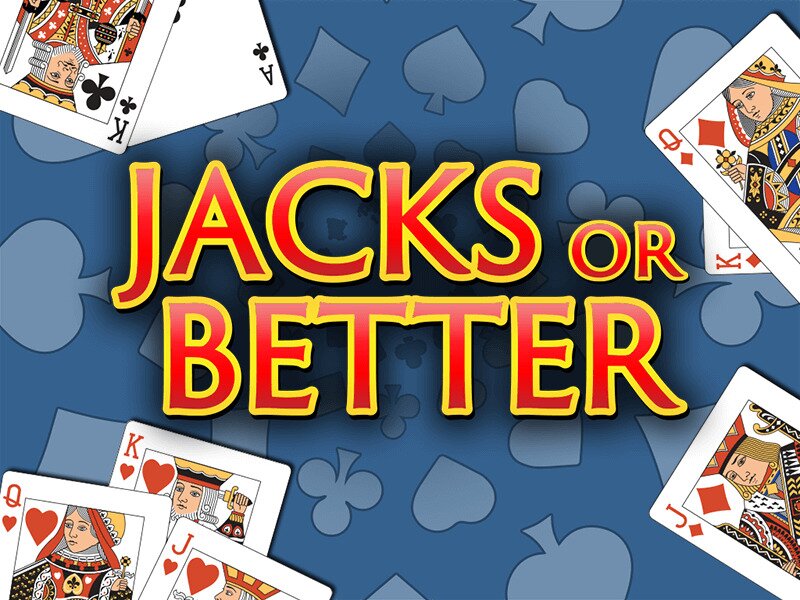 Jacks or Better Pay Tables
Here are many of the common pay tables available on Jacks or Better machines. The best pay table available in many online and land based casinos is the 9 / 6. It's called a 9 / 6 because the full house pays nine and the flush pays six. If a 9 / 6 machine isn't available where you pay we don't recommend playing Jacks or Better.
The way you use the table below is match it with the column under one coin on the machine you're looking at. The only exception is the royal flush. The machine won't show 800 in the first column under royal flush, but the 800 represents the bonus for betting max coins. The royal flush should show 4,000 in the five coin column, or five times 800.
| | | | | | | |
| --- | --- | --- | --- | --- | --- | --- |
| Game | 9 / 6 | 9 / 5 | 8 / 6 | 8 / 5 | 7 / 5 | 6 / 5 |
| Royal Flush | 800 | 800 | 800 | 800 | 800 | 800 |
| Straight Flush | 50 | 50 | 50 | 50 | 50 | 50 |
| Four of a Kind | 25 | 25 | 25 | 25 | 25 | 25 |
| Full House | 9 | 9 | 8 | 8 | 7 | 6 |
| Flush | 6 | 5 | 6 | 5 | 5 | 5 |
| Straight | 4 | 4 | 4 | 4 | 4 | 4 |
| Three of a Kind | 3 | 3 | 3 | 3 | 3 | 3 |
| Two Pair | 2 | 2 | 2 | 2 | 2 | 2 |
| Pair Jacks or Better | 1 | 1 | 1 | 1 | 1 | 1 |
| House Edge | .46% | 1.55% | 1.61% | 2.70% | 3.85% | 5.00% |
Notice how a simple change in the pay table changes the house edge. The casinos try to take advantage of players who don't know about pay tables and players who think one number change doesn't change the house edge much.
Jacks or Better Strategy Chart
Here's a jacks or better strategy chart you can use any time you play. The correct way to use this chart is to start at the top and go down until you find a hand that matches yours. Then hold the listed hand and discard everything else.
Rule # 1 – Always bet five coins per hand.
Royal flush
Straight flush
Four of a kind
Four to a royal flush
Full house
Flush
Straight
Three of a kind
Four to a straight flush
Two pair
Pair of jacks or better
Three to a royal flush
Four to a flush
Pair of 10's or lower
Four to an open end straight
Three to a straight flush with at least as many cards jack and higher than gaps
Four cards jack and higher
Two suited cards jack and higher
Four to an inside straight, with three cards jack or higher
Three to a straight flush with two gaps and one card jack or higher or with one gap and no high cards
K Q J suited
Q J suited
J T suited
K Q or K J unsuited
Q T suited
A K or A Q or A J unsuited
K T suited
One card jack or higher
Three to a straight flush with two gaps
Draw five new cards
It might seem like the strategy chart has a great deal you need to remember. But you don't have to memorize it. You can use t when you play Jacks or Better online or print out a copy and take it with you to the casino.
You're going to find that once you start using your strategy chart that you're quickly going to memorize the most common plays. If you want to start memorizing the most common plays before you get started here's how to do it.
3 Handy Tips for Winning Jacks or Better Poker
1 – Keep any paying hand unless you have four to a royal flush or four to a straight flush. Then keep four to the royal flush or four to a straight flush. This rule takes care of almost half of the chart.
2 – The next group includes draws to big hands, including three to a royal flush, four to a flush, a pair of low cards, an open end straight, and three to a straight flush.
3 – Most of the rest of the chart deals with high cards. As a general rule, if you have cards jack and higher, suited or unsuited, keep them and discard everything else.
These three steps don't cover 100% of the chart, but if you use them you won't make too many mistakes. We still recommend using the full chart, but many players want to play without worrying about small strategic adjustments.
Now you know how to play Jacks or Better video poker, the popular pay tables, and the best strategy. Always play on a 9 / 6 machine, bet five coins per hand, and use a strategy chart. When you do these things you're doing everything you can to have the best chance to win and have a good time.