Free Double Bonus Video Poker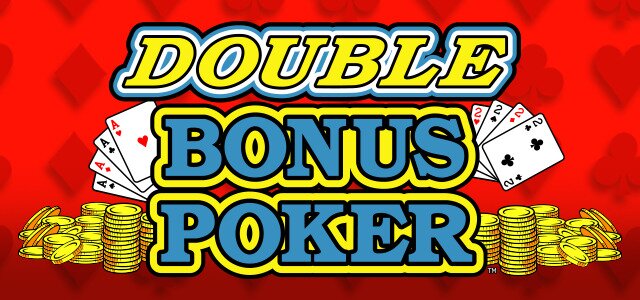 ---
Top Slots Features
| | |
| --- | --- |
| Developer: | RTG |
| Rtp: | 99.99% |
---
Available In:
Though not as popular as Jacks or Better or Deuces Wild, Double Bonus video poker offers pay tables with a low house edge. And if you're lucky enough to find one, Double Bonus has a pay table offering a slight edge over the casino, if you use optimal strategy.
Keep reading to find out how to play Double Bonus video poker, how to find the best pay tables, and how to play using a good strategy.
What You Need to Know about Double Bonus Video Poker
Double Bonus Video Poker plays like Jacks or Better but offers special bonuses for four of a kind hands. Players search for the full-pay paytable, which gives the player a slight edge over the casino. That's rare, but this guide to Double Bonus shows you paytables that still provide a solid return-to-player.
How a Hand of Double Bonus Video Poker Works
The first thing you do once you find a machine is to put your money in. When you play at your local casino you put bills in and when you play online your balance should load automatically when the game loads.
The next step is to choose five coins per hand. You can choose to bet fewer coins per hand, but you miss out on the chance for the bonus payout for a royal flush.
Now you press the deal button and receive your beginning five-card hand. Choose which ones you want to hold, press the buttons to hold them, then press the deal button again.
If you have a winning hand the payout is added to your balance at this point. Now you can hit the deal button to start the next hand. Most machines are designed to keep your coins per hand the same from hand to hand, but make sure it doesn't reset to fewer than five coins between hands.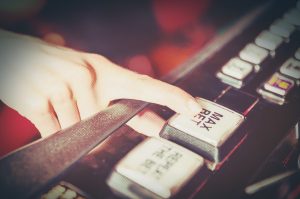 Where to Find Double Bonus Poker in Las Vegas
IGT distributes Double Bonus Poker gaming machines in Las Vegas. Most "Game King" video poker machines feature Double Bonus Poker.
Full-pay versions of Double Bonus Poker feature at El Cortez, Four Queens, The Plaza, and Main Street Station. If you play in Henderson, try casinos like Eldorado and Jokers Wild.
Most Station Casinos offer 10/7/5 Double Bonus Poker. Look for them at Green Valley Ranch, Fiestas, and Red Rock. If you see a casino with the word "station" in it, then it might have Double Bonus Video Poker.
Outside of Las Vegas, your chances of finding Double Bonus poker is next to zero.
How to Read a Double Bonus Pay Table
While the payout for a four of a kind gives the game its name, the key columns in Double Poker Poker pay table are the full house, flush, and straight. The 3 numbers which describe pay tables tell players what the payout for the full house, flush, and straight are.
The 7-5-4 pay table is the full-pay version of the game. That's a 7:1 payout for a full house, a 5:1 payout for a flush, and a 4:1 payout for a straight. The four of a kind on this game pays out 400-to-1. The house edge is only 0.08% with optimal play.
The 9-7-5 payout is also common but has a house edge of 0.89% with optimal play. This means the full house pays 9:1, the flush pays 7:1, and the straight pays out 5:1. The four of a kind pays only 160:1, though. This makes all the difference, despite the higher payouts on the other hands.
Double Bonus Pay Tables
Here are some of the common pay tables for Double Bonus video poker. These aren't the only ones produced. Still, most of the machines you find will match one of these pay tables.
Except for the royal flush line, the listed numbers should match the first column to the left on the machine or the one coin column. If the numbers don't match exactly the house edge is different than the one listed in the table below.
The royal flush will be listed as 250 on the machine in the first column, but the 800 represents the amount you win per coin with a five-coin bet. The total payout is 4,000 instead of 1,250. This extra bonus helps lower the house edge on video poker games.
| | | | | | | |
| --- | --- | --- | --- | --- | --- | --- |
| Game | 9 7 5 | 7 5 4 | 10 7 4 | 9 6 5 | 9 6 4 | Full Pay |
| Royal Flush | 800 | 800 | 800 | 800 | 800 | 800 |
| Straight Flush | 50 | 60 | 50 | 50 | 50 | 50 |
| Four Aces | 160 | 400 | 160 | 160 | 160 | 160 |
| Four Twos to Fours | 80 | 100 | 80 | 80 | 80 | 80 |
| Four Fives to Kings | 50 | 50 | 50 | 50 | 50 | 50 |
| Full House | 9 | 7 | 10 | 9 | 9 | 10 |
| Flush | 7 | 5 | 7 | 6 | 6 | 7 |
| Straight | 5 | 4 | 4 | 5 | 4 | 5 |
| Three of a Kind | 3 | 3 | 3 | 3 | 3 | 3 |
| Two Pair | 1 | 1 | 1 | 1 | 1 | 1 |
| Pair Jacks or Better | 1 | 1 | 1 | 1 | 1 | 1 |
| House Edge | .89% | .08% | 1.19% | 2.19% | 3.62% | -.17% |
If you can't find a Double Bonus Poker pay table offering a house edge of less than 1%, you should see if you can find a 9 / 6 Jacks or Better machine or an NSUD Deuces Wild machine. They both offer a lower house edge. The strategy for Jacks or Better is also slightly easier to learn than the correct strategy for Double Bonus.
The first pay table listed is common and is often the best one available. With a house edge of less than 1%, it offers a fair game. The second table is hard to find, but it lowers the house edge to almost break even. The last pay table, called full pay, actually can be beaten in the long run with perfect strategy. But these machines are rare and can only be found in land-based casinos.
Double Bonus Strategy
Here's a simple strategy chart you can use when you pay Double Bonus video poker. By using a strategy chart you keep the house edge as low as possible. This gives you the best chance to win during your playing session and helps your bankroll last longer.
The way to use the Double Bonus strategy chart is to start reading from the top and keep going down until you find the first line that has your hand. Don't worry about any of the lower lines that match your hand. The only one you use is the first one you come to. Then keep the cards listed and discard everything else.
Always bet five coins per hand.
Royal flush
Four of a kind
Straight flush
Three aces
Full house
Flush
Straight
Three of a kind
Four to a straight flush
Two pair
Pair of jacks or higher
Four to a flush
Three to a royal flush
Open end straight
Pair of 10's or lower
Four high cards
Three to a straight flush
Gut shot straight with three cards jack or higher
Two suited high cards
Three to a flush
Gut shot straight with one or more cards jack or higher
Two or three cards jack to king
One card jack or higher
Gut shot straight with no high cards
Discard everything
We recommend bookmarking this page so you can pull it up the next time you play Double Bonus online or print it on your printer so you can take the strategy chart with you to the casino.
Double Bonus Poker in a Nutshell
If you know how to play Jacks or Better video poker you can play Double Bonus. It operates the same way and the only thing that changes is the pay table.
To give yourself the best chance to win at Double Bonus, find a machine with a good pay table, use the strategy chart listed above, and bet five coins per hand.