Spinning Stars Slot Game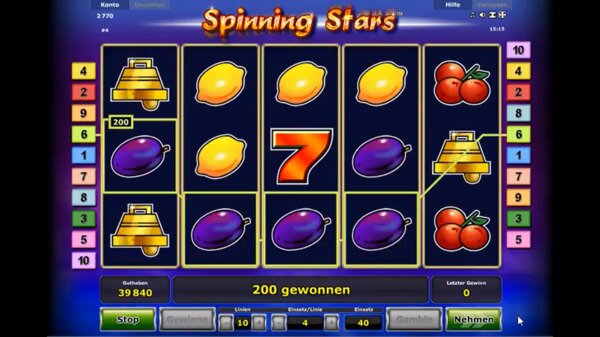 When you first see Spinning Stars, you'd be forgiven for thinking it was just another of the super-simple fruit slot from the Novomatic archive. While many parts of this game are straightforward, it has a unique feature that I have not come across anywhere before.
This is a bonus game where special spinning wild rotates the symbols on the middle reels – creating many more wins as it does so.
How to Win on Spinning Stars
Before I go into the spinning wilds in more depth, here is an overview of the regular wins possible on this game. There are 10 win lines in play, with a minimum of 2 coins per line – the winning amounts listed here are all based on this amount.
One symbol is always used by Novomatic for their big wins, and Spinning Stars makes no exception. This is the red 7, and on this game you'll get a generous 10,000 coins for hitting 5 of these on any of the 10 win lines. There are 1,000 coins for 4 and 100 coins for just 3. A rather blocky looking golden bell symbol comes next – though with quite some step down compared to the top prize. This one is worth 1,000 coins for 5, 400 for 4 and 80 for 3 on a line.
After these bigger win symbols, you'll find the traditional fruits – in the standard order Novomatic uses for their prize awards. The melon and grape symbols are first, worth 600 coins for 5. Next come the plum and oranges (400 for 5), then the lemons and cherries (200).
Wild Stars Bonus Feature
During regular play, bright stars with the word 'wild' on them will substitute for any of the symbols covered in the section above. When you hit one of these on the first reel and one on the 5th reel, things get a lot more interesting!
The first thing that happens is another one appears, right in the middle of reel 3. This has a swirling animation around it, which then picks up and moves all the adjacent symbols (all of the symbols on reels 2, 3 and 4) and moves them one place clockwise. Wins are then reassessed, and since you have wilds on reels 1, 3 and 5 there is a good chance you will hit something. This is then repeated until the symbols have moved all the way around, giving you wins from every possible combination.
If you are lucky enough to get several of the same symbols in the middle reels, this can add up to a lot of wins.
Deceptively Simple Design
On first view, this slot could not look much plainer. There is a blue color outside of the reels, and a simple handwritten type logo with a white line coins through it. The reels are dark, and the symbols the same bold but plain designs that you will find on a lot of the earlier Novomatic slots. Even the star wilds used in the special feature are similar to those used in other games – though these ones have the word 'wild' on them.
Things liven up a little when you start to hit wins. The flame effect found on the Sizzling Hot slots is used – in addition to flashing squares. When the wilds hit the swirling effect behind the moving symbols is nicely done. This reminded me of the arms of a spiral galaxy to some extent.
Sound effects are the bleeps, whirrs and other computer noises that Novomatic have been using for years. You'll also hear the ticking of the 'gamble after win' option which allows you to take a 50-50 shot on the flip of a playing card.
10 Line Setup
It is not possible to reduce the number of win lines for this game (this would make the spinning symbols bonus hard to manage). You can control the number of coins per spin, from 20c per spin total and up from there. No Novomatic slots come without auto-play, and that is offered here too.
Overall Experience
I wonder how many people would pass this slot by, thinking it was just another of the Novomatic titles from the past with nothing special going on. If you do take the time to discover it, the swirling symbols in the Spinning Wild bonus can be worth seeing. With wilds already in place, there is certainly some potential for bigger wins.