Wunderfest Deluxe Slot Game
If you love sausages, beer and German festivals, you won't want to miss out on the Wunderfest Deluxe slot machine by Booming Games. The slot game is set in a German tavern. There are plenty of German-themed symbols and music to go around. You'll feel like you're celebrating Oktoberfest without having to leave the comfort of your own home.
Wunderfest Deluxe is a 5-reel, 3-row slot game. It features a standard gameplay, so it's easy for players to pick up. Much like  other Booming Games slot machines, Wunderfest Deluxe has some pretty amazing bonus features that will keep you on your toes. Check out this guide to learn more about this one-of-a-kind German-themed slot game.
Features
Bonus Round
Free Spins
Mobile Slot
Multipliers
Scatter Symbol
Wild Symbols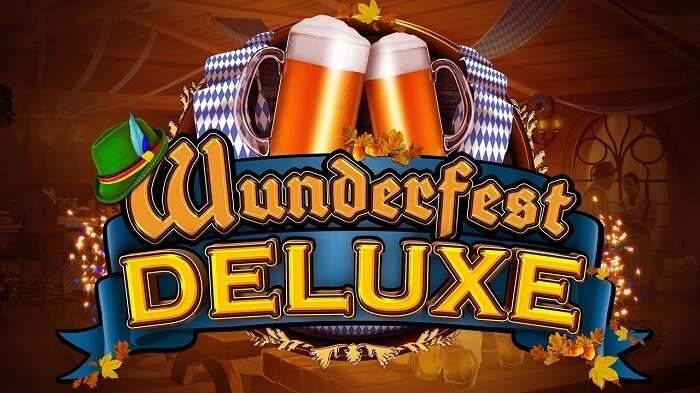 See What's on the Menu
One of the best things about Oktoberfest is the beer and food that's available. You can see what's on the menu by taking a spin on the reels. Wunderfest Deluxe features 25 fixed paylines. The least that you can bet is $0.25 per spin, which works out to $0.01 per line. If you're feeling lucky, you can bet as much as $500 per spin. That's $20 per line!
---
Celebrate Oktoberfest
Everything about the Wunderfest Deluxe slot machine screams Oktoberfest, from the background to the symbols. There aren't that many symbols in this game, and every symbol is themed. There are no playing card symbols. The symbols that you can expect to see include:
A beer keg Free Spins symbol, which is also the scatter symbol
A beer wild symbol, which can be used to replace any other paying symbol
A maiden symbol, which is also the highest paying symbol
A celebrating man symbol
A celebrating woman symbol
An old man symbol
A beer stein symbol
A pretzel symbol
A German hat symbol
An accordion symbol
A German sausage symbol
You need at least 3 symbols in a row to make a winning combination. All wins are paid from left to right and only the largest win is paid out for each line.
The payout for Wunderfest Deluxe is fair. 5 maiden symbols will net you 500x your line bet. 5 wild symbols in a row will net you 1,000x your line bet.
---
Check Out the Bonus Features
Every slot machine has its own perks and bonuses. Wunderfest Deluxe is no exception. This slot game possesses some unique bonuses that really do stand out. These bonuses include:
Vertical Multiplying Paylines. This is a unique feature that isn't often found in Booming Games slot machines. This bonus feature is always active, so it doesn't need to be triggered. The vertical lines 21, 22, 23, 24 and 25 pay from top downwards. All wins are tripled.
A Free Spins Bonus. 3 beer keg Free Spins bonus on the board will win you 10 free spins. This bonus cannot be triggered during the bonus games. Also, the bet amount cannot be changed during the free spins.
The bonus features of this game are fairly simple. In comparison to other slot games, it's quite easy to find 3 scatter symbols in the Wunderfest Deluxe. This bonus is easily triggered. You should easily win free spins when taking a spin on this slot machine.
The Vertical Multiplying Payline is also quite unique. It gives players more opportunities to win. The fact that the winnings are tripled also make this bonus feature stand out.
It's also worth mentioning that the wild symbols appear quite generously on the reels. The wild symbols show up quite often, so it's easy to make a winning combination or to lengthen an existing one.
Grab a Beer and Join In on the Celebration
If you're looking for a fun game to play, then you should really consider trying Wunderfest Deluxe by Booming Games. This slot machine can cater to all audiences, from beginners to more seasoned players. The payout is reasonable, and the bonuses are easily triggered.
The Vertical Multiplying Paylines make this game one of the more unique German-themed slot machines out there. It makes it even easier for players to land a handsome payout.
So, if you have some time to spare, grab a beer and take a spin on Wunderfest Deluxe. You won't regret it.