Feng Shui Kittens Slot Game
Feng shui is also known as Chinese geomancy. It's a type of pseudoscience that involves the study of energy forces in a person's surrounding. It's also one of the Five Arts of Chinese Metaphysics and a huge part of Chinese culture. By managing the energy around oneself, the Chinese believe that they can use "invisible forces" to create wealth, luck and prosperity.
Cats, like most animals, are believed to have an innate ability to sense and move energy. In a way, they can help create wealth and luck.
This ideology has given birth to the Feng Shui Kittens casino game, a 3-reel, 3-row slot game by Booming Games. This game features lots of cute kittens and Chinese themes. It's definitely quite unique. Learn more about this slot machine here.
Features
Bonus Round
Free Spins
Mobile Slot
Multipliers
Scatter Symbol
Wild Symbols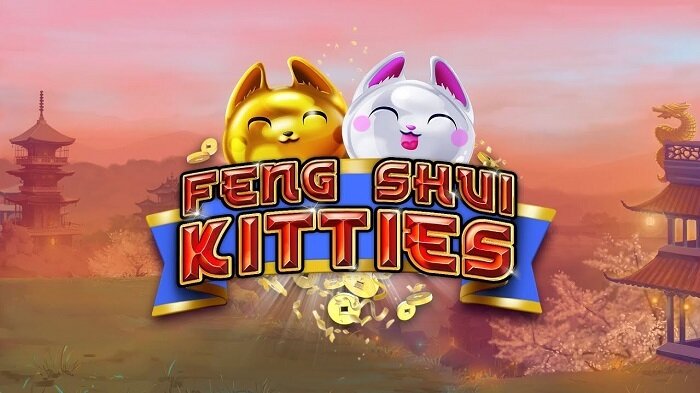 Rearrange the Energy in Your Life
Feng shui is an ideology that involves arranging items around your life to create different energies. You can improve your feng shui and energies in your life by taking a spin on the free slot Feng Shui Kittens.
There are 10 fixed paylines in this game. You'll need to make a total bet before you can spin the reels. The most that you can bet per spin is $500. That works out to $50 per line! If you're more of a conservative better, you can bet as little as $0.10 per spin. That works out to a line wager of $0.01.
---
Improve Your Fortune with the Right Symbols
As Feng Shui Kittens uses a small board, there are also fewer symbols in this game. All of the symbols follow the same theme. The symbols that you can expect to find include:
A wild symbol, which can replace any other paying symbol on the board
A Free Spins scatter symbol, which activates the bonus games
A x8x symbol, which will increase all winnings by a multiplier of 8x
A golden kitten symbol
A white kitten symbol
A symbol with 3 gold tokens
A symbol with 2 gold tokens
A symbol with 1 gold token
With Feng Shui Kittens, you need 3 symbols in a row to create a winning combination. Nothing less. With that said, as there aren't many symbols in this game, this isn't difficult to achieve.
---
Get Lucky and Win a Fortune
To follow the theme of this game, it's no surprise that Feng Shui Kittens is packed with different bonus features and games. You can expect to get lucky quite easily. The various bonus features that are included in this game include:
2-Way Pay. When 3 or more wild symbols appear anywhere on the board, the 2-Way Pay feature is activated. Once this feature is activated, the next 8 spins will be affected. All paylines will pay out not only from left to right, but also right to left. You can re-trigger this bonus by continuing to get 3 or more wild symbols on the board. If you hit 3 scatter symbols, the Free Spins Bonus, as described below, gets activated and the 2-Way Pay feature will be put on hold.
A Free Spins Bonus. 3 Free Spins symbols anywhere on the board will reward you with 10 free spins. This bonus can be re-triggered during the free spins. All you have to do is find another 3 Free Spins symbols on the board to win another 10 free spins.
A Multiplier x8 Feature. If the multiplier 8x symbol appears on the board, it becomes a wild symbol and any wins on active paylines with this symbol will be multiplied by 8. The x8x symbol can only appear on reel 2.
Stacked Majors. To further help you win, major symbols appear in stacks of 3 on the reels.
While Feng Shui Kittens may seem like a simple game, the bonus features make it exciting and interesting. This game has a lot to offer.
Change Your Luck
The Chinese believe that you can always change your luck with feng shui. You, too, can make a difference by taking a spin on Feng Shui Kittens. This slot machine has an interesting theme, cute graphics, and a lot of bonuses that will surely keep you entertained. You definitely want to see if you can improve your luck with this game.