Disco Bar 7s Slot Game
There were a lot of great times in the world throughout the past century, but it's hard to argue that the disco period of the 1970s was one of the grooviest times of all. This was a time when many people began to break free from the metaphorical chains of society and become their own person, and the result was one of the coolest cultural times in recent history.
Disco Bar 7s pays homage to this with a nice disco theme and a great slot experience that's reminiscent of some of the simpler slot machines you might find in the '70s. If you're looking for a groovy slot game with great rewards, take a look at our review of the Disco Bars 7s slot game by Booming Games.
Features
Bonus Round
Free Spins
Mobile Slot
Multipliers
Scatter Symbol
Wild Symbols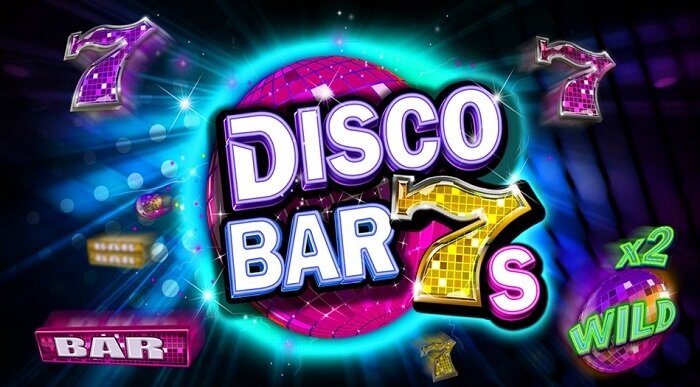 Getting Started
Thanks to its simple interface—which should be particularly familiar to anyone who's played other Booming Games slots—the Disco Bar 7s slot machine is an easy one to play. All of your settings and buttons are located at the bottom of the screen, and you can easily see all the information you need while you're playing. If you need a bit of help getting started, here's what you'll need to know:
This is a 3×3 slot game which is more of an old-school format
There are 10 paylines which can't be turned off or changed
Your bet can be as low as 0.01 per line or as high as 10.00 per line
The auto spin button is to the left of the spin button
The max bet button is to the right of the spin button
You can find out more about the game by clicking the "i" or "Pay" button
---
Features & Overview
The Disco Bar 7s casino game is designed to be fairly simple, which makes sense considering it's an homage to the 1970s disco scene. However, this game actually does a very nice job of combining the feel of an old-school slot game with some newer slot machine features that makes it a bit of a crossover. Whether you love old or new slots, you should enjoy this game. The biggest downsides to this game are obviously the size of the board—which is only an issue for some players—and the fact that you can't change the number of active paylines which slightly limits you bet customization. Other than that, Booming Games did a good job with this game.
---
Bonus Rounds
Disco Bar 7s is simple on the surface but tucks away a few additional features that make the game a little bit more interesting—particularly for those who prefer a more modern slot experience.
The scatter symbol plays an interesting role in the Disco Bar 7s slot game. In this game, any number of scatter symbols on the reels will provide you with some type of win. A single scatter will pay 1x your total bet, 2 scatters will pay 7x your total bet, and 3 scatters will reward you with 77x your total bet.
The wild x2 feature is also a cool way to win in Disco Bar 7s. This symbol can substitute for every other symbol aside from the scatter. When a wild x2 substitutes for another symbol in a payline win, that win is multiplied by 2 before it's paid out to you. If there are 2 wild x2 symbols in the winning combo, you'll get a x4 payout.
In addition to these features, you also have the mix 'n' match feature. In this feature, certain combinations of non-matching symbols can combine to create wins. These payouts are multiplied by your bet per line just like with regular payline wins.
Final Word
There aren't a lot of slot games with a disco theme, but Booming Games did a really good job of implementing this theme into Disco Bar 7s. This game not only has a groovy look to it, it's got nice, upbeat music that makes you want to play slots and dance at the same time. There aren't any legitimate bonus features in Disco Bar 7s, but overall this game is a great combination of simplicity and cool features, and the result is lots of fun.