Barnyard Twister Slots
Help out on a farm an take care of the farm animals in Booming Games latest slot machine, Barnyard Twister. This slot game is extremely unique. It has 5 reels, 5 rows and 25 fixed paylines. That's quite a bit more than standard Booming Games slot machines.
The entire theme of Barnyard Twister slot revolves around a barn. There are farm animal symbols on the board, and the reel is made of a stack of hay. There is also farmland in the background. This slot machine has a cheery theme with light music playing in the background.
The most interesting thing about the Barnyard Twister slots is not the symbols or the design. Instead, it's the gameplay. Learn more about this game below.
Features
Bonus Round
Free Spins
Mobile Slot
Multipliers
Scatter Symbol
Wild Symbols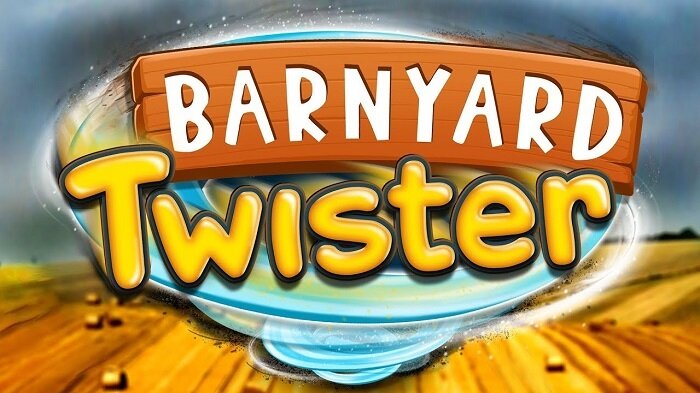 Pitch In on the Farm
Maintaining a farm is never easy. There's always so much to do. You can pitch in on the farm by taking a spin. As there are 25 fixed paylines, there are no complications involved when making a bet. You can only determine your total wager per spin.
You can bet as little as $0.25 per spin, which works out to $0.01 per line. If you have a lot of resources on your hands, then you can even bet as much as $50 per spin, which works out to $2 per line. This game can cater to all types of audiences.
---
Meet the Farm Animals
There are so many farm animals on the reels that need your attention and care. The most interesting about this game is that all of the farm animal symbols can double up per position. This means that you can have a total of 10 farm animals on a single winning payline if you're lucky. The symbols that you can expect include:
A single or double cow symbol
A single or double pig symbol
A single or double lamb symbol
A single or double chicken symbol
Standard playing card symbols (A, K, Q, J and 10)
There are also a special rotator symbol and a Free Spins scatter symbol. These symbols do not offer any payout whatsoever.
You'll need at least 3 of the same paying symbols in a row to create a winning combination. With that said, you can have as many as 10 of the same symbols in a row. That'll lead to some insane payouts. In fact, having 10 cow symbols on a payline will pay out 8,000x the line bet.
---
The Perks of Working on a Farm
So, why should you consider getting your hands dirty and taking a spin on Barnyard Twister?
Simple. You won't believe all of the perks that you can get.
Barnyard Twister can offer many different bonus features that are worth your time. On top of having double symbols, you will also get:
A Free Spins Bonus. When a single scatter symbol appears on reel 3, you will win 3 free spins. Unfortunately, the Free Spins Bonus cannot be re-triggered in the bonus. With that said, it's easy to activate this bonus as all you need is just one symbol to appear on the board.
A Rotator Bonus Feature. Look out for the rotator symbol. If 3 rotator symbols appear on the board, you'll get 2 rotations. If 4 rotator symbols appear on the board, you'll get 3 rotations. And, if 5 rotator symbols appear on the board, you'll get 4 rotations. After each rotation, the rotator symbol will act as a wild symbol and replace any other symbol in order to complete a payline win.
These bonuses make the Barnyard Twister a much more interesting game. The rotator feature, for example, is unique to Barnyard Twister and gives it a slight twist that makes it stand out.
Put in the Effort and Get Handsome Payouts
Working on a farm can be a very rewarding experience. The same can be said for taking a spin on Barnyard Twister. This slot machine is interesting and fun. It also has many unique features that make it a different experience even for seasoned slot game players.
Personally, I found it very easy to make winning combinations with the double symbols. The payouts are also very generous, as far as slot games go. It's easy to get a handsome payout from each spin.