Free Invaders Slot Game
This sci-fi themed slot is an older one from software house BetSoft. There are 5 reels, and some quirky b-movie type UFO graphics, though not the cinematic characters and video sequences of the more recent titles.
This is a lower variance slot, with a lot of smaller wins rather than one huge jackpot or outsized payout.
There are two key features (as well as the usual scatters and wilds).
These are an on-reel feature where some multipliers get 'initiated' and a second-screen bonus game involving beaming up gold to a UFO.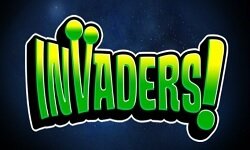 How to Win on the Invaders Slot
You'll have up to 20 win lines to select from going from left to right across the 5 reels of Invaders. The UFO is the single biggest paying symbol, worth a reasonable 1000 coins for 5 on a line, 500 for 4 and 200 for just 3. This is twice the value of the next highest payer, which is the green and purple alien with one huge eye and trumpet ears on stalks (I did say this is a b-movie type theme!). This is worth 500 coins for 5, 200 for 4 and 100 for 3.
Next come some classic alien invasion type symbols. There is one with two aliens with what could be a hologram of the earth, an 'Area 51' sign, a crop circle, purple and red planets, ringed planet and what could be an asteroid. Another welcome symbol is the newspaper. The headline on this reads 'Aliens Invade'.  This substitutes for any of the regular symbols listed above to create wins. It will often make different wins on several lines, especially when you have more than one on the first two reels.
The asteroids are scatters, and pay depending on the number in view regardless of whether they line up on a pay line.
There are 2 special symbols – a screen with the word 'initiate', and a UFO over a suburban house – both of these will trigger the bonus games.
Invaders Slot Bonus Games
Lining up 3 or more of the 'initiate' icons will bring these to life for an on-reel feature. You'll see a bright green alien finger reach in and hit each screen, which will then flash and settle on a number. This says 'x' on it (as in the multiplication sign) though that is not quite right. In fact the numbers are added together, and multiplied by the number of coins you are playing per line. The numbers are up to 250x your coin bet (12.5x your total bet), so not a huge feature. This comes along frequently enough to be a welcome addition to your bankroll.
3 of the UFO / House combination symbols anywhere on the screen will trigger the second screen bonus game. If you get 4 or 5 of these symbols on the triggering spin, the game stays the same and you get a multiplier on your wins.
What happens is that the UFO which is the spin button flies onto the reels, and you see a scene with 3 houses. When you choose a house, the UFO moves above it, a bright light comes out, and all the gold in the house is sucked into the UFO. This translates into coins, which are displayed on the screen. You get to choose all 3 houses.
Design and Setup for Invaders
Overall the design of this slot is bright and has that slightly over the top feel that you might associate with sci-fi b-movies. Green and blue are the dominant colors, though there is plenty of contrast on the different symbols. When you click the UFO which is the spin button, you'll see all the win lines across the reels flash in neon green before the reels spin.
When you do win a buzzing neon trail will outline the squares of the winning symbols. Some of the wins involve small animations, for example the crop circle has a UFO come in to create the design. Sounds include a background hum to the whole slot, and some sci-fi beeps when you spin the reels.
The setup is very standard for a 5 reel slot. There are 20 win lines, which you can select from. You then get to choose how many coins per line, and the coin size (from 2c and up). As with all BetSoft slots, you'll see a 'bet max' button as well as an auto-play option.
Overall Experience
While this slot will not blow you away in the same way that the more recent 3D titles will, it is still worth a play. The quirky b-movie theme and innovative bonus games are engaging, and you'll get a lot of play for your money with regular smaller wins too.