Sinbad Slot Machine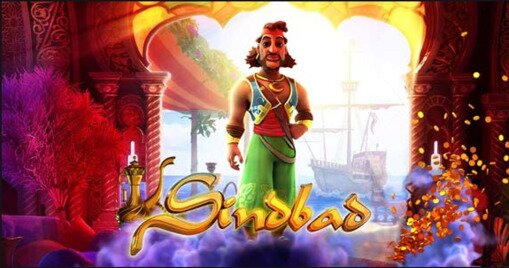 This slot is created by Quickspin, and made available via Amaya casinos under a licensing agreement. It is bold, colorful and smooth – with some amazing graphics and an unusual 3-4-4-4-3 reel configuration. All of the symbols (different characters from the original Persian tale) are stacked on the reels. This means that wins come in groups, sometimes over 10 or more of the 40 win-lines at the same time. There is also a free spins game with 3 options, each involving yet more excellent animations.
How to Win on the Sinbad Slot
2 symbols from the left is enough to trigger a win in many cases with this slot – though stacked wilds and regular symbols mean that (smaller) wins are very frequent. This more than makes up for the top prizes looking a lot smaller than on slots from many other software houses.
The single biggest win comes via the wild symbol, which is a gold square with crossed curved swords on it. This is worth 500 coins for 5, 50 for 4, 40 for 3 and 5 coins for just 2. With these stacked on the reels you will also usually make a lot of wins with different combinations of the other regular symbols.
There are headed up by Sinbad himself, worth 50 coins for 5 of a kind and also paying down to 2 of a kind. A woman in a mask with a fan and a bearded sultan type are worth 50 coins for 5 too. A younger character in a green head dress and what looks like a sailor make up the rest of the cast and pay 40 coins for all 5. Instead of playing card symbols, this slot uses gems to make up the smaller wins, there are 5 different colors of these.
---
Sinbad Slot Bonus Game
On the middle 3 reels you can hit elaborate gold and purple symbols with ships on them. If you hit all 3 you get to choose from 3 varieties of free spin bonus games. There is also a scatter prize of 2x your total bet.
To start the bonus the reels dissolve and you see a fishing village, which is then replaced by pictures of 3 ancient ships with colored emblems on the sales. You get to pick one of these 3, with a different bonus game each time. These are:
Ape Spins: 7 free spins, with an ape attacking the reels and adding wilds. The graphics are amazing for this, with a 3D gorilla walking in front of the reels and smashing them. Cracked symbols then become sticky wilds for the rest of the game. By the time you get to the last couple of spins, you can have a lot of wilds!
Roc Spins: 10 free slot games, with a mythical 2 headed bird swooping in on the reels and a diamond collection game. First you see a graphic of a giant nest with 2 eggs, then the reels come back with a meter to the right where you collect diamonds to get more wilds. When a diamond appears on the reels, a giant bird swoops down to grab it, adding it to the meter. Stages make new symbols go wild, and you can also add extra free spins if you reach certain milestones.
Snake Spins: 12 free spins this time, with special snake wilds appearing on the first and 5th reels. When you hit both of these, the first one opens up and a blue and gold snake comes out (another excellent animation). This leaves extra wilds, giving you the opportunity for more wins. These wilds are not sticky, though in combination with the regular wilds the wins can be very good.
Design and Setup of Sinbad
Overall, the design of this game is excellent – with the background graphics really detailed and the animations in the bonus games as good as anything you will find on an online slot. The main game has spires of a Persian city around it, with the irregular reel format surrounded in gold. Characters on the reels are detailed too, with fiery animations around the winning symbols when they line up.
Things really go to the next level during the free spins bonus round. The ape, roc and snake are all superb, and the settings where you play these games are just as detailed as the base game.
Despite the unusual reel setup, this game is very easy to play. The 40 win-lines are fixed in place, so you just need to determine how big your coin size will be. This can range from 2c up to $80. An auto play option is offered.
---
Overall Experience
This is a top quality slot, and is sure to have its fans. While there is only one core feature, having 3 distinct variations keeps things interesting. When you do get the features those extra wilds can lead to a lot of simultaneous wins, which more than makes up for the lower individual prize levels. This Quickspin slot available via Amaya is a strong recommendation.