The first real money casino launched in 1996, but it would be another 10 years before mobile slots casinos were viable. Web-based casino games have evolved in the 24 years since interactive gaming began. First, they were crude imitations of table games and land-based slots. Here in 2021, online and mobile slots feature 3D effects, personalized avatars, and even casino games dealt by live dealers via webcam.
Mobile casino slots were a big part of that process. As smartphones and tablets became popular, demand for mobile slots at online casinos increased. Since real money slot machines are the key to both traditional and Internet casinos, it's logical for mobile casinos to offer a variety of mobile slots for real money. This guide to mobile slots discusses Android and iPhone casino slots, though we'll touch on other devices as well.
Top Mobile Slots Casinos
| Ranking | Casino Name | Bonus Amount | Review | Payment Options | Minimum Deposit | Actions |
| --- | --- | --- | --- | --- | --- | --- |
Slots for Android Phones and iPhones
Slots were among the first real money casino games converted to mobile-compatible apps. The reason is two-fold. The way gamblers interact with slot games – and have for a hundred years – lends itself to an on-screen format. Playing a slot game on your mobile device isn't all that different physically from playing a similar game in a casino.
The second reason is basic logic – slot betting is a multi-billion dollar enterprise and entails up to 70% of all casino revenues. New developers naturally focused on mobile slot design when they wanted to impress online casino owners.
Mobile Slot Apps
All mobile betting must be optimized for Android and iOS devices. The first real money slots were gaming apps designed specifically for iOS, BlackBerry, Windows Phone, and Android. Each device had its own slots app.
Over the past 15 years, mobile game design has changed. Developers focused more on Apple iOS and Android devices, as those operating systems dominated the market.
Another change occurred: casino game developers designed browser-based or "instant" games. This meant any device could use the gaming app because it opened in the web browser instead of a downloadable app.
Instant Play Slots at Mobile Casinos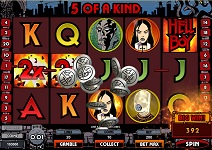 The quality and variety of mobile casino games a player has access to depends heavily on the device they use.
Android and iOS devices give players access to the widest selection of mobile slots. As BlackBerry and Windows Phone receded from the market, designers paid less attention to casino apps for those devices.
People who don't use an iPhone or Android phone can still play mobile slots, but they must choose platforms designed for instant play.
Pros and Cons of Mobile Slot Games
An obvious advantage of slot play on a smartphone or tablet is the ability to play anywhere. The mobile casino business has embraced slots with a ferocity. Variety, portability, and ease of access are a big checkmark in favor of mobile slot gambling. On the other hand, smaller screens make graphics, music, and gameplay less than optimal.
The inception of HTML5 has helped. Most early mobile slots used Flash for their animations, which naturally limited the possibilities. HTML5 renders smoother gameplay and better graphics, so mobile slots are catching up to online slots in the past 5 years.
Still, the smaller display size for tablets and especially smartphones will always make for difficulties. That's especially true with mobile slot games, because of the reliance on flashy graphics and great sounds.
While an iPad or Android tablet might closely mimic what a desktop computer can do, an iPhone or Android smartphone might never equal the graphical quality of a PC's giant monitor. On the other hand, nothing beats the convenience of playing mobile slots on the go.
When you can bet on slots while waiting at the doctor's office, players can deal with the relatively smaller screens of an iPhone or Samsung Galaxy.
Mobile Slot Games FAQ
Yes. Five US states offer regulated mobile casino gambling. The remaining states don't have regulated online casinos, but players there sign up at offshore online casinos. Law enforcement in those states don't prosecute individual citizens who play online.
It depends on where you play. I'll give a few suggestions, though. American and Australian players love Aristocrat slots like Buffalo Slots or Choy Sun Doa.
IGT has so many great slots it's hard to list them all, but the Cleopatra II and the Monopoly Slots Series are wildly popular.
Yes, though you won't find as many mobile progressive slots as you would online progressive slots. As a general rule, the best online casinos offer a half-dozen to a dozen wide-area progressive slots. The best mobile casinos cut down the numbers significantly, so you'll find one or two mobile progressive slots.
Remember, online casinos must pay designers to port over games from desktop to mobile and they want to satisfy all kinds of slots customers, so they pick-and-choose what gets converted first.
The ideal software and platform for any individual player depends on what they look for in slot machines. If a gambler prizes variety above all else, he should be using an Android phone or tablet. While mobile casinos support the same number of Android and iOS games, you'll still have more downloadable apps for Android in the non-betting sector.
If instant play is what you find, there are advantages to using an Apple mobile device. Generally speaking, picture quality and customization options are better on the iPad or the newer models of iPhone, but remember that you'll probably be limited to instant games only, which are themselves limited by bandwidth and your device's capabilities.
Find a mobile casino that doesn't use downloads. Many Android and iPhone casinos now offer instant-play, browser-based casino games. Those gaming sites have dozens of mobile slots – maybe hundreds of them.