WinPalace Casino Blackjack - $1000 Bonus for Blackjack Ga mes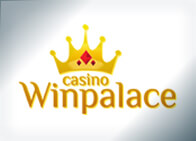 www.WinPalace.com
100% up to $1,000
WinPalace Casino
Blackjack Bonus of 100% up to $1,000
Receive up to $1,000 Free for Blackjack
Best Payouts & Customer Support
Play Blackjack for Free or Real Money
WinPalace Casino Highlights
Exclusive $1000 Bonus for Blackjack Games

Offers 8 Variants of Real Money & Free Blackjack

Accepts All USA Players & US Deposits
WinPalace Casino Highlights
This Casino is Not Mobile Compatible
WinPalace Casino Info
Name:

WinPalace Casino

Website:

www.WinPalace.com

Established:

2011

Jurisdiction:

Canada

Software:

Real Time Gaming

Phone:

1.877.640.3259

Email:

support@winpalace.com

Bonus:

100% up to $1,000

Bonus Code:

N/A - Use Links
WinPalace Casino Screenshots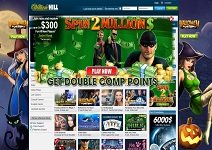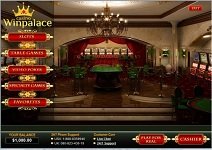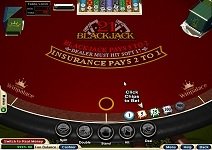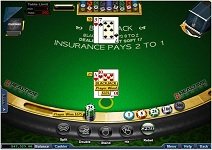 Full Win Palace Casino Review
WinPalace Casino is an online gaming site owned by NetAd Management, which also owns Slots Jungle Casino. Win-Palace Casino uses RealTime Gaming software to operate its downloadable and instant-play games. Since RTG sites have the option to accept real-money gamblers from the United States, blackjack players from the US can play blackjack at the WinPalace Casino.
Read More About Win Palace Casino
Win Palace Video Poker
Win Palace Review

Win Palace Slot Games
Win Palace Roulette
---
Win Palace Blackjack Games
WinPalace Casino offers a variety of blackjack games from the RealTime Gaming lineup. If you've played at other RTG sites, you might be familiar with these games, though WinPalace sometimes calls them by slightly different names. In fact, longtime Internet blackjack gamblers may have played a few of these games at Playtech or Microgaming websites under totally different names, so I'll point this out when describing and discussing each title. One or two of these twenty-one variants are proprietary to RTG, so you won't find their equivalent anywhere else on the Internet except at other RTG casinos.
Face Up 21
Perfect Pairs
Pontoon
Match Play 21
European Blackjack
Classic Blackjack
Face Up 21 – Those who've played a lot of online blackjack games have probably played face-up 21 under another name: "double exposure" blackjack. Both names describe the game fairly well, because this is the game where both of the dealer's cards are dealt face up (exposing both cards). Double exposure gives a blackjack player twice the information about the house's chances in a round of blackjack. Besides possible hit-me cards the dealer might acquire, you know everything you'll need to know to make your strategy decisions.
This creates a different strategy chart for a face-up 21 player than someone playing most twenty-one games online. In many cases, you know exactly which number you need to beat, so you simply keep hitting until you either beat the dealer's hand or go bust.
Not everything is to your advantage in face-up 21, though. In fact, the player only gets paid 1 to 1 when you have a blackjack. This disadvantage evens out the probabilities, creating a house edge for the casino. In fact, face-up 21 has a house edge of around 0.85%, which is about 0.20% bigger than classic blackjack. At the same time, you have less 50/50 calls to make, so many players prefer to play double exposure blackjack.
Perfect Pairs – This game is sometimes called "BJ & perfect pairs" at some RealTime Gaming casinos. This game plays much like classic blackjack, except it has a side bet based on the proposition of whether you'll be dealt a pair on the blackjack deal. The type of pair is important and determines how big of a payout you receive.
When you get any standard pair that aren't of the same color and are unsuited, you'll be paid 5 to 1 on your original wager. If you happen to get a pair that isn't suited, but is of the same color, you'll be paid 10 to 1 odds. Finally, if you receive a suited pair, you'll be paid the nice 40 to 1 payout. This isn't likely to happen to often, but it's a nice bonus when you do hit the maximum on the side bet. Keep in mind that the house edge is quite high on the perfect pairs side bet: about 6%.
Pontoon Twenty-One – Pontoon is a traditional twenty-one game which has been popular in England for generations. Pontoon pays out on a blackjack with a 2 to 1 odds. The 200% payout is a nice boost to your odds of breaking even or even winning big on pontoon. So is the 5-card trick, which pays out anytime you hold five cards and don't exceed 21. The five-card trick is the second-best hand you can have in pontoon. To offset these advantages, the dealer wins on any tie.
Match Play 21 – A "match play 21" is a hand in which you hold three suited 7s and the dealer holds one 7 of any suit. This is but one of a number of ways you can win with some variations of a 3-card 21 hand. The blackjack remains the best hand in the game. Dealers win ties, meaning a dealer blackjack is the best hand possible. Other good hands in match-play 21 include 5-card hand 21, along with a six-card 21. Getting a 6-7-8 of any suit is good, while getting a 6-7-8 of spades pays out even better. A suited 777 pays a good amount, while the 777 of spades pays out even more.
Match-play 21 is played with the 10s taken out of the deck, creating a Spanish deck. This increases your chances of hitting the match-play 21 or other 777 or 678 hands. The matchplay 21 pays out at 40 to 1, while 777 of spades and the 678 of spades pay out at 3 to 1 (along with the rare seven-card 21). Blackjacks pay at 3 to 2, like normal. As mentioned before, the dealer always wins a tie, so keep this in mind while playing. Because of so many exciting winning combinations, players don't mind the tying rule.
European Blackjack – European blackjack is the game played in most European casinos over the decades. Many of the rules are familiar. For instance, a blackjack pays at 3 to 2, while insurance pays at 2 to 1. The dealer must stand on a soft 17. One important rule is that the dealer doesn't check for blackjack when he's showing a 10 or ace until after the player has made all their bets. If the dealer has blackjack, that means a player who has doubled or split is going to lose the whole bet, not just their ante bet. American blackjack stipulates the player can only lose their original bet when the dealer has a blackjack. This raises the house edge up to 0.57% on European twenty-one.
Classic Blackjack – This is the game you know the best, if you're looking for the most common form of blackjack in the casino. In this game, the blackjack pays at 3 to 2, while insurance (not recommended) pays at 2 to 1. In classic blackjack, the dealer hits on a soft 17. The house edge when playing classic blackjack at WinPalace Casino is 0.13%.