William Hill Casino Blackjack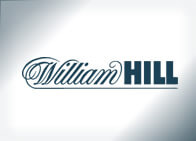 www.WilliamHill.com
100% up to $300
William Hill Casino
First Deposit bonus 100% up to $300
Offers Low Limit, High Limit & Live Games
One of the Most Reputable and Legit Casinos
Bet in CDN, USD, GBP, Euros, Rands
William Hill Casino Highlights
Play Real Money Blackjack with Live Dealers

This Casino Accepts Paypal Deposits / Cashouts

$6,000 Loyalty Monthly Bonus
William Hill Casino Highlights
Does Not Accept US Players
William Hill Casino Info
Name:

William Hill Casino

Website:

www.WilliamHill.com

Established:

2009

Jurisdiction:

Gibraltar

Software:

Playtech

Phone:

+44 203 393 6695

Email:

support@WilliamHill.com

Bonus:

100% up to $300

Bonus Code:

N/A - Use Links
William Hill Casino Screenshots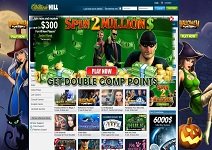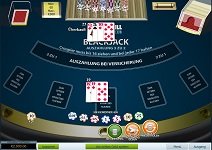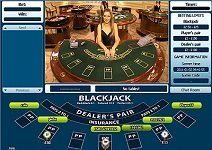 Full William Hill Casino Blackjack Review
WilliamHill Casino uses Playtech online gambling software to power several forms of blackjack. Players can play using downloadable blackjack software or with a no-download version of these blackjack games. Most of the blackjack games you see on this page will work on a Mac or Linux in addition to Windows. Playtech casinos are also compatible with Android, iPhone and iPads.
Gamblers also have the option of playing blackjack simulations using the standard William Hill software, or use video streaming to play live blackjack which is broadcast from the Playtech live dealer casino room.
In either of these versions, new players might assume their only option is to play the traditional 21-blackjack game they probably learned to play as a child. That's not the case. Like most online casino websites, William Hill Online Casino has a selection of blackjack variants to play. What sets William Hill Casino apart is the sheer number of these games–twice as much as the standard online casino.
Read More About William Hill Casino
William Hill Casino
William Hill Video Poker

William Hill Slot Games
William Hill Casino Roulette
Blackjack Variants at William Hill Online
Besides classic blackjack, online gamblers have the option to play games like "Blackjack UK", perfect blackjack, blackjack switch, blackjack surrender, progressive jackpot blackjack, pontoon, and 21-duel blackjack.
This gives players who want a different gambling experience several options to try, while giving them a familiar game they don't have to totally relearn. Be careful when playing these variations, because the basic strategy charts are not the same as the ones you've studied in preparation for classic blackjack over the years. At the same time, the game isn't so new or exotic that you have to study something unfamiliar. Blackjack players get the concept of these games instantly.
In this article, I'm going to discuss each of these William Hill Casino blackjack games briefly and offer a bit of insight into each. Read these and you should have the information you need to make educated decisions on which games to play first.
Blackjack Games Played at William Hill Casino
Blackjack UK
Blackjack Switch
Perfect Blackjack
Blackjack Surrender
Progressive Jackpot Blackjack
21 Duel Blackjack
Classic Blackjack Twenty-One – This is the classic game, of course. This is the game where you build a hand as close to 21 as possible without going over. Detailed basic strategy tables have been created that good players learn, while the low house edge means that good card counters have a chance to push the odds slightly in their favor, though the betting patterns needed to win are suspicious to casino management. While house rules apply, the dealer usually stands on a soft 17 and hits on a soft 16.
21 Duel Blackjack Rules – 21-duel blackjack requires an ante. Players receive a face-up card and a hole card. Two communal cards are placed on the table for everyone to see. Players must choose one of the two communal cards to create the best hand at or near 21. The game setup is going to look similar to Texas hold'em, though these are two quite different games. Sharing a card with the dealer creates a dynamic you won't see in most blackjack games. Having to select one extra card also affects your blackjack strategy. Players should know they can only hit once in this game.
The twenty-one duel blackjack deck is built using 6 card decks. The game itself is proprietary to Playtech, so you'll only see the game in Playtech casinos. Since U.S. players aren't accepted at Playtech sites, Americans playing at an IP address in the USA won't be able to play this game (see this page for a list of USA blackjack casinos).
Progressive Jackpot Blackjack – This game is similar to several newer casino games with the poker game mechanic (like Let It Ride), where players are offered a $1 side bet for a progressive jackpot. The odds aren't great you'll hit the progressive, but the allure of hitting a huge jackpot draws in players by the droves.
UK Blackjack Rules – One of the main differences in UK blackjack and the classic game is players have the option to play between 1 and 5 hands per deal. The dealer stands on all 17s and blackjack pays out at 3:2. Insurance is optional. Players do not receive a face up card, which hurts strategy, since you can't see what the other players have. Players can re-split up to 3 times, while you can't re-split when you hold two aces.
Perfect Blackjack – Perfect blackjack has a reshuffle after each hand. Gamblers get only one split, while players who split aces get only one card. The dealer doesn't check for blackjack, while the house always stands on 17 and always hits on 16.
Exotic rules are in place. One is the "perfect pairs" rule, which gives you a special reward if you win on special two-card hands, such as a same-colored pair. Also, the 10-card Charlie win bonus is offered, which pays for any 10-card hand that doesn't bust.
Blackjack Switch Rules – Switch blackjack is played only at Playtech casinos and a few brick-and-mortar gambling houses in Las Vegas. In the Playtech version, six decks are used, while the Vegas games use 8 decks. No dealer blackjacks are used in the Playtech version (also a departure from Las Vegas blackjack switch). Gamblers cannot split more than once.
The reason this game is called "switch" is that players are dealt two hands and they can switch cards between hands. This has obvious advantages, but the house gets certain advantages in return. Worst of all, a blackjack only pays at 1 to 1, instead of 3 to 2. Also, when a dealer gets a hard 22, this is a push with every hand you might build except a natural blackjack. That creates some heartbreaking hands occasionally.
Blackjack Surrender Rules – Players are given the ability to surrender after the dealer has checked his or her cards for blackjack (late surrender). Players cannot buy insurance, though this is often misused by novice players, anyway. If you get 10s of different ranks, you can split them. So if you get a jack-king, you can split them as tens. On the other hand, any ace split only gets one more card dealt to it.