Smart Live Gaming Blackjack Review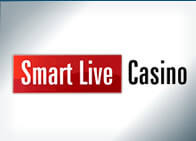 www.SmartLiveGaming.com
100% up to £100
Smart Live Casino
100% First Deposit Bonus up to £100
Offers Mobile, Download & No Download
Low to High Limit Blackjack Games
Accepts PayPal Deposits
Smart Live Casino Highlights
Play BJ on Your Mobile for Free or Real Money

Play Live Dealer Blackjack at SmartLiveGaming.com

Over 12 Video Poker Games to Choose From
Smart Live Casino Highlights
Does Not Accept US Players
Smart Live Casino Info
Name:

Smart Live Casino

Website:

www.SmartLiveGaming.com

Established:

2010

Jurisdiction:

Gibraltar

Software:

Net Ent & Betsoft

Phone:

+44 (0)800 2798 510

Email:

support@smartlivecasino.com

Bonus:

100% up to £100

Bonus Code:

N/A - Use Links
Smart Live Casino Screenshots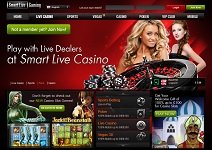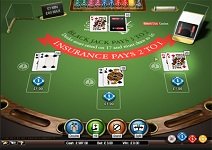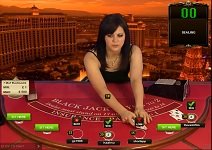 Full Smart Live Blackjack Review
Smart Live Gaming Casino is a property of the Smart Gaming Group based on Regent Street in London, England. The SmartLive Group also owns a live gaming casino, poker room, sports book, and 3D online casino (3D Vegas) under the same corporate name. All of these Internet gambling sites are licensed in the United Kingdom itself, though Smart Live Gaming Casino is co-licensed out of Malta.
The website uses three different software packages, including its own proprietary software, along with licensed technology from Net Entertainment and Betsoft. Propietary software is developed in-house by the online casino's design team, so the experts who know the most about technical issues and their fixes are available to the Smartlive customer support staff. To play games at the site, you can either download the full casino package or place wagers without the download using the instant play option. All of the blackjack table games are powered by NetEnt or Net Entertainment software.
Read More About Smart Live Casino
Smart Live Video Poker
Smart Live Casino

Smart Live Slot Games
Smart Live Roulette
---
Smart Live Blackjack – Classic Twenty-One
When you first start looking at the table games at Smartlive Casino, you might get confused because you have the option of "blackjack" and "blackjack classic". Since classic blackjack is the name used for the traditional, most popular form of twenty-one at most online casinos, you might be tempted to see this as the most stripped-down version of the game. At Smart Live Casino, these are both the same. If you want the game you remember playing first, you can't go wrong playing the simple "blackjack" game or the blackjack-classic version. Both have the exact same rules.
In this game, you play with one deck and no more. Players only get the option to play one hand at a time. Blackjacks pay out at 3 to 2, while insurance pays out at 2 to 1. Any standard win is going to pay 1 to 1. Three types of table limits are offered. The lowest table limit is between €0.10 and €5.00. The intermediate table limit is between €1.00 and €40.00. The high roller table limit is between €25.00 and €500.00. This means games are available for everyone from the typical online gambler to the high rollers. Free versions of the game are also offered by SmartLive Gaming.
Double Exposure Blackjack – Double exposure blackjack has no hole cards for the dealers. Both the dealer's cards are going to be visible to the players, giving you the information you need to play perfect strategy (so study up). To maximize the payout on double-exposure, you'll need to be smarter than the player on the classic game, because all payouts are at 1-to-1. That might sound like the normal run of things, but you might be forgetting the blackjack payouts. To give the house an edge and even-out the advantage of knowing the dealer's full hand, blackjacks only pay out at 1:1 instead of the standard 3:2. Still, this is a game which appeals to smart players, because they get more useful information to employ basic strategy.
Pontoon Blackjack – Pontoon blackjack is just the opposite of double-exposure 21 in one important way: the dealer's cards are both face-down. This presents a significant challenge to the player, since you have only the knowledge of your own cards to make decisions. Certain tradeoffs are in place, though. First, blackjacks (called "pontoons") pay at 2-to-1 or 200%, much better than the standard 150% payouts in most forms of blackjack. Also, the five-card trick pays out at 2:1 odds, too. Those who've never played pontoon might be wondering what the 5-card trick is, so let me explain.
The 5-card trick in pontoon is any hand with 5 cards in it which hasn't busted. If you have 5 cards and it's a 21, this is the five-card trick. If you have 5 cards and they equal 16, this too is a five-card trick. Anytime you get one of these hands, you win automatically, just like the pontoon. This gives you two important ways to win the top payout, while paying out significantly more than you would in classic blackjack. But you're making your plays based on an utter lack of information on the house's cards. As you might imagine, games of pontoon have significant deviation.
---
Live Blackjack at SmartLive
Since the site is named "Smart Live Gaming Casino", it's probably no surprise that live dealer games are available. This includes live baccarat, live roulette, and (of course) live blackjack. This option has become widespread in the last five years or so, since live streaming video became more mainstream. With video broadcasts over the Internet much more feasible these days, it's natural that the online casinos and their software developers would try to find a way to take advantage of the technology to give players what they want.
One of the common complaints traditional gamblers have about online casinos is the simulation software only approximates the gaming experience one would have in a brick-and-mortar casino. No matter how realistic a virtual casino looks, playing with a random number generator can't replace the excitement of drawing real cards through a live gambling experience in a real casino. That's what live dealer blackjack does.
Instead of having a computer chip giving you results, you see a real dealer in a live dealer room in Europe draw cards from a shoe, deal those cards to you, and peak for their blackjack. You can communicate with this person via audio or instant message. If you have an issue or a question, you can request a live pit boss to come over and discuss with you the issue. In other words, you can have the experience of a real casino blackjack game beamed directly to your computer screen. You sit in your house and play live blackjack with real dealers.
Like a live casino blackjack table, you'll be playing at tables set up for up to 7 blackjack players. You'll be able to chat with these people while you play, just as you would in a standard casino in your home country. Bet limits are between €1 and €500.