OnBling Casino Blackjack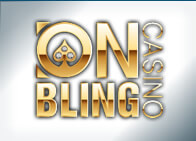 www.OnBling.com
320% up to $3200
OnBling Casino
Receive a 320% to $3200 in New Player Bonuses
320% Bonus Up to $3200 Casino Bonus
Low to High Limit Blackjack Games
Play Straight 21 or Side Bet Games
OnBling Casino Highlights
7 Variations of Blackjack Available

Bet As Little As $1 Up to $250 Per Hand

Fastest Paying Online Casino
OnBling Casino Highlights
Does Not Offer a Mobile Casino
OnBling Casino Info
Name:

OnBling Casino

Website:

www.OnBling.com

Established:

2009

Jurisdiction:

Canada

Software:

RTG

Phone:

1-888-426-3661

Email:

support@onbling.com

Bonus:

320% up to $3200

Bonus Code:

N/A - Use Links
OnBling Casino Screenshots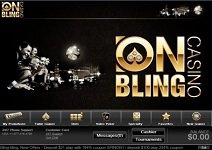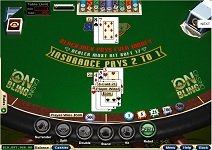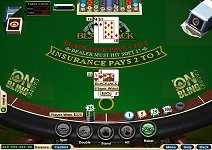 Full OnBling Casino BLackjack Review
(Closed)
Because blackjack is one of a handful of casino table games that gives the casino a tiny advantage (as small as 0.5% if a gambler follows basic strategy), it is common for online gaming sites to host very few game variants. The investment in games like blackjack, games which don't give the casino much of an advantage, doesn't pay off as well as investments in slot machines, scratch cards, and other luck-based games. When you consider that table games, including craps and roulette, don't have a lot of wiggle room for variations to begin with, it isn't surprising that Internet gaming sites tend to host only a single version of a given table game.
Fans of blackjack will be happy to see that Onbling Casino bucks that trend, hosting seven versions of blackjack. While it is true that some of the site's versions of blackjack are only slightly different from one another, it's refreshing to see a USA blackjack casino providing variety at the blackjack table. Online gamblers that like table games tend to get fewer perks than those who play games of chance like slot machines and keno – smaller bonuses, fewer promotions, and little game variety.
Onbling Casino, powered by Real Time Gaming, gives their customers who like to play blackjack plenty of game variety, ranging from the classic Vegas casino version to a few totally unique variations on the game available exclusively from Real Time's library of casino games.
Read More About OnBling Casino
OnBling Video Poker
OnBling Casino Slots

OnBling Casino Roulette
OnBling Casino
---
OnBling Casino Blackjack Rules
Whether you're new to gambling or not, it is a good idea to read through the rules of any game you play before you lay down a cash wager. This is especially true when you're playing a game variant that you aren't familiar with.
We will look at some specific rule variations further down the page, but we should start by laying down the basic rules of the game as played at Onbling Casino and other RTG properties.
All blackjack games at Onbling Casino use a shoe made up of four standard decks of cards. Please note that the shoe is shuffled after each hand, so card-counting is not a possibility, but that's standard at online casinos and should come as no surprise to veteran Internet gamblers.
In all but two of the site's blackjack games, the dealer must hit on a soft hand of 17. Another general rule that applies to all of Onbling's blackjack titles is that gamblers are able to double down on any combination of their first two cards, allowed to double down after any split, and can only split two times. In every variant besides European-rules, the dealer will peek for blackjack before the gambler makes any in-game decisions. That means (unless you're playing Euro blackjack) you can't lose your first bet outright unless the dealer draws a blackjack.
Another feature common to all of Onbling's blackjack games is the range of bets gamblers are allowed to place. Every version of this classic casino table game allows for wagers between $1 and $250 per hand. This is great for both high limit and low limit blackjack players.
---
Blackjack Variants at Onbling Casino
Besides the standard blackjack game, which closely mimics the rules of the game as you'd find it in a casino in Vegas or Atlantic City, Onbling Casino hosts six blackjack-inspired titles.
Here are all six variants of blackjack besides the standard game, all of which are currently available at Onbling Casino, along with a few details about each game.
European Blackjack – The European version of blackjack is distinct from the game as it's played in America. The biggest difference is that the dealer doesn't "peek" to see if he's been dealt blackjack. This makes the game riskier for the gamblers, because he has to make some decisions before the dealer reveals a blackjack. For example, if you choose to split or double down before the dealer reveals he has blackjack, your losses will be much greater than in the US version of the game, in which the dealer peeks for blackjack right away.
Pontoon – Onbling Casino has major bragging rights with their Pontoon variant – they were the first designers of this popular UK version of blackjack. If you've never played this variant before, it's critical to go over the rules and payouts. Hand values are different, the payout structure is different, and anyone unfamiliar with Pontoon may be totally lost, even if they've played tons of blackjack before.
Perfect Pairs – Onbling Casino's Perfect Pairs game is not much different from standard game rules. The main difference is a set of bonuses you can win for holding certain sets of pairs.
Face Up 21 – If the name doesn't clue you in, the major difference between Onbling Casino's  Face Up 21 and the standard game is that the dealer's cards are all dealt face up. Because the player can see what the dealer is holding, the gambler is at a slight advantage.
However, Onbling Casino has altered payouts and other game rules to make up for the change in player advantage. In Face Up 21, a tie means a win for the house, rather than a push. This is just one example of the difference between Face Up and standard blackjack rules; be sure to go over the game's instructions and play a few play-money rounds before you start playing blackjack for real money.
Super 21 – Bigger-than-usual payouts and a wider variety of wagers set Super 21 apart from traditional blackjack. Onbling Casino  compensates for the game's larger payouts in a few ways, the most obvious of which is the fact that this game pays even money for a blackjack, rather than the standard 3:2 payout.
Match Play 21 – A game unique to Onbling Casino, Match Play 21 is an exciting new way to play blackjack that adds a payout structure for hands with certain matching cards. If you want to try a new variation of blackjack that sticks close to the standard game but offers some new twists, Match Play 21 is a good place to start.