Mansion Casino Video Poker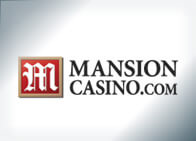 www.MansionCasino.com
100% up to $/€/£5000
Mansion Casino
First Deposit Bonus up to $/€/£5000
Offers Nine Variations of Video Poker
Play Video Poker for Real or Free
Huge Bonuses + Good Customer Support
Play now at Mansion Casino
Mansion Casino Highlights
Play 4 Line Deuces Wild Video Poker

Games Spread From Low to High Limit

Receive up to $5000 in Bonuses
Mansion Casino Highlights
Does Not Accept US Players
Mansion Casino Info
Name:

Mansion Casino

Website:

www.MansionCasino.com

Established:

2010

Jurisdiction:

Gibraltar

Software:

Playtech

Phone:

+44 208 1660060

Email:

support@mansionmasino.com

Bonus:

100% up to $/€/£5000

Bonus Code:

N/A - Use Links
Mansion Casino Screenshots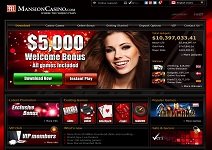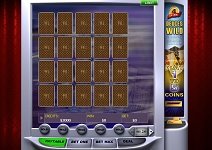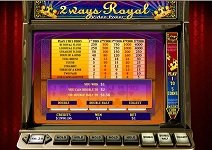 Full Mansion Casino Video Poker Review
Mansion Casino is powered by Playtech software and is regulated by the licensing authority in Gibraltar, one of the UK's overseas territories. Mansion Casino has over 250 separate games, along with 9 different versions of video poker. These are going to be video poker powered by Playtech software, so veteran online gamblers are likely to be familiar with many of these games. One might be new to players, while a second game found on Mansion Casino's video poker page might not qualify for what you consider real video poker. I'll discuss each of these games in their turn and allow you to make a decision.
Jacks or Better Video Poker – You might have trouble finding jacks or better video poker from the video poker page on Mansion Casino, but I can assure you the game is offered. Jacks or better is the most popular version of the game. This isn't just because it was the first, but because it still has the lowest house edge. If you can't find the jacks or better game for some reason, play the all-American video poker game, which is almost the same.
All-American Video Poker – All-American video poker is played exactly like the original jacks or better game, though it has a few features you might enjoy. One is the double-or-nothing feature, which lets a player hit the "double" button and risk their full winning payment for the chance at doubling the money on the win. A few other neat features are offered on all-American video poker, such as the ability to set strategy choices so you don't have to manipulate them every time they happen in game play. Mansion Casino appears to be phasing out the jacks or better game in lieu of all-American poker, which might explain why they don't offer the original on the video poker page. Keep in mind the double-or-nothing mode is optional, so you can play as you always have, if you don't like that option.
Mega Jacks Video Poker – Mega-jacks video poker is another game much like jacks or better, except with a progressive jackpot added into the mix. Once again, this game plays exactly like jacks or better, otherwise.
Tens or Better Video Poker – Tens-or-better video poker has a different pay table which starts at a pair of 10s or better. The payouts are smaller on certain key hands, so the house edge is actually higher on this game than its more famous counterpart. Still, those who've had a string of losing hands with a pair of 10s might prefer this game for a while.
Aces & Faces Video Poker – Aces and faces video poker gives special payouts for four aces or hands with four face cards. This means you receive more hands which give big payouts. The tradeoff is fewer payouts at the low hand amounts, so the volatility in aces & faces video poker is greater.
Deuces Wild Video Poker – Deuces wild is a game where players gets four wild cards (the two-cards). This gives you a much better chance of hitting the high hands, so deuces wild is a popular variant of video poker. A pair or even two pair don't constitute a winning hand, though, which produces a house edge. This game can also be played as deuces wild 4-line video poker, where four hands are played out at once.
Joker Wild Video Poker – Joker wild introduces the joker as the wild card in this game. Though you won't have as many wild cards as deuces wild, joker wild video poker is still a popular game which has been around for a while. If you've always loved games of draw poker where the joker is wild, joker wild video poker is probably your game.
More Video Poker Games
The next two games are listed in Mansion Casino's "videopoker" section, though I certainly don't consider them as video poker games (and most others wouldn't). The games I talk about are "genie hi-lo" and "pai gow poker". Genie high-low is a game where you're shown 12 cards of a 52-card deck, then asked to pick what the next card will be. Options include black/red or higher/lower than the last card. If you win twelve straight guesses, you win a progressive jackpot. Due to the increasing information you get from the revealed cards, a certain amount of skill goes into this game, but it's more of a specialty game.
Pai gow poker at least has the word "poker" in its title, but it's not a video poker game, either. The game is based on the popular Chinese game "pai gow" (which can be translated as "make nine" or other terms), but pai-gow poker is loosely based on the Chinese game. You're given 7 cards and you have to make two hands with it: a 5-card hand and a 2-card hand. The five-card hand must rank higher than the two-card hand, but otherwise, you have total freedom to arrange the cards.
People enjoy video poker because it's a game of skill and it has a low house edge, so don't confuse these last couple of entries with the video poker games which so many smart online casinos have enjoyed over the years. Stick with the traditional video poker games and keep playing for a long time, because the house edge is so low.