Mansion Casino Blackjack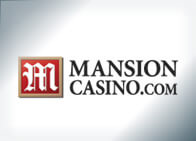 www.MansionCasino.com
100% up to $/€/£5000
Mansion Casino
First Deposit Bonus up to $/€/£5000
Offers 21, Blackjack Switch, 21 Duel
Play Blackjack for Real or Free
Cashback Rewards for VIP Members
Play now at Mansion Casino
Mansion Casino Highlights
Huge Bonus - Up to $/€/£5000 Available to New Players

Play Blackjack on Your Mobile Device

Play Table Games at $1 up to $500 Per Game
Mansion Casino Highlights
Does Not Accept US Players
Mansion Casino Info
Name:

Mansion Casino

Website:

www.MansionCasino.com

Established:

2010

Jurisdiction:

Gibraltar

Software:

Playtech

Phone:

+44 208 1660060

Email:

support@mansionmasino.com

Bonus:

100% up to $/€/£5000

Bonus Code:

N/A - Use Links
Mansion Casino Screenshots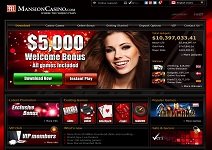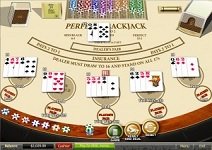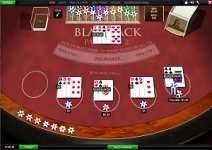 Full Mansion Casino Blackjack Review
Mansion Casino is an online casino website owned by the Mansion Limited group out of Gibraltar. The Mansion Group also owns Mansion Poker, Mansion88, Casino.com, and Casino Com Mobile. All of these sites are licensed in Gibraltar. Mansion Casino uses Playtech software to support its games, including their blackjack selection.
Read More About Mansion Casino
Mansion Casino Blackjack Games
The classic blackjack game at Mansion Casino is the standard Playtech version of the game. Blackjack pays at 3 to 2, while insurance pays at 2 to 1. The dealer must draw to a 16, while the dealer must stand on all 17s. Players are given the option of playing 1 to 5 hands at a time, so the multihand game is going to be found by downloading what looks like the single-player version of the game. Players have the option of downloading the full casino software package or playing the instant-play, no-download version of the game. Also, players can play for real money or choose the free option.
21 Duel Blackjack – In 21-duel blackjack, the game is played with a pair of communal cards, which appear in the big circles at the center of the table. The player is dealt two cards, as well. The object of the game is to combine either one or both of your cards with one (and only one) of the communal cards to form the best 21 hand. The dealer tries to do the same thing, making plays determined by the house rules. The dealer has to create a qualifying hand of 13 or better or you win, though the dealer does win any tie once their hand is qualified. It doesn't matter what hand you get (13 or less works) if the dealer's hand doesn't qualify, though it usually will.
21-duel blackjack also has a 2-up side bet. This bet is based on two different easy-to-understand propositions. The first is a 2-of-a-kind prop bet and the second is a 3-of-a-kind prop bet. If you make the side bet and get any pair, you win a 3:1 payout on the side bet. If you make the side bet and make a 3-of-a-kind using your two dealt cards and one of the communal cards, you win a 20:1 payout.
The minimum wager on 21-duel blackjack is $1, while the max bet is $100. Players are given the option of playing between 1 and 3 hands per round. I can't help but think twenty-one duel blackjack was inspired by the popularity of Texas hold'em, because the game bears a passing resemblance to the world's most popular online poker game when you first take a look at it (though the two games are completely different). 21-duel blackjack is a complete departure from most twenty-one variants, so give the game a try the next time you're at Mansion Casino and want a different game of cards.
Blackjack Switch – Blackjack switch has become popular because it gives gamblers options when playing twenty-one. While all blackjack has the advantage of providing players with strategy challenges and tactical thinking, switch-blackjack gives a player all that plus the ability to affect their entire hand with one move to begin each hand.
In blackjack switch, players are dealt two separate hands. Just like in standard twenty-one, your first card is dealt face-down and the second one is dealt face-up. This gives you two face-up cards–one on each hand. If it suits your chances of winning one or both hands, you can switch these two face-up cards between hands. This provides you with so many possibilities to improve your odds, if you use the right strategy. This is such an obvious advantage, the casino has to even out the odds some way to maintain their edge.
The house edge is maintained by paying out only 1/1 when you hit a blackjack, instead of the conventional 3:2 payouts most games offer. Insurance still pays at 2-to-1. Also, players have to remember when switching cards that each hand is equally important. If you win one hand and lose the other, you're only breaking even on this round of play. Try to make switches which help both hands, though this isn't always possible, of course.
A super-match side bet is also in place in blackjack switch. This side bet rewards players if they receive a pair, a 3 of a kind, two pairs, or a 4 of a kind on the four cards dealt to them (on their two hands). So if you receive a 10-7 and a 10-5 for your two hands, you'll be paid for a pair on the super match side bet. A pair pays at 1:1, while three of a kind pays at 5:1. Getting two pairs pays at 8:1, while being dealt the rare four of a kind pays at 40:1 odds.
Blackjack Surrender – Blackjack surrender is a popular version of twenty-one which isn't nearly as radical as the last two game variations. In blackjack surrender, players are given the option to surrender half their bet if they believe they have little chance of winning. If a blackjack player understands when surrendering is advisable, this rule lowers the house edge. Many players overuse the surrender option, though, hurting their odds.
In blackjack surrender, the blackjack pays 3 to 2. Insurance once again pays at 2 to 1. In the Mansion Poker version of blackjack surrender, the dealer must draw to a 16 and must always stand on 17s. In other words, surrender plays much the same way that classic blackjack plays. The only real difference is the ability to surrender. In most games of surrender blackjack, the player must surrender as a first option, though the dealer does peak to see if he or she has a blackjack before surrendering can take place. When a bet is surrendered, half of the bet is returned to the player, while the house takes the other half. The surrendered player has no other interest in that hand.
These are the Mansion Casino blackjack game variants available. All of them are powered by Playtech, so if you've played at a Playtech casino before, you may be familiar with their rules.