Loco Panda Video Poker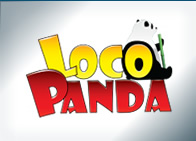 www.LocoPanda.com
400% up to $4,000
Loco Panda Casino
First Deposit bonus 100% up to $5,000
Receive up to $4000 With Your First Deposit
Cash Back Rewards Program
Fast Withdrawals on Video Poker Wins
Loco Panda Casino Highlights
8 Variations of Video Poker

One of the Top 10 USA Online Casinos

Fast Payouts & Huge Bonuses
Loco Panda Casino Highlights
This Casino is Not Mobile Compatible
Loco Panda Casino Info
Name:

Loco Panda Casino

Website:

www.LocoPanda.com

Established:

2011

Jurisdiction:

Canada

Software:

Real Time Gaming

Phone:

1.877.640.3259

Email:

support@locopanda.com

Bonus:

400% up to $4,000

Bonus Code:

N/A - Use Links
Loco Panda Casino Screenshots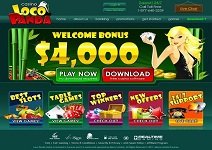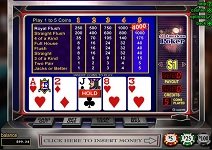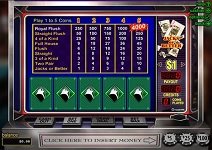 Full Loco Panda Casino Video Poker Review
Loco Panda Casino hosts nineteen different video poker games, which is not the largest collection among online casinos but is certainly a large enough variety to please video poker fans. The option of playing each of their video poker titles in a multi-hand version, and the choice of nineteen unique games, means that most video poker gamblers won't have any trouble finding a game that suits their playing style. About those multi-hand options – Loco Panda Casino video poker games come in single-hand, three-hand, ten-hand, fifty-hand, and 100-hand versions, a variety that should suit every kind of poker machine player.
Read More About Loco Panda Casino
Loco Panda Casino
Loco Panda Blackjack

Loco Panda Casino Slots
Loco Panda Roulette
---
Video Poker Game Variety at Loco Panda Casino
Loco Panda's collection is currently made up of nineteen of the most popular video poker games designed by Real Time Gaming. This is the complete list of titles video poker players can choose from, each of which is provided for both real-money and play-money play:
Jacks or Better
Jacks or Better 2
Joker Poker
Joker Poker 2
Bonus Poker
Bonus Poker 2
Deuces Wild
Deuces Wild 2
Bonus Deuces Wild
Bonus Deuces Wild 2
Double Bonus Poker
Double Bonus Poker 2
Double Double Bonus Poker
Double Double Bonus Poker 2
Double Double Jackpot Poker
Double Double Jackpot Poker 2
7 Stud Poker
Loose Deuces
Loose Deuces 2
Video poker games lend themselves to sequels and slight rule variations – that's why you see so many games with similar names on the list of Loco Panda's video poker games. Like slot machine fans, video poker players are looking for variety and the ability to choose between different styles of games that appeal to the way they want to play.
Each game has a unique payout structure and set of rules to learn; if you're new to video poker, it's smart to look around and play a few rounds using play-money before you jump into real cash wagering. Even so, the differences between Loose Deuces and Loose Deuces 2 (for example) are small variations in the game's rules and payout schedule. That gives video poker players the ability to select a particular set of rules they want to play.
Different poker machine gamblers are looking for different rule variations and payouts, and nineteen options is plenty to keep video poker players occupied while also allowing them to play a particular style of game they're looking for.
---
Benefits of Video Poker at Loco Panda Casino
The biggest argument in favor of choosing Loco Panda for your poker machine gambling is the fact that RTG has designed the games to mimic video poker at brick and mortar casino and other gambling venues. RTG video poker graphics will be familiar to anyone who has ever sat in front of a real machine – gamblers with experience playing Jacks or Better at a traditional casino may be surprised to find out how close Loco Panda's machines are to the real deal.
Online gamblers aren't necessarily looking for life-like graphics, though the recent trend toward 3D graphics and live dealer games indicates that a good chunk of Internet bettors do put some value on realism. Still, RTG's video poker machines are pretty to look at, and the graphics make the game look just like a video poker machine you'd play in Las Vegas or Atlantic City.
When you click buttons on the game interface, they'll light up just like you're in a real casino. Look closely and you'll see reflections of these lights on the machine's screen. The details RTG has included on their video poker games are a nice touch – combine that with a decent number of different games, and it's easy to see why Loco Panda is a good fit for gamblers that enjoy playing video poker.
Don't overlook the value of loading play-money games. All of Loco Panda's RTG-designed poker machines can be played "just for fun," meaning you don't have to risk real money when you play. That option helps gamblers learn a new game or perfect their strategy without risking their bankroll.
RTG may be known better for their Real Series slots than for their video poker games, but at sites like Loco Panda, the ability to choose between so many different games, the realistic design of the titles, and the option of playing without risking real cash makes RTG's line of poker machines a great fit for most fans of this type of online gambling. Loco Panda Casino rotates RTG titles in and out, adding new games when they are released by Real Time, removing others when their popularity wanes. If you enjoy video poker gambling, check Loco Panda's game catalog regularly to look for new titles and even more ways to play.