GrandParker Casino Video Poker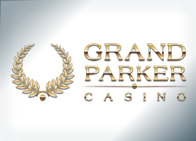 www.GrandParker.com
400% up to $8000
GrandParker Casino
Slots Bonus of 400% up to $8,000
$8,000 Slots Bonus + Cash Back Comps
Play Download or No Download Slots
Best Customer Support 24/7
GrandParker Casino Highlights
Over 75 Slot Games for Free or Play for Real Money

This Casino Accepts US Credit Card Deposits

Win Over $400,000 in Progressive Jackpots
GrandParker Casino Highlights
This Casino is Not Mobile Compatible
GrandParker Casino Info
Name:

GrandParker Casino

Website:

www.GrandParker.com

Established:

2011

Jurisdiction:

Canada

Software:

Real Time Gaming

Phone:

1.877.640.3259

Email:

support@GrandParker.com

Bonus:

400% up to $8000

Bonus Code:

N/A - Use Links
GrandParker Casino Screenshots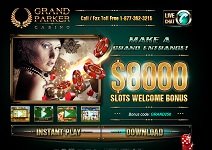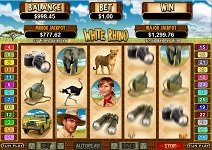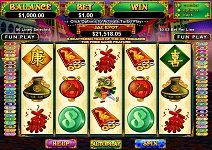 Full GrandParker Casino Video Poker Review
If you've spent any time in land-based casino or at online gambling slots, you know how popular slot machines are. By some estimates, as much as 70% of the average Vegas casino's profits come from one-armed bandits. It's easy to see this when you walk into a brick and mortar gambling venue – most of the casino floor is dedicated to slot titles.
Read More About GrandParker Casino
GrandParker Video Poker
GrandParker Blackjack

GrandParker Casino
GrandParker Roulette
---
$8,000 Slots Bonus at GrandParker
Grandparker offers one of the highest paying slot bonuses for new players. This USA accepted slot casino features a 400% to $8,000 bonus with your first deposit.
Additional bonus offers are available daily and all real money slot players qualify for the VIP program which awards cash back to your player account.
As with all bonuses, this promo is subject to completing the required terms and conditions to clear it. Please read the GrandParker slot FAQ page.
Grand Parker Casino uses Real Time Gaming software, and that designer is probably best known as a designer of top-notch Internet slot games. Real Time has been a designer of Web-based casino games since the dawn of online gambling. The company was formed in the late 90s, just a few years after real-money gambling was introduced. Real Time's reputation as a designer of online casino games comes thanks to their large library of games, including everything from classics like video poker to more modern Internet slots. When RTG introduced their line of slot titles called Real Series Slots, the company became even more popular.
As of this writing, Grand Parker hosts nearly five dozen RTG-designed slot games. Each game at Grand Parker is what's called a five-reel machine, meaning there are five spinning reels of symbols with which to try to form winning combos. Some of these five reel games come with progressive jackpots, prizes that increase over time as more and more money is paid into them until someone hits the right combination of symbols and wins the constantly up-ticking cash prize. All of the RTG-designed slots at this online gambling site are Real Series games.
---
Grand Parker Casino & Real Series Slots
This line of slot machines produced by Real Time Gaming is designed with a focus on what online slot players like. All Real Series titles are video bonus games that incorporate features like side games that can lead to bigger payouts, free games, and other perks. Since the response to this particular line of titles has been so positive, Real Time Gaming has started to focus heavily on these games. With a wide variety of themes, player-customizable options, and a variety of paylines and bet sizes, Real Series slots cater to a large number of slot player's needs. Real Series games let the player customize things like the speed of the game, its size on your screen, and various audio and visual settings.
---
Grand Parker 5 Reel Slots
Each of Grand Parker's 59 RTG Real Series titles uses five reels, and most of them have what are called random jackpots. Players are eligible to win these random payoffs every time they spin the reels, with rewards ranging from $100 to $10,000.
Here's an example of one of RTG's most popular five reel random jackpot machines, which is available for play at Grand Parker.
Popular Grandparker 5 Reel Slot: Field of Green
This is a five reel machine with twenty paylines, a random jackpot feature, and all of the extras online gamblers have come to expect from RTG's Real Series line of games. The theme of Field of Green is American-style football, with all the trappings of classic gridiron play. From symbols that call to mind America's most popular sport (helmets, whistles, trophies, etc.) to a bonus game that lets you take aim at the uprights as a field goal kicker, Field of Green is appealing to sports fans, though you don't have to like football (or even know the rules) to enjoy this particular slot.
Field of Green is, like all RTG Real Series machines, very flexible in terms of the size of your bet. You can wager as little as a penny up to $5 per credit, with a maximum bet size of 100 credits. As an added bonus, the game pays out based on symbols that move from left to right as well as right to left, making it a little easier to spin a winning combination.
---
Grand Parker's Progressive Slots
Progressive jackpots are popular among slot gamblers simply because of the potentially big payout; depending on how long it's been since someone has won the progressive prize, you could win anywhere from a few thousand up into the millions of dollars on a single spin. Grand Parker doesn't have a huge number of games with a progressive top prize, but they do include a handful for those slot fans that like to chase the big jackpot.
Here's an example of one of Grand Parker's most popular progressive slots.
Popular Progressive Slot : The Three Stooges
Based on the popular Three Stooges series of short films, this slot is a five reel, twenty-five payline game with a progressive jackpot and a theme familiar to most people. The max bet is $1.25 per line, which means you can spend as much as $31.25 every time you spin the reels, though more conservative gamblers will be happy to know that you can also bet as little as a nickel per line. However, if you want to go after the progressive prize, you'll need to line up five Three Stooges symbols on a single payline while betting the maximum amount per line.
Online slots are just as popular as their land-based cousins, and Grand Parker's selection of nearly 60 different RTG-designed Real Series games gives slot gamblers a huge variety of titles to pick from.