GrandParker Casino Roulette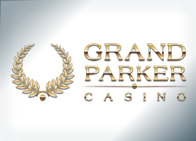 www.GrandParker.com
100% up to $1,000
GrandParker Casino
Casino Bonus of 100% up to $1,000
$1,000 Sign up Bonus + Cash Back VIP
Offers American & Euro Roulette
Fast Payouts & Accepts Credit Cards
GrandParker Casino Highlights
Euro house edge is 2.7% - US house edge is 5.26%

Excellent VIP program with cash back comps

Straight bets pay 35:1 at Grand Parker
GrandParker Casino Highlights
This Casino is Not Mobile Compatible
GrandParker Casino Info
Name:

GrandParker Casino

Website:

www.GrandParker.com

Established:

2011

Jurisdiction:

Canada

Software:

Real Time Gaming

Phone:

1.877.640.3259

Email:

support@grandparker.com

Bonus:

100% up to $1,000

Bonus Code:

N/A - Use Links
GrandParker Casino Screenshots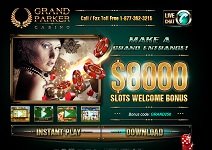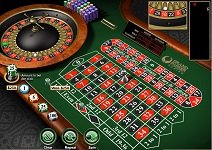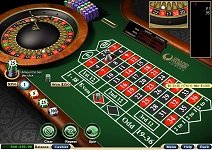 Full GrandParker Casino Roulette Review
Grand Parker Casino's partnership with Real Time Gaming is responsible for the site's variety of games, including (as of this writing) fifty-nine slot games and forty-two table and specialty games. The site has a good balance of traditional casino games and new-school titles designed specifically for online play. Yes, RTG is better known for their Real Series online slots, but the company offers sites that run their software plenty of options for gamblers who don't play slots exclusively. For example, blackjack players can choose from any of a half-dozen different blackjack-style games.
That being said, it may surprise table game fans that Grand Parker Casino hosts just two roulette variants: an American-style game and one that uses European rules and a Euro-style table. The site's two roulette games are listed as part of a section on the website called Specialty Games. This collection is mostly made up of games of chance that require little or no skill on the part of the gambler. Besides American and European roulette, the Specialty Games department includes Hot Dice, Lucky Eights, Magic Sevens, sic bo, keno, bingo, and craps.
Read More About GrandParker Casino
GrandParker Video Poker
GrandParker Blackjack

GrandParker Casino Slots
GrandParker Casino
---
Grand Parker Roulette: The Good, The Bad, & The Ugly
One check mark in the "pro" column at any RTG-powered site is the size of the software download. New customers that want to play the top-notch download versions of RTG's titles can complete the software download in under a minute at average broadband speeds. Grand Parker also allows customers to play the games without the need for a download, an instant play casino that's perfect for customers who run Macs, use operating systems besides Windows, or just don't want to add software to take up space on their computer. The option of playing The Devi's Wheel without having to download any new software is a feather in Grand Parker's proverbial cap.
Another good feature of Grand Parker Casino's roulette games is their simple interface. Simplicity isn't always a positive thing, but when combined with Real Time's high-quality graphics and sound and an easy-to-navigate gaming lobby, the site makes it really easy for customers to play, even those unfamiliar with the ins and outs of this particular classic casino table contest.
As for the bad, the biggest downside to playing roulette at Grand Parker is the low quality of RTG's Flash-designed instant play games. If a customer chooses not to download the software, the games are nowhere near as pretty. It isn't just about aesthetics, either. In roulette, it's very important to see the game's props, and the Flash version of the game makes it harder to see the bouncing ball, the betting surface, and the markers, not to mention colors that look just a little bit off. Graphics and sound effects may not be something an online gambler particularly cares about, but with companies like Rival Gaming and Sheriff Gaming that pride themselves on creating 3D casinos with beautiful visuals, at times RTG's games look dated.
---
Roulette Game Variations at Grand Parker Casino
A final downer about playing roulette at Grand Parker is the lack of variation in titles. As mentioned before, you can pick from either a standard American game or a version based on European rules. While other sites are launching variants like mini-roulette, titles with progressive side bets, and titles that allow for lots of player customization, it's a bit of a surprise to find just two roulette games in the site's library.
If a player is used to land-based casino gaming, the choice between two different titles is not unusual at all; in US brick and mortar casinos, it can be hard to find a table that plays by European rules. So if you've done most of your roulette play at riverboat casinos or resort properties in Vegas , Reno or Atlantic City, having the choice to play on a European wheel is a nice feature. However, customers used to other online gaming sites that have as many as six or seven different roulette games will be let down by Grand Parker's lack of variety.
By far the most popular version of roulette is played under Euro rules. That's because the European game has just a single green 0 space, while the American style game has both a green 0 and a green 00 slot. The addition of just one extra space on the wheel alters the player's odds considerably – the payback percentage for the European version of roulette is a few percentage points in the player's favor compared to the American version of the game.
European-style roulette offers better odds because there are fewer sectors for the ball to land in. The house edge in the European game is 2.7%, while the USA-rules version gives the casino a 5.26% edge.
The exception to this rule is in the Euro version of roulette, which at Grand Parker uses a rule called "en prison," literally "in prison" in English. Under this rule, when the ball lands in the single green zero space, any player that laid down an even-money wager is allowed to leave that wager on the table for the next spin. Should your wager win on the next spin of the wheel, you get your wager back, though you don't win any extra cash. If your number doesn't come up the second time, your bet is lost. With the "en prison" rule in effect, the house edge is just 1.35% on even-money bets, making it one of the best wagers at the site on any game.
---
Grand Parker Casino & Roulette Rules
The outcome of the game is determined by where the ball lands on the game's spinning wheel. You start by placing a wager anywhere on the betting surface. Since different bets have different odds of winning, naturally they offer different payouts. The amount you stand to win is based on how likely it is for your number to come up.
Wager limits are the same for both titles; players can bet between $1 and $500 at a time. Compared to sites with more extreme limits, Grand Parker's roulette tables are perfect for gamblers of all stripes, both those with fat wallets and those who like to be more conservative with their gambling. The site allows for bets using chips of four different sizes: $1, $5, $25, and $100.
---
Best Payouts at Grand Parker's Roulette Tables
RTG's games pay out winnings on a schedule that's identical to what you'd find at the majority of roulette games anywhere in the world. Eight standard betting types exist, and the more numbers each bet includes, the smaller your payout if you win.
Red, Black, Even, Odd, Low, and High bets pay out 1 to 1.
Column and Dozen bets pay out 2 to 1.
Five Numbers pays out 6 to 1.
Corner bets pay out 8 to 1.
Street bets pay out 11 to 1.
Split bets pay out 17 to 1.
Straight bets pay out 35 to 1.
The biggest downside to playing this classic casino table game at Grand Parker is the lack of variety. Of course, roulette players aren't necessarily used to having lots of different games to pick from, certainly not the way slot machine or video poker players are. Even though Real Time Gaming can't come anywhere near boasting of having the best-looking games in the industry, the download version of the casino presents two roulette games that are simple to play, if a little bit too simplistic in terms of graphics and sound effects.