GrandParker Casino Blackjack - $1000 Bonus for Blackjack Games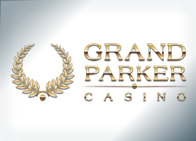 www.GrandParker.com
100% up to $1,000
GrandParker Casino
Blackjack Bonus of 100% up to $1,000
Receive up to $1,000 Free for Blackjack
Best Payouts & Customer Support
Play Blackjack for Free or Real Money
GrandParker Casino Highlights
Exclusive $1000 Bonus for Blackjack Games

Offers 8 Variants of Real Money & Free Blackjack

Accepts All USA Players & US Deposits
GrandParker Casino Highlights
This Casino is Not Mobile Compatible
GrandParker Casino Info
Name:

GrandParker Casino

Website:

www.GrandParker.com

Established:

2011

Jurisdiction:

Canada

Software:

Real Time Gaming

Phone:

1.877.640.3259

Email:

support@GrandParker.com

Bonus:

100% up to $1,000

Bonus Code:

N/A - Use Links
GrandParker Casino Screenshots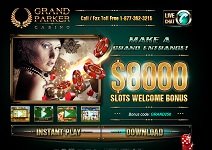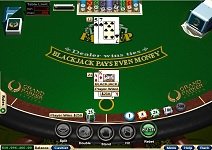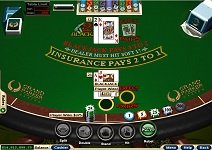 Full GrandParker Casino Video Poker Review
Table games like blackjack don't offer casinos nearly as much profit as slot machines and other games of chance that require little skill and give the casino a big edge against the player. For that reason, and because classic table games like craps and roulette tend to not have a lot of variations in the rules to begin with, it's common to see Internet gaming sites offer just one or two versions of these games.
To their credit, Grand Parker hosts a number of different variants of blackjack. Though there may be very little difference between some of the titles, fans of the game sometimes known as 21 will be pleasantly surprised to see this kind of variety. Table game fans are used to getting the short end of the stick when they play at online casinos, but at Grand Parker, blackjack fans can pick from a wide variety of games based on the classic version of the game you'd find in any Vegas casino.
As an added bonus, any time you play blackjack at an RTG-powered site like Grand Parker, you can test the games out for free. Testing the games in a play money version can help you understand the game's rules before you play for real money.
Read More About GrandParker Casino
GrandParker Video Poker
GrandParker Casino

GrandParker Casino Slots
GrandParker Roulette
---
General GrandParker Casino Blackjack Rules
You need to read the rules for each variant that you play, but there are some features of blackjack at Grand Parker that are common to all varieties.
For example, every title at Grand Parker uses four decks to make up the shoe.
Except for a couple of the variations, the dealer is required to hit on soft 17s.
Players are allowed to double on any of their first two cards, double after a split, split up to two times, and the only way you lose your first bet outright is if the dealer draws blackjack.
Another feature that is standard across all of the site's blackjack titles is the range of bet sizes allowed.
Players can wager between $1 and $250 per hand, no matter which variation of the game they're playing. Another standard feature of blackjack at Grand Parker – the shoe is shuffled after each hand, which means card-counting won't give you an edge.
---
Blackjack Games at Grand Parker Casino
Here is a quick breakdown of the main differences between the site's various blackjack-inspired titles.
Perfect Pairs – This RTG version of the casino classic is almost identical to the standard game, except that it offers a bonus payout if you are dealt specific types of pairs.
European Blackjack – This variant is blackjack as it is typically played in Europe. The rules are only slightly different from what you'd expect to find in an American casino; for example, in the Euro rules version, the dealer doesn't peek for blackjack, which means the player has to make some game decisions before he finds out whether or not the dealer has a blackjack. That can lead to big losses, especially if you split or double your hand before finding out if the dealer has blackjack.
Face Up 21 – Like the name implies, in Face Up 21 all of the dealer's cards are dealt face up, instead of the standard game in which the dealer has one face up card and one face down. The rules, in this case, favor the player slightly, but the game's payouts are altered a little to compensate for the increase in the player's odds based on the dealer showing both cards. For instance, all ties are a win for the dealer, rather than a push.
Pontoon – RTG was the first company to design an online version of Pontoon, which is a blackjack variant most often found (and most popular) in the UK. In Pontoon, hand values are slightly different, as are the payouts for those hands. If you're used to US or Euro rules, read through Pontoon's instructions and other details before you lay down real cash bets, and get a little practice via the site's play-money option.
Super 21 – This version offers larger payouts and more betting options than the standard game of blackjack. The casino compensates for those higher payouts by paying only even money for a blackjack.
Match Play 21 – RTG is the only company currently producing Match Play 21, a variant of the classic game rules that rewards hands with matching cards. Besides the card-matching bonus, the game follows standard US blackjack rules.
If you are a table game fan and a blackjack player in particular, you should be impressed with the variety you'll find at Grand Parker Casino.
Though there isn't a ton of difference between the site's variations, there are enough changes in rules and other features to keep table gamblers happy. It's not common to find this many different blackjack-inspired titles all at the same online casino, and the lineup of blackjack titles at Grand Parker is a big plus for people who are disappointed in the lack of table game options at other online betting sites.