Euro Grand Casino Blackjack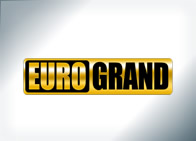 www.EuroGrand.com
100% up to €1,000
Euro Grand Casino
First Deposit Bonus up to €1,000
This Casino Accepts Paypal Deposits
Over 200 Online Casino Games
Fully Licensed and Regulated
Euro Grand Casino Highlights
Live Dealer Blackjack Games

Accepts Bets as Low as 0.50 up to €500

Offers Progressive & Multi-Player Blackjack
Euro Grand Casino Highlights
Does Not Accept US Players
Euro Grand Casino Info
Name:

Euro Grand Casino

Website:

www.EuroGrand.com

Established:

2010

Jurisdiction:

Gibraltar

Software:

Playtech

Phone:

+44-20366-789-16

Email:

support@eurogrand.com

Bonus:

100% up to €1,000

Bonus Code:

N/A - Use Links
Euro Grand Casino Screenshots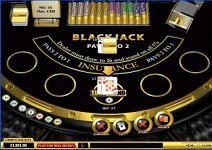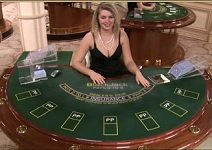 Full Euro Grand Casino Blackjack Review
Euro Grand Casino is another website owned by WGH Trading Limited out of Gibraltar. Like its sister sites, Eurogrand uses Playtech software for all its table games and slot machines. Blackjack players therefore get their choice of the full package of Playtech game variants, which includes several games beyond classic blackjack.
Playtech blackjack is different from twenty-one games offered by other casino software development companies. While other companies offer Spanish 21, super fun 21, or double exposure blackjack, Playtech has its own set of proprietary games that gamblers can only enjoy at their licensees' sites. Games like blackjack switch offer a totally different card game experience than the traditional blackjack games you've played over the years.
Read More About Euro Grand Casino
Euro Grand Video Poker
Euro Grand Casino

Euro Grand Casino Slots
Euro Grand Roulette
---
Blackjack Games Available at Euro Grand Casino
I'll cover all of the options Euro Grand Casino and Playtech team up to give you, including games like blackjack UK, blackjack surrender, switch, and pontoon. I'll also discuss the live dealer blackjack available to players who don't enjoy the simulated casino floors and blackjack tables. If your idea of good blackjack involves a real-life dealer pulling cards out of a deck, Playtech and EuroGrand Casino offer exactly the experience you want.
Blackjack Switch – Blackjack switch is a game licensed by Playtech which provides players with one huge advantage: the ability to switch one card between two hands. This leads me to the other big difference between classic blackjack and switch. When you play blackjack switch, you're dealt two hands on every deal. Like other versions of twenty-one, one card in each hand is dealt face down (the hole card) and one card is dealt face up (the face card).
Once you see the two face cards (and peak at your hole cards), you have the option of switching face cards between your two hands, if it's to your advantage. This gives players all sorts of winning possibilities they would never enjooy in conventional blackjack.
Blackjack UK – Game Variant – Blackjack UK is a low-stress game of blackjack which has no hole cards. All cards are face-up, so not as much guesswork is involved. At the same time, you play between 1 and 5 hands with other players at the table. The deck in UK blackjack is 6-decks large, while the dealer always stands on 17. Players cannot split aces, though other pairs allow for up to three splits (four hands). Insurance is offered, while natural blackjacks pay at the common and preferred 3:2 rate.
Blackjack Surrender – Blackjack surrender allows a player to surrender half their bet to avoid losing the whole wager. This is a viable strategic option when the player's hand is weak and/or when the dealer's face card is strong. The only time when surrender isn't available is when the dealer has natural blackjack. Natural blackjack occurs when someone has a 21 score with only two cards. So if the dealer holds an ace and ten, you lose automatically with no surrender. In any other situation, hands can be surrendered. Multiplayer blackjack surrender is also available at Euro Grand Casino.
Blackjack Progressive – The progressive jackpot has completely changed the way slot machines are designed and marketed, for the same reason the state lotteries are such big business. People put up with a big house edge to get a chance at a huge jackpot that could pay all their debts in one fell swoop. Progressive blackjack gives players a chance to combine the excellent house edge of twenty-one blackjack with the big payouts of a progressive jackpot. This game works much like classic blackjack, except players have the option to place a side bet in which a progressive jackpot might be triggered. The chances of hitting the progressive are small, but the payout is potentially huge.
Pontoon Blackjack – Pontoon is best known for giving automatic wins on a 5-card hand which doesn't bust. This game has different terms than you're used to in your home country. As an example, the UK term for stand is "stick", while the term for hit is "twist". Do not confuse pontoon with Australian pontoon, which is just a version of what most international poker communities call "Spanish 21". Australian pontoon is quite popular in Malaysia and Australian casinos, where you might find the game referred to by names like "Jupiters 21" or "Treasury 21".
Classic Blackjack – Classic blackjack is the name you'll find the mainstream version of the game played under. If all you want is to play the game of twenty-one you're most familiar with and you (presumably) already know most of the strategy tips for, then click on classic blackjack when you start searching through Eurogrand Casino.
---
Live Blackjack at Eurogrand Casino
Players interested in a new gambling experience shouldn't forget to try the live blackjack room at the Euro Grand Online Casino. Eurogrand's live blackjack rooms are powered by Playtech on a live platform with dealers broadcasting from Asia and Europe casinos online. The broadcasts are tv-quality videos which broadcast blackjack, baccarat, roulette, keno, sic bo, Mahjong, pai gow, and casino hold'em. Blackjack gamblers can play in multi-player or mass-participation games through high quality video streaming. The game uses a virtual dealer, live studio, and 3D animated offerings to enhance the entertainment value of the mass-participating games that have a high entertainment value. If you want to check out what these games look like before downloading the Playtech software, I'd suggest you go to YouTube and search for "live blackjack Playtech" to see what you can enjoy.
Blackjack players at EuroGrand Casino should find plenty of game variations to keep them busy for a while. Once you've tried out switch, surrender, and pontoon, I suggest you spice things up with the progressive game. If you don't like progressive, proceed directly to the live blackjack room. Once you start playing the live blackjack games, this should introduce you to a whole other dynamic which should keep your attention. Enjoy your blackjack gaming at Euro Grand Casino.