Club USA Casino Blackjack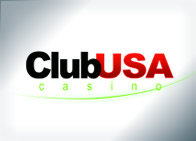 www.ClubUSACasino.com
100% up to $150
Club USA Casino
Receive a 100% to $150 in New Player Bonuses
100% Bonus Up to $150 Casino Bonus
Trusted and Reputable US Casino
Great Support & Fast Payouts
Club USA Casino Highlights
Over 12 Different Blackjack Games

Low to High Limit Betting Available

Offers a Progressive Blackjack Game
Club USA Casino Highlights
Does Not Offer a Mobile Casino
Club USA Casino Info
Name:

Club USA Casino

Website:

www.ClubUSACasino.com

Established:

2006

Jurisdiction:

Canada

Software:

Real Time Gaming

Phone:

1-888-671-2855

Email:

support@clubworldcasinos.com

Bonus:

100% up to $150

Bonus Code:

N/A - Use Links
Club USA Casino Screenshots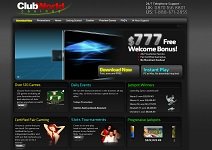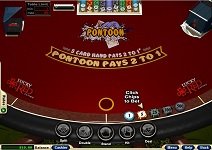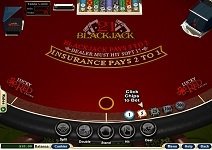 Full Club USA Casino Blackjack Review
Club USA is an online casino website owned by the Club World Group of out Manchester, England. With a name like "ClubUSA", you've probably guessed the site accepts US players, unlike so many leading UK casinos. The Club USA Casino games are powered by RealTime Gaming software, which allows its licensees to choose its own policies when it comes to accepting players.
Since RTG powers more sites than any other online casino software development company which accepts American players, a site like Club USA becomes one of the most trusted places for real money blackjack gamblers from the USA to find a game.
Read More About Club USA Casino
Club USA Video Poker
Club USA Casino

Club USA Casino Slots
Club USA Roulette
---
New Blackjack Player Bonus at Club USA Casino
When you sign up at Club USA Casino to play blackjack, input the welcome bonus code "NEW100" to receive a $150 bonus at a 100% rate. One-hundred percent means the bonus matches 1-for-1 with the money you put into the casino account.
If you put in $30, you receive $30 in bonus money. If you deposit $75, your deposit bonus is $75 extra. And if you max out the bonus and pay $150 into your account, you'll receive the full $150 matching bonus.
If you play games with a higher house edge like keno, scratch cards, or video slots, you can get a bigger bonus. I like the casinos which have a smaller bonus offer for the games with good odds (like blackjack and video poker), because that means you won't have to play forever to meet the casino's wagering requirement for withdrawing the bonus.
Believe me, you'll see the $150 bonus a lot quicker than you will with the casino's which offer a $1,000 blackjack bonus–you probably would never see the thousand dollars, anyway, given the house edge.
---
Real Money Blackjack Games at Club USA Casino
Like all the other top software firms, Realtime Gaming has developed its own selection of blackjack games for its players. Those who've just started playing at Internet casinos might not know this, but a lot of variants of twenty-one have been created over the years. Blackjack-21 is just one of many ways to play twenty-one. Other games have varying differences from the classic blackjack game you've probably played most of your life. Some of these games are almost the same as the classic game you know, while others are a complete departure. Most use the same deck of cards, but a few don't. Many blackjack games have side bets, while one or two offer progressive jackpots.
On this page, I'll cover all the blackjack games you'll find at Club USA Casino. I want to discuss briefly the various games you can play. I might give tips for increasing your payout rate or getting special bonus offers, but I mainly want to talk about the games you might play. Below is the list of blackjack games available at ClubUSA.
Match Play 21
BJ & Perfect Pairs
Super 21
Face Up 21
Pontoon Blackjack
Classic Blackjack
Match Play 21 – Match play 21 is going to be a little odd to those who don't play a lot of exotic games of twenty-one. In match-play 21, you'll be using a "Spanish deck". The Spanish deck isn't the standard 52-card deck of cards you've grown used to. Instead, the deck is 48 cards thick, with the four 10 cards extracted from the deck. This means fewer blackjacks occur, though it also means more "match play 21s" are going to happen.
Believe me: the "match play 21" is the hand you're looking for in this variant. That's because this hand pays out at a 40 to 1 pay rate. As you can imagine, it's going to have to be a rare hand for such a payout. The match-play 21 requires you to receive a suited 7-7-7 while the dealer is holding a 7, too. You might be wondering how you can receive a suited 777, but match-play 21 usually uses 4 decks of (48) cards.
These aren't the only additional payouts, of course. If you receive an unsuited 777 hand, you'll not only get a likely win from a 21, but you'll be paid an additional smaller payout. Same color 777s pay out a little bit more.
BJ and Perfect Pairs – "BJ & Perfect Pairs" has its odd name because it's classic blackjack with a "perfect pairs" side bet. When you make the side bet, you get paid out more if your two dealt cards are a matching pair. Any unmatched pair (of suit or color) pays out at 5:1. If you have a pair that's the same color, but not the same suit, you receive a 10:1 payout. A hand that contains a pair of the same suit pays out at 30:1. The suited pair can happen because you're playing BJ & perfect pairs with a multi-deck that's actually several decks of cards shuffled together.
Face Up 21 – Face Up 21 is just another name for double exposure blackjack. Both the dealer's cards are dealt face up, so you know exactly what kind of odds you're facing. At the same time, the player loses any tie, so the house maintains their edge. In fact, the house edge in face-up 21 is slightly higher than it is in classic blackjack: about 0.20% higher. Those are still going to be some of the best odds a player is going to see in most casino environments.
Pontoon 21 – Pontoon is the name given to a ace-10 twenty-one in this British variant of twenty-one. The pontoon is the best hand you can build in the game. The 5-card trick is the second-best hand. A five-card trick is any 5 cards which don't exceed 21. It doesn't matter if these cards equal 16, 20, or 21–all of them complete the five-card trick. On the other hand, all ties go to the dealer in pontoon, so keep that in mind. On the good side of things, blackjacks (pontoons) pay off at 2-to-1 ratio, instead of the traditional 3-to-2.
Super 21 – Super 21 blackjack is quite similar to the game known as Super-fun 21 blackjack at other Internet casinos. This game has a five-card trick and a six-card trick, but only pays out at 1:1 on a blackjack.