Casino Titan Blackjack Review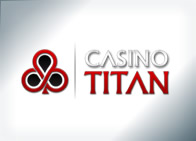 www.CasinoTitan.com
400% up to $3,000
Casino Titan Casino
Receive a 400% to $3,000 + & Free Cash Bonuses
Play Standard 21 or Match Play
Offers Nine Variations of Blackjack
Fantastic Bonuses & Friendly Suppor
Casino Titan Casino Highlights
No Download & Mac Compatible Casino Games

Progressives Attached to All Slot Machines

Accepts USA Players & US Credit Cards
Casino Titan Casino Highlights
Does Not Offer a Mobile Casino
Casino Titan Casino Info
Name:

Casino Titan Casino

Website:

www.CasinoTitan.com

Established:

2008

Jurisdiction:

Canada

Software:

Real Time Gaming

Phone:

1-888-643-1418

Email:

support@CasinoTitan.im

Bonus:

400% up to $3,000

Bonus Code:

N/A - Use Links
Casino Titan Casino Screenshots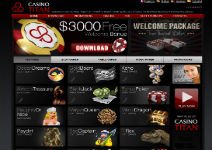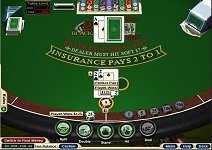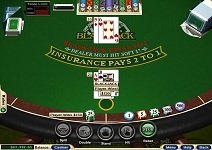 Full Casino Titan Blackjack Review
CasinoTitan is an online casino website licensed out of the Netherlands Antilles which accepts U.S. players. Casino Titan is owned by RegalBar Limited, which also owns Golden Cherry Casino.
All of CasinoTitan's casino games, including their blackjack games, are provided by the software designers at RealTime Gaming out of Costa Rica. RTG used to be an American company out of Atlanta, Georgia. Following the UIGEA laws passed by the United States government in 2006, RTG was sold in 2007 to Hastings International, a gaming corporation out of the Netherlands Antilles. For this reason, most websites powered by RealTime Gaming software continue to accept real money US players.
Read More About Casino Titan
Casino Titan Video Poker
Casino Titan

Casino Titan Slots
Casino Titan Roulette
---
Casino Titan's Blackjack Games
In fact, RTG software is now found on more websites which accept USA players than any other company which licenses Internet gambling software.
That total runs to about 75 websites, including the famous Bovada site. While most RTG websites are safe for players all over the world, I would suggest you read our casino reviews before determining exactly which sites to play at, because a few of them are risky. Another option is to play at CasinoTitan, which offers casino gambling and has established a good reputation over the last few years.
CasinoTitan uses RTG software for its blackjack games, so you'll find the standard RTG menu of twenty-one game variants offered at Casino Titan. This includes six different games that provide a variety of betting limits, restrictions, house rules, and side bets.
Between these games, you should be able to find a site which provides you the free or real-money blackjack gambling you desire. Casino Titan allows you to play using the downloadable casino software or a quicker, simpler no-download game interface. Here are the blackjack games available at Casino Titan.
Pontoon 21
Match Play 21
Face Up 21
Classic Blackjack
BJ & Perfect Pairs
European Blackjack
Pontoon Twenty-One – Pontoon is a older blackjack variant which is popular in the British Isles. Pontoon should not be confused with the game known as "Australian pontoon", which is popular in Australia and Malaysia. That game has more in common with super-fun 21 which is played in so many online casinos these days. Instead, pontoon has more in common with the most popular card game of the late 19th century: faro.
In pontoon, a blackjack pays at 200% the original bet, as opposed to the standard 150%. This ace-ten blackjack is referred to as a pontoon, though. The 2-to-1 payoff gives a player a better windfall when lucky enough to hit the blackjack, but other provisions are made to make the game interesting when traditionally bad hands are dealt. The 5-card trick gives players a chance for a payout even when they're dealt a couple of low cards, because any hand with 5 cards which doesn't bust (exceed 21) is considered a five-card trick and is the second-best hand to have in pontoon, besides the pontoon itself.
These are two advantages over classic blackjack's pay schedule, so the casino has to have advantages which provide a house edge. The house edge is maintained by giving the dealer a win anytime a tie happens. In regular blackjack, ties are pushes and no money changes hands.
Match Play 21 – Match-play 21 is a game with a lot of different ways for the player to win, especially those based on certain 3-card twenty-one hands. Spades have a special role in match-play 21, too. The best hand to have is a suited 7-7-7 when the dealer is holding a 7. This hand is called the "match-play 21" and it pays at a substantial 40 to 1 ratio.
More oddball hands also provide special payouts. If you receive a 777 of spades, this hand pays at 3 to 1. If you receiver a 6-7-8 of spades, this hand also pays out at 3 to 1. Not only do these rules lower the house edge, but it also keeps a player's interested when they're being dealt 6s, 7s, and 8s–especially when these have the spade suit.
To make it more likely that the 777 hand is dealt, matchplay 21 is played using a Spanish deck. The Spanish deck is the conventional 52-card deck with four cards taken out: the 10s. With only 12 instead of 16 ten-rank cards in the deck (per 48 cards), the player is more likely to get the matchplay 21. To even out these nice advantages, players only receive a 1:1 payout when receiving a traditional blackjack.
Face Up 21 – Face-up 21 is played much like one would play double-exposure blackjack. Faceup 21 is RTG's and Casino Titan's answer to double exposure blackjack. When the dealer's cards are dealt, both of them are dealt face-up. With this information, smart blackjack players have a much better chance of reading the situation and making a wise decision. Since this would give the best blackjack players a 100%+ expected return, the blackjack pays out at 1 to 1.
Perfect Pairs Blackjack – Perfect pairs has a side bet which pays off if the player makes the bet and holds a pair. An unsuited pair pays at 5:1, while an unsuited but same color pair pays at 10:1. If you hold a suited pair, you win a 40:1 payout. This sounds nice, but the house edge isn't particularly good on this side bet. Play perfect pairs only if you're interested in getting a big win here and there, but not because you expect it gives you the best odds.
European Blackjack – European blackjack is the game played in Monte Carlo and most other casinos in Europe. Where the American game requires the dealer to peak for blackjack early in the hand when showing an ace or ten, the European dealers don't peak for blackjack. This means the blackjack isn't revealed until after you make your players. It also means you'll lose your split bets and doubled bets if the dealer holds a blackjack.
Classic Blackjack – Classic blackjack is simply the name for the traditional and most popular game of twenty-one at CasinoTitan. If you want to play a game of blackjack free of any exotic rules, click on "blackjack" or "classic blackjack".