Bovada Casino Blackjack Review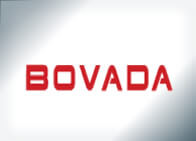 www.Bovada.lv
100% up to $3,000
Bovada Casino
Receive a 100% to $3,000 in New Player Bonuses
Free $21 Each Sunday for Hitting Blackjack
Weekly Blackjack Promos For Regulars
Also Offers a $3,000 Deposit Bonus
Play now at Bovada Casino
Bovada Casino Highlights
Play No Download Blackjack - Works with Macs

Enter the Weekly $2,100 Blackjack Sunday Event

This Casino Accepts USA Players
Bovada Casino Highlights
Does Not Offer Mobile Blackjack Games
Bovada Casino Info
Name:

Bovada Casino

Website:

www.Bovada.lv

Established:

2006

Jurisdiction:

Canada

Software:

Real Time Gaming

Phone:

1-888-263-0000

Email:

support@bovada.lv

Bonus:

100% up to $3,000

Bonus Code:

N/A - Use Links
Bovada Casino Screenshots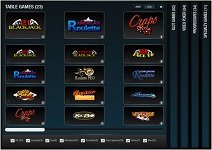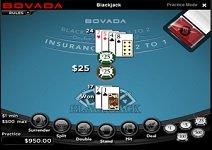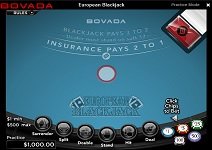 Bovada Casino Blackjack Review
Bovada Casino blackjack is powered by Realtime Gaming software, so twenty-one players are offered the full range of RTG blackjack games when they play at Bovada.
If you enjoy occasional online gambling, but you don't really keep up with the insiders news about the Internet gambling industry, Bovada Casino may sound new to you. The site has been operating in the US market for well over 5 years.
For those who have the ability to access Bovada Casino for games of blackjack, you can expect the same technical capabilitiies, money options, and service staff as you've enjoyed at Bovada for years.
Read More About Bovada Casino
Bovada Casino Blackjack Selection
RealTime Gaming is the software provider for Bovada, along with about 75 other online gambling sites. RTG is the leading software development company for sites which accept American players, so its game selection is large and its reputation is established. Blackjack players can enjoy not only classic blackjack, but several variants at RTG sites.
While licensees make their own decisions about which RealTime Gaming casino games to feature, Bovada Casino features all of the RTG blackjack games: classic, single deck, double deck, European blackjack, face up 21, match play 21, super-21, perfect pairs blackjack, and pontoon.
I'll discuss each of these games in this article, so Bovada blackjack players will know exactly which games they'll be able to enjoy when they visit the site.
Before I do that, let me mention that all casino games at Bovada Casino give players the option to play with the downloadable software client or with an instant play version without the download. The quality of the game experience is going to be the same for either option, though the Flash game version might be the only way people with Mac computers or Linux devices can enjoy Bovada blackjack.
Perfect Pairs Blackjack – Perfect pairs plays much like classic blackjack, except gamblers are given a chance to make a side bet on the outcome of a "perfect pairs" bet. Players get bonus money when this wager hits, which stipulates a bet on a particular pair coming up on your dealt cards. So if you bet on a 7-7 for your first two cards and you hit, you win bonus money. This bet is not affected by the dealer's hand. Wager on a aces or tens to increase your winnings on common winning hands, or bet on lower ranked cards to hedge your bets on the cards that don't win as often.
Face Up 21 – Face up 21 gives players wins on all blackjack ties. If any other hands tie, the dealer wins the bet. Cards are reshuffled after every hand. The deck is actually 8 decks of cards. Dealers must hit when they have a soft 17. Doubling rules exist, but you can only double when your 2-card total is a 9, 10, or 11.
Match Play 21 – Match Play 21 uses the same Spanish deck which Spanish 21 games use at other online casinos. The 10s are removed from the deck (but not jacks, queens, or kings), leaving a 48-card deck for play. This changes strategy significantly, since fewer natural blackjacks are going to happen (along with other considerations). Other rules come into play, too.
When a player gets a twenty-one, the player always wins, except when the dealer holds a blackjack (two-card 21). When you get a natural blackjack, this beats anything the dealer holds, including a natural blackjack. The game uses an 8-deck match play deck. Cards are reshuffled after every single hand, making card counting a forlorn hope. The dealer must hit when holding a soft 17. A player can double down at any time, but only one time per hand, while you only receive one card after doubling. Players can surrender after doubling down.
Also, a complicated set of payouts are offered for special 21 hands. For instance, if you get the 7-7-7 and all three of spades, you win 3 to 1 odds. If you get the 7-7-7 suited and the dealer up-card is also a 7, this is called the "Match Play 21" and you're paid out at 40 to 1. The 5-card 21, which is any five-card combination which equals twenty-one, you get a payout of 3 to 2.
Super 21 Blackjack – Super 21 blackjack pays off on a series of odd hand combinations, though players only receive 1:1 payouts on most blackjacks. When you get a blackjack with 2 diamonds, this pays out at 2:1, though. If you get a 21 consisting of 5 or more cards, this pays out at 2 to 1. If you get a hand of 6 or more cards, this wins automatically, too. The only time the 5-card hand and 6-card hand don't win is when you have doubled on the hand, though this tends to be a fairly rare occurrence.
Speaking of doubling, players can double at any time, no matter how many cards you hold. Remember the rule that the big card hands don't pay out when you've doubled, or else you might subvert yourself.
European Blackjack – European blackjack is a slightly different version of the game featured in many live European casinos. This game only allows doubling when you hold a hard 9, hard 10, or hard 11. The dealers always stands on a soft 17. No surrender is allowed, while aces cannot be re-split. When you split aces the one time, you only receive one card. Besides aces, you can split up to three times.
This game is playable in the downloadable casino or the instant play version, though different rules exist for each. In the fully downloaded casino, you'll be able to play either one hand per round or two rounds per hand. If you play the no-download version in the web browser, you're only given the option of playing one hand per deal.