BetOnline Casino Blackjack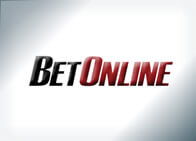 www.BetOnline.ag
100% up to $5,000
BetOnline Casino
Receive a 100% to $5,000 in New Player Bonuses
100% Bonus Up to $5,000 Casino Bonus
Offers Tournaments & Live Dealers
Fast Payouts & Great Support
BetOnline Casino Highlights
No Download Blackjack Games - Free or Real Money

Play Live Dealer Blackjack

Play Blackjack Tournaments Against Other Players
BetOnline Casino Highlights
Does Not Offer a Mobile Casino
BetOnline Casino Info
Name:

BetOnline Casino

Website:

www.BetOnline.ag

Established:

2009

Jurisdiction:

Canada

Software:

Betsoft Gaming

Phone:

1-888-426-3661

Email:

support@betonline.ag

Bonus:

100% up to $5,000

Bonus Code:

N/A - Use Links
BetOnline Casino Screenshots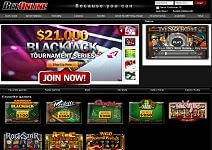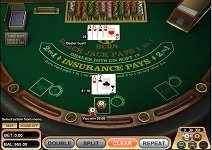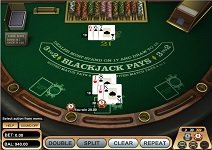 Full BetOnline Casino Blackjack Review
Gamblers can enjoy BetOnline Casino blackjack playing a virtual blackjack using classic online casino software or as live-dealer blackjack. Both of these twenty-one options uses a different software provider, so I'm going to discuss the Bet Online online casino blackjack and live blackjack as two separate entities on this page.
BetOnline Blackjack Software
The simulated blackjack room uses several software packages, including Betsoft, Digital Gaming Solutions Inc (DGS), and Gaming Technology Solutions (GTS). BetSoft is known for using advanced 3D graphics for many of their games, enhancing the look and playability of casino games. Some of the software used at the website is proprietary, meaning BetOnline designs its own support tech instead of licensing technology from a developer.
Read More About BetOnline Casino & Games Here
BetOnline Casino Live Blackjack Software
The live dealer blackjack is handled by Global Gaming Labs. GGL is a provider of interactive casino games which are streamed live from a real casino floor.
Using their patented BetStation and GameBase platforms, GGL streams from three different live dealer studios in Costa Rica. Global Gaming Labs recently joined forces with Plus Five to expand these operations, providing more and better coverage for the online casinos in their live gaming network. To learn more about Global Gaming Labs, call their toll-free number at 1-800-437-7191.
Other BetOnline Blackjack Games
American Multihand Blackjack – When you play the American multihand blackjack game, you can bet up to $100 on any given hand. The low limit is $1.00. This game uses 6 decks of cards. Blackjacks pay at 3:2. When the dealer also holds blackjack, it's a push. If you have the same total on any hand 17 or better, you'll receive a push (tie). Players can split up to 2 additional hands. If you want to double, you can only do so holding a 10 or 11. A player can double after splitting, though. Late surrender is not an option. The dealer checks for blackjack online if his/her face card is an ace and you take insurance. As always, it's inadvisable to take insurance in blackjack.
The multi-player blackjack option is another default game at BetOnline. This is blackjack as you've played it in Las Vegas and other brick-and-mortar casinos over the years.
BetOnline Blackjack Tournaments
With the popularity of online poker tournaments, it's natural that online casinos might try to tap into the tournament gambler market by offering blackjack tournaments. At BetOnline, players can enjoy single table, multi-table, and head-to-head events. The single table tournaments are what's called "sit-n-go" or turbo events in online poker, because you join them and (win or lose) you're finished in a short period of time. No combining of tables takes place, so you know exactly the chip stack of all potential opponents.
The multi-table tournaments are what you probably think about if you watching gambling on the television. The field can be quite large and tables are eliminated as more players are eliminated. You'll sometime hear these events referred to as freezeouts. The head-to-head tournament is simply a heads-up, two gambler contest. You sit down and try to build a better chip stack than the other person. In any of these events, it doesn't matter if you have 1 chip more than your opponent or you have twice the amount–you win if you collect more chips.
One major distinction between blackjack tournaments and poker tournaments is the fact you don't compete directly, while the game isn't a zero-sum proposition. Even if you play well, an opponent can be playing better and you can't affect them directly. As always in games of twenty-one blackjack, real money players continue to compete against the dealer or "house".
Freeroll Blackjack Tournaments
Players are likely to encounter one other blackjack tournament type on BetOnline: the freeroll. These freeplay events aren't just for the free-play option of the casino. Instead, real money players might get free entry into events because of comps, current promotions, or sign-up bonuses. Many freeroll blackjack tournaments don't require a penny to enter, though they might pay out money to the winner. Others give you free entry into paid tournaments where the prize money is much larger.
$21,000 Blackjack Series
The $21,000 Blackjack Series is a current promotion taking place at BetOnline Casino & Poker. This is just an example of the player incentives offered every new week, month, or season by Bet Online's management. The series is a test of your ability to win over multiple events. Keep checking back for similar promotional offers, no matter whether it's 2012, 2013, or 2014. The $1000 Weekly Blackjack event is another popular event held every week at Bet Online Casino, so don't forget to give this game a try, too.