Betfair Casino Blackjack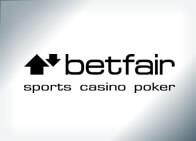 www.Betfair.com
100% up to £100
Betfair Casino
Exclusive Video Poker Bonus 100% up to £100
£100 Bonus + £5 Free Bet
Over a Dozen Different Kinds of Blackjack
Includes Live Dealer & Zero House Edge
Betfair Casino Highlights
Play Progressive Blackjack Online

Play Blackjack with Zero House Edge

Play Multilple Side Bet Variations of 21
Betfair Casino Highlights
This Casino Does Not Accept US Players
Betfair Casino Info
Name:

Betfair Casino

Website:

www.Betfair.com

Established:

2003

Jurisdiction:

Malta

Software:

Playtech

Phone:

0844 871 0000

Email:

support@betfair.com

Bonus:

100% up to £100

Bonus Code:

N/A - Use Links
Betfair Casino Screenshots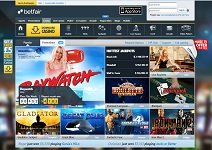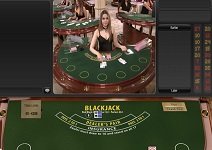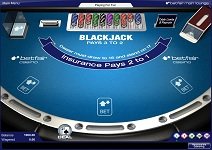 Full Betfair Casino Blackjack Review
Betfair Casino is one of 9 gambling websites owned by Sporting Exchange Limited based on the Waterfront Hammersmith Embankment in London, England. Sporting Exchange Ltd also owns the Betfair sites for poker, sports betting, mobile gaming, arcade games, and skill games. Betfair also owns the TVG Interactive Horseracing site and LMAX. Their gaming site is one of the foremost online gambling experiences in the world. Betfair Online Casino offers both virtual casino gambling and live dealer games, along with their one-of-a-kind Zero Lounge.
The Zero Lounge at Betfair Casino is a room where players can enjoy 0% house edge games. You didn't read that incorrectly–Betfair offers games with a 100% expectation if you play perfect strategy. This includes "zero blackjack" or hundred-percent gambling, which I'll discuss in greater detail in a minute. First, I wanted to discuss Betfair Casino's twenty-one games selection and the software platform used to interface with your computer's operating system.
Read More About Betfair Casino & Games Here
Betfair's Blackjack Selection
These are the blackjack variants you'll be able to enjoy at Betfair Casino. While many Playtech casinos offer most of these games, not all of them are available at any old Playtech-powered casino. I've reviewed a number of Playtech sites over the weeks and months and haven't seen several of these games offered elsewhere, whether you're talking about Playtech, Microgaming, or RTG casinos.
Live Blackjack
Blackjack
Progressive Blackjack
Blackjack Switch
Blackjack Surrender
Perfect Blackjack
Pontoon
Zero Blackjack
UK Blackjack
Half-Double Blackjack
Pick'em Blackjack
Betfair Casino Live Blackjack
Betfair's live blackjack package is provided by Playtech. Playtech has a dedicated live dealer room streaming from Riga, Latvia (and an Asian dealer room, too). People in the online gambling industry throw around terms way too loosely, but when I say Playtech has an industry-leading live dealer platform, I'm not exaggerating.
Playtech offers more live games than any other online casino software company I know, including roulette, baccarat, keno, sic bo, mahjong, pai gow, casino hold'em, and of course, blackjack. These broadcasts are television quality productions which offer private rooms or multi-player tables.
Game variation is a key component of these live dealer rooms, while players with issues can speak to an on-site pit boss like you'd find in a brick-and-mortar casino. This is the setup Bet Fair Casino offers blackjack players who want live dealer games.
Other Blackjack Games Available At Betfair.com
Classic Blackjack – If you prefer the simulated casino rooms, then Betfair offers virtual blackjack tables from the Playtech design team. Classic blackjack is the name most online casinos use for their default game of twenty-one, but I've seen it simply called "blackjack" in several locations on the Betfair website.
Zero Blackjack – Zero blackjack is the Betfair game with buzz in the industry. The Zero Lounge offers games with 0% house edge figured out to two decimal points. This means there might be a house edge of some sort, but it's so minuscule that it's statistically unimportant by the normal standards of reckoning in the online gambling industry. That's naturally going to draw in the best blackjack players in the world, because someone who can play optimal strategy can break even while enjoying their gambling hobby. Remember to study the basic strategy charts when playing zero blackjack, because this advantage won't help you win at blackjack if you don't know what you're doing.
Several distinct rules characterize zero blackjack. While a blackjack pays at 3:2 like it does in most casinos, a suited blackjack pays at 2:1.
If you have an ace of hearts and queen of hearts for a natural blackjack, you win 100% of your bet.
A 5-card hand totaling 21 also pays at 2:1, which increases the house edge once more.
Finally, players are given the option of taking "even money" when they hold a blackjack and the dealer is showing an ace. If you decide the dealer is likely to have a 10 as a hole card, then you can choose to win a 1:1 payout instead of going for the full 3:2 payout.
If you choose to go for the normal 3:2 win and the dealer shows a 10, then it's a push and you win no money.
Obviously, if you don't choose the even-money option and the dealer shows anything but a 10, you win the full 3:2 payout.
Anyone looking for a test of how good their blackjack skills are should try out the hundred-percent gambling on blackjack.
Blackjack Switch – Blackjack switch gives a player with two hands, meaning they have two face-up cards. The player can switch these two cards between hands to make up the best two hands. Remember you're placing bets on the outcome of both hands, and remember the blackjack only pays at 1:1. One final rule that's sometimes forgotten: a dealer's hard 22 pushes everything but a blackjack.
Blackjack Surrender – This is the version of twenty-one where players are given the option of surrendering when the dealer might have a blackjack. When you surrender, you lose half of your stake, but you keep the other half. Surrender is liked by players, because they can save half their bet when they face what appear to be insurmountable odds.
Perfect Blackjack – Perfect blackjack has a side bet on whether you or the dealer has a perfect pair. So if you're dealt an 8 of clubs and another 8 of clubs (or a similarly matched pair), you win a payout of 25:1. Actually, players are paid if the hand is less than perfect. If a same-color (but unsuited) pair is dealt, then you win a 12:1 payout. If you hold an red/black or unmatched pair, you win a 6:1 payout. This side bet works both ways, because you can choose to wager on your hand or the dealer's hand, thoughthe payouts are the same in either case.
Progressive Blackjack – In progressive blackjack, the side bet involves whether you win the progressive jackpot associated with the game. Like any progressive game, the side bet on this variant of blackjack isn't going to hit often, but it gives the biggest payouts in twenty-one.
Pontoon – Pontoon offers a 2:1 payout for a natural blackjack, called a pontoon when playing this UK game. Pontoon also offers payouts for the 5-card trick, which is any five-card hand that doesn't go bust. The dealer wins all ties, except for pontoons.
Pick'em Blackjack – In pick'em blackjack, the dealer doesn't so much deal you cards, but instead fans the 52-card deck out in front of you on the virtual blackjack table. Instead of having cards dealt to the player, you move the cursor and choose the cards that you receive. As far as I know, this is the only deviation from classic blackjack this game has.
Half Double Blackjack – Unlike European blackjack, the half-double blackjack game stipulates a player only loses half their doubled bet when the dealer reveals a blackjack. This makes half-double blackjack similar to the Vegas Strip blackjack you'll find in casinos which don't use Playtech software.