All Star Slots Blackjack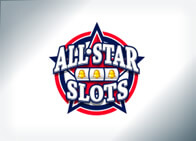 www.AllStarSlots.com
75% up to Match Bonus
All Star Slots Casino
Receive a 75% Blackjack Bonus
All Star Slots Has 10+ Blackjack Games
Receive a 75% Blackjack Bonus on All Deposits
Includes No Download Blackjack
All Star Slots Casino Highlights
Casino Accepts All Players, Including USA

Receive Daily Blackjack Bonuses

Offers 10 Variations of Blackjack
All Star Slots Casino Highlights
Does Not Offer a Mobile Casino
All Star Slots Casino Info
Name:

All Star Slots Casino

Website:

www.AllStarSlots.com

Established:

2006

Jurisdiction:

Curacao

Software:

Real Time Gaming

Phone:

1-888-263-0000

Email:

support@allstarslots.com

Bonus:

75% up to Match Bonus

Bonus Code:

N/A - Use Links
All Star Slots Casino Screenshots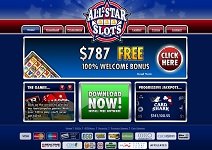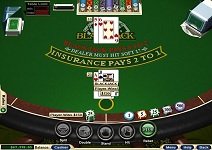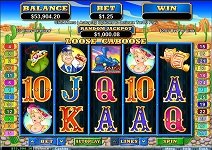 Full All Star Slots Casino Review
All Star Slots Casino is more than just a slot machine website. AllStar Slots is a full online casino, complete with video poker machines, specialty games, and table games. Those table games include several favorites from live casino gambling, including roulette, craps, keno, and blackjack. In fact, AllStar Slots has a several variants of twenty-one blackjack.
In this article, I'll list the several 21-blackjack games you can play at All Star Slots Casino. I'll give details on each of these games and offer suggestions so certain gamblers can find game options they are likeliest to enjoy. If you go to Allstar Slots Casino to play the fruit machines and want to try something else, you should know that blackjack has much better odds than most slot games. Once you look at a strategy table and figure out basic strategies for winning at blackjack, you'll be able to play the best game in the casino from a player's standpoint.
Read More About All Star Slots Casino & Games Here
AllStar Slots Casino Bonus
When you play at AllStar Slots Casino, you can get an unlimited 55% welcome bonus coupon on all table games, including blackjack. All you have to do is type in the coupon code "OTHERGAMES55" to activate this 55% discount. Unlimited means any amount you deposit into the casino is covered, so fifty-five percent of anything you choose to pay to the casino.
AllStar Slots Blackjack Games
AllStar Slots Casino is a downloadable casino site, meaning you'll need the full downloaded package to play the table games. The software is from RealTime Gaming out of Costa Rica, though the site is licensed in the Netherlands Antilles.
AllStar Slots Casino is owned by the Club World Group, which is found in Manchester, England in the United Kingdom. Other Club World casinos include Lucky Red, High Noon, Aladdin's Gold, Club USA, and Club Uk.
Because AllStarSlots Casino uses RTG software, the site accepts players from the United States. If you live in the U.S. and you want to play blackjack for real money, you won't find a better casino to continue your hobby.
Matchplay 21 – MatchPlay 21 is played using a Spanish deck, meaning the 10-rank cards are taken out of the deck. Plenty of 10-value cards are still in the deck, since jacks, queens, and kings remain. If you need a ten, then you have a 12 in 48 chance instead of a 16 in 52 chance, roughly 1/4th instead of 1/3rd chance of being dealt a 10. This changes your strategy significantly, so study a Match Play 21 strategy table before playing.
Other rules that are different from classic blackjack also apply. Surrender is available at all times, while blackjacks do not pay off the special 3:2 after splitting: the 21 counts for a win, but not a blackjack. Players can double down only once. Splitting is allowed on three hands, but no more. Dealers stand on a soft 18 and hit on a soft 17.
The 777 hand gets special payouts, but it doesn't pay out extra after you've doubled. What you're hoping for is a 777 blackjack while the dealer is holding a seven, because this is the MatchPlay 21, which pays out at 40-to-1.
Super 21 – Super 21 is quite similar to the game played in Microgaming casinos under the name "Super Fun 21", though certain rules are different (deck sized). Super 21 borrows the "large hand is good" idea from the English twenty-one game "pontoon". Quite similar to the five-card trick in pontoon, you win when you acquire a five-card hand totalling 21 or less. Also, a kind of six-card trick is also in force. Whenever you get an six cards that total 20 or less, you win. Several similar rules also apply in Super 21.
To offset these advantageous rules additions, players lose whenever they tie the dealer. Super 21 is a relatively new game which appears in the last 20 years. The game designers decided people would put up with one really bad rule if they were offered a lot of fun advantages, which is how Super 21's rules came to be. They were right, since Super-21 is found in one form or another in most of the leading online casinos in the world.
Pontoon 21 – Pontoon is a traditional form of twenty-one that's been played in England for a long time. If you've ever seen characters in a western film playing cards, they were probably playing a game similar to pontoon called "faro", which was the most popular form of twenty-one in the 19th century. Blackjacks have a different name in pontoon. If you guessed "pontoon", then you were right. While this is the best hand you can have in the game, it isn't the one which gives pontoon its distinctive feel.
The five-card trick is the most famous hand in pontoon. If you receive any five cards in your hand and you don't bust (go over "21"), you win.
Face-Up 21- If you're trying to find double-exposure blackjack at a Realtime Gaming casino, you won't find it under that name. Instead, you'll find a game called "face-up 21". Both games allow you to see both of the dealer's cards, taken a lot of the guesswork out of your strategy decisions.
In fact, if you don't like blackjack because of the many strategy choices you have to remember, then face-up 21 might be the game for you. While you'll still have to employ strategy when you get to the higher number totals (and the dealer hasn't gone), you know to keep hitting as long as you're behind the dealer.
Knowing the house's card total creates some interesting decisions. Imagine the dealer is showing "19" with his or her two cards. If you're sitting there with an "18", it's a no-brainer that you're going to have to hit. You automatically lose if you don't. Of course, you're likely to lose anyway, but hitting at 18 is the only chance you have at pulling out the hand. This is a play you would never make in classic blackjack.
Everything isn't to your advantage in faceup 21. The biggest deviation from standard blackjack is the fact you only get paid 1 to 1 on a blackjack. Insurance still pays 2 to 1.