All Slots Video Poker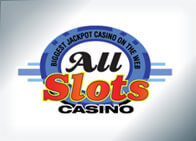 www.AllSlots.com
100% up to € / £ / $1600
All Slots Casino
First Deposit Bonus 100% up to € / £ / $1600
Huge Selection of Single or Multi-Hand
Receive a 100% to € / £ / $1600 + 10% Cash Bonus
Play Casino Games in AUD, GBP, Euro, CDN
All Slots Casino Highlights
€ / £ / $1600 First Deposit Bonus + 10% Daily Cash Bonus

Over 12 Different Variants of Video Poker

Play Video Poker on Mac / Smartphone / Tablet / PC
All Slots Casino Highlights
This Casino Does Not Accept US Players
All Slots Casino Info
Name:

All Slots Casino

Website:

www.AllSlots.com

Established:

2004

Jurisdiction:

Malta

Software:

Microgaming

Phone:

0-800-9174165

Email:

support@allslotscasino.com

Bonus:

100% up to € / £ / $1600

Bonus Code:

N/A - Use Links
All Slots Casino Screenshots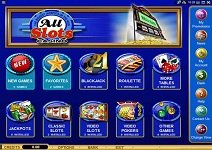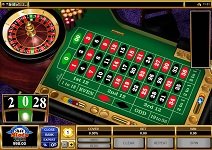 Full All Slots Video Poker Review
All Slots Video Poker's name may confuse video poker players—yes, the site hosts more than just slots. In fact, as a member of the Jackpot Factory group of online casinos, All Slots has access to nearly 500 different casino games, far more than just a series of online slot games. Like the other Jackpot Factory member sites, All Slots Casino has one of the largest game libraries of any Internet betting site, including plenty of video poker variations. The casino known as All Slots is home to live dealer casino table games, traditional online casino game titles, fruit machines, casino-style poker, and video poker games as well as Internet slots.
Video poker players in the know look for betting sites with big game libraries, because video poker tends to get the short end of the stick when it comes to Internet casino variety. Video poker is not a very profitable game for and casino, land-based or online, and finding a site with a decent variety of poker machines usually means digging through piles of smaller sites offering just four or five different video poker titles. All Slots Video Poker has been taking online bets since the year 2000, and in an industry that's not quite two decades old, twelve years in business is a veritable lifetime. All Slots Casino is one of the Internet's largest and oldest continuously operating betting sites.
Read More About All Slots Casino & Games Here
Microgaming Software & All Slots Casino
Microgaming software is one of the big names in the Web-based betting game, a part of the industry since the mid-90s when online wagering had its start. In 1994, Microgaming was part of the creation of the world's first suite of online gaming software titles, and the company has been tweaking and adding to that lineup in the eighteen years since. All Slots Casino is one of the few Microgaming member sites that takes full advantage of what the software has to offer, as of this writing hosting basically every casino game Microgaming currently has on its roster. Since Microgaming, Ltd. is constantly releasing new games and updated versions of casino classics, being a member of a site like All Slots Casino means never running out of new gambling ventures to test out, including video poker, which is often-overlooked by the 'net's other betting Websites. By the time this article is published, All Slots may well offer more than 500 different Microgaming titles, with more constantly in the works.
Since Microgaming software is used at hundreds of sites around the world, and their progressive game lineup is so big, any site (like All Slots Casino) that hosts their progressive games has access to their ever-increasing worldwide progressive prizes. Right now, Microgaming hosts 20 different games with progressive top prizes, every one of which is available at All Slots. This includes at least one video poker machine with a progressive top prize, not a common find at betting sites, which tend to avoid video poker machines that can, in the long run, cost them money, should they run up against too many customers that understand the right strategy for various video poker games.
All Slots Casino & Video Poker Variety
The most popular video poker game at All Slots Casino just happens to be Microgaming's most popular video poker title: Jackpot Deuces, a variant of Deuces Wild that comes with extra wild cards and a progressive jackpot. Though Jackpot Deuces doesn't yet exist as a multi-hand game, so if you want to get in on the progressive jackpot action at All Slots Casino's video poker section, you'll need to settle for a single hand game. The progressive jackpot on Jackpot Deuces resets to a relatively low $5,000 every time it is won, Microgaming worldwide network of sites means that jackpot can quickly swell into the six- and seven-figure range. To win the progressive prize on Jackpot Deuces, you'll need to bet maximums, and draw a Royal Flush made entirely of diamonds.
The All Slots Website doesn't go into too much detail about the specific video poker machine games on offer, though they do currently say they offer "over 50" different video poker titles. This includes the classics you'd find at any land-based or Web-based casino: Aces and Faces, Jacks or Better, Deuces Wild, and 10s or Better. All Slots Casino consider single-hand and multi-hand versions of the same game as "different titles," so some of that 50+ count is a little it misleading. Still, a variety of both multi-hand and single-hand poker machines means it is unlikely that you'll find an online casino with a more varied lineup of online slot titles to pick from.
Extra Features at All Slots Casino
All Slots is dedicated to bringing their customers the latest in poker machine play; that includes machines with features like "double or nothing," progressive jackpots, and other special features that may not be available at other online casinos. The "double or nothing" feature on certain All Slots video poker titles gives you the option of playing an extra round after each win, on video poker titles that offer this option, in which you can double your winnings or lose everything. To double your winnings, all you have to do is select "double or nothing" then pick a higher card than the card the computer shows face-up. It's a gamble that can often pay off big time, especially if you've just had a particularly high payoff.
Because All Slots Casino has such a wide variety of video poker machine games, it is important to pay attention to the payout schedule at the game you're playing. That's because throughout the massive variety of games on offer, the payouts can vary greatly, due to game rules and special conditions. Just because you've memorized the payout table for Aces and Faces doesn't mean you automatically understand the payout schedule for Jackpot Deuces.
There are few better online casino homes for video poker machine fans than All Slots Casino. Just make sure you pay attention to the rules and payouts before you jump into a game, and remember to five a ton of different video poker games a try before you decide on one game to specialize in. Variety is the spice of life, and All Slots Casino has plenty of video poker machine spice to go around.