All Slots Casino Blackjack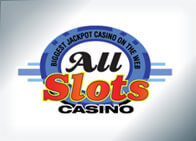 www.AllSlots.com
100% up to € / £ / $1600
All Slots Casino
First Deposit Bonus 100% up to € / £ / $1600
Compatible with Mac, Windows & Mobile Devices
Monthly $5,000 Prize Draw on Table Games
Play Casino Games in AUD, GBP, Euro, CDN, USD
All Slots Casino Highlights
€ / £ / $1600 First Deposit Bonus + 10% Daily Cash Bonus

Daily Slot / Blackjack Tournaments

Play Real Money Blackjack In Your Own Currency
All Slots Casino Highlights
This Casino Does Not Accept US Players
All Slots Casino Info
Name:

All Slots Casino

Website:

www.AllSlots.com

Established:

2004

Jurisdiction:

Malta

Software:

Microgaming

Phone:

0-800-9174165

Email:

support@allslotscasino.com

Bonus:

100% up to € / £ / $1600

Bonus Code:

N/A - Use Links
All Slots Casino Screenshots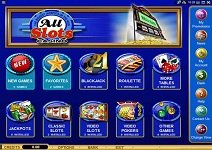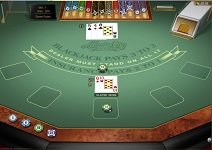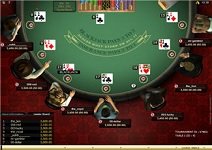 Full All Slots Blackjack Review
All Slots Casino may sound like it only offers online fruit games, but the Internet casino out of Canada offers over 40 blackjack games. In fact, outside its lack of a poker room, AllSlots Casino offers a one-stop gambling experience for international online gamblers. The site also offers lottery gambling and sportsbook betting. The site supports English and French speakers, while offering blackjack gambling through its downloaded casino software or instant games without a download.
The credentials for AllSlots Casino are excellent. All Slots Casino is owned by the Jackpot Factory Group and licensed by the Kahnawake Gaming Commission. The website's technical side is handled by Microgaming, which powers more online gambling sites than any of the online casino software design company in the world. Blackjack players at AllSlots are able to enjoy the full range of Microgaming blackjack games.
Read More About All Slots Casino & Games Here
All Slots Blackjack Selection
These forty games revolve around 11 different variants of twenty-one, which I've included in the list below. Besides offer the classic game you've grown to love because of its low house edge, you're given some of the popular variations on traditional twenty-one. Each of these games offers a familiar core set of rules with specific deviations to spice up your gambling experience and provide a slightly different challenge. Most important, these blackjack variants offer the trademark high expected return that most blackjack games offer. Remember to use different strategy charts when studying for each of these games.
Classic Blackjack
Multihand Blackjack
Bonus Blackjack
Super Fun 21
Pontoon
Spanish 21
Big Five Blackjack
Double Exposure
Vegas Downtown Blackjack
Vegas Strip Blackjack
Atlantic City Blackjack
Classic Blackjack – Classic blackjack is the name most online casinos use to describe the blackjack version you grew up playing. This is the game you'll find in live casinos where the dealer hits on a 16 and stands on a 17, while paying out 3:2 on a blackjack. Microgaming licensees are given the option to set certain stipulations, but the basic game remains the same. With a house edge of around 0.50%, you get some of the best odds of any casino game.
Multihand Blackjack – Multi-hand blackjack is for the players who want a game more like what they've grown used to playing in the live casinos. In a multi-hand game, you can play up to 5 hands. This not only gives you more volatility when it comes to betting, but also gives you the chance to see a few of the other cards that have been dealt. Watch out when playing this game, though: a dealer blackjack might take out all five pots at once.
Super Fun 21 Blackjack – Super Fun 21 games includes five or ten rules which help players win more money. On the other hand, the 1-to-1 payouts on blackjack offsets the advantages you gained. If you want to play a game with a number of gimmick rules to help you win in special situations, superfun twenty-one is a game you should try. This is the variant which pays out for wins on 5-card and 6-card hands in special circumstances.
Double Exposure Blackjack – In this version of twenty-one, gamblers get to see both of the dealer's dealt cards. This supplies you with more information, though you'll have to sacrifice advantage in the case of certain ties.
Spanish 21 Blackjack– Spanish 21 is another popular blackjack variant. This game uses the Spanish deck of cards, which is the traditional 52-card deck with the four 10s taken out of the deck. In other words, Spanish 21 is played with four to six 48-card decks.
Gold Series Blackjack – Microgaming has a "Gold Series" of blackjack. This is the premium version of the gaming software, with better game play and the latest sounds and graphics. Most of the games you can play at All Slots Casino have a gold series counterpart. If you've never tried out the gold version of a game, I wouldn't miss it.
Vegas Downtown Blackjack – Vegas-downtown blackjack has liberal rules for doubling down and splitting pairs. The game tends to be played with only 2 decks, which is a way of playing sometimes associated with the downtown region of Las Vegas, where some of the old casinos are found. This is one of the places in Las Vegas known as "off the strip".
Vegas Strip Blackjack – Vegas Strip blackjack uses four decks and frequent reshuffles. The dealer always stands on 17, which is to your advantage. To your disadvantage is the fact a two-card 21 on a split pair is not considered natural blackjack. The ace-10 on a split hand is simply considered a 21.
Atlantic City Blackjack – Atlantic City blackjack offers favorable rules for the player. The dealer always stands on a 17, while the house always hits on a 16. You can double down on a resplit, but players only get one resplit per hand. Insurance when a dealer holds an ace pays at 2 to 1. Blackjacks pay 3 to 2.
Big Five Blackjack – Big-5 blackjack uses five decks of cards for the game. Players can double down once and once only, though this doubling can be after a split. The dealer doesn't peak when he or she holds an ace or ten, which is to your advantage. The dealer hits on a soft 17, though. You can split any rank of ten, so if you get any combination of 10, J, Q, or K, you can split. If you hit a blackjack after splitting tens or aces, it's not considered a natural. When you split aces, players only get one card, so this often leaves you at a disadvantage (example: Ace-2 leaves you with a 13).
All Slots Casino Twenty-One
These are the basic games offered at All Slots Casino. Most of these games have a gold series version which is also offered, while about half of the games have a multi-hand version also offered. The multi-hand games offered include classic blackjack, bonus blackjack, Spanish 21, double exposure, Vegas downtown blackjack, Vegas Strip blackjack, Atlantic City blackjack, and Atlantic City gold.
The Gold Series games offered are classic blackjack, multi-hand classic blackjack, bonus blackjack, pontoon, Spanish blackjack, big five, double exposure, Vegas downtown, Vegas Strip, Atlantic City, and multi-hand Atlantic City.