All Jackpots Casino Blackjack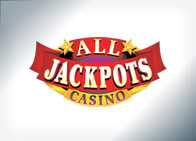 www.AllJackpots.com
100% up to $1600
All Jackpots Casino
First Deposit Bonus 100% up to € / £ / $1600
Receive up to € / £ / $1600 Bonus in 1st Week of Signup
Free & Real Money Blackjack Available
Includes Mobile Blackjack and No Download
All Jackpots Casino Highlights
Play Pontoon, Perfect Pairs and 10+ Blackjack Games

10% Cash Back Bonus on Blackjack

Play Blackjack With Paypal
All Jackpots Casino Highlights
This Casino Does Not Accept US Players
All Jackpots Casino Info
Name:

All Jackpots Casino

Website:

www.AllJackpots.com

Established:

2006

Jurisdiction:

Malta

Software:

Microgaming

Phone:

0-800-917-9087

Email:

support@alljackpotscasino.com

Bonus:

100% up to $1600

Bonus Code:

N/A - Use Links
All Jackpots Casino Screenshots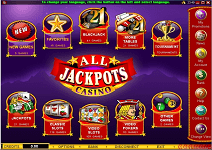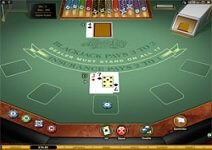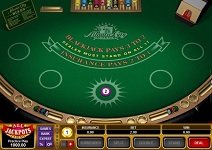 Full All Jackpots Casino Blackjack Review
All Jackpots Casino is a Microgaming-powered online gambling website licensed by the Kanhawake Gaming Commission out of Canada. AllJackpots is owned by Jackpot Factory Group, which itself is based in Kahnawake, across the Saint Lawrence River from Montreal, Quebec. The Jackpot Factory Group owns 7 different English language online casinos and assorted Italian language gambling sites, including AllSlots Casino, 999 Casino, and the All Slots Mobile Casino.
Since AllJackpots Casino uses Microgaming technology for its gaming platform, blackjack players have their choice of over 3 dozen different blackjack variants when they sign up at the site. This includes 10 to 15 different game types, along with the multi-hand and Gold Series versions of the same games. Whether you want to play classic blackjack or a version of twenty-one you played in Las Vegas, Atlantic City, the United Kingdom, or continental Europe, you'll be able to play the game you want at All Jackpots Casino. Their list of games includes traditional twenty-one games and the trendiest games designed in the last 20 years or so, including one or two proprietary Microgaming blackjack variations.
Read More About All Jackpots Casino & Games Here
All Jackpots Language Options
All Jackpots supports a dozen different languages. Whenever I first visit the site, I'm offered the Dutch language version of the site. To choose your preferred language, simply find the link in the top right corner of the homepage and select the language option you're most comfortable with. This article presumes you're favored gambling language is English, which is the version of AllJackpotsCasino I'll review on the page to follow.
Double Exposure – Double exposure lets players see both of the dealer's cards. You'll see this game referred to as face-up 21 on some websites. In this game, you get to see the dealer's full hand, completely changing your strategy for this game. When you hold a 19 and the dealer holds a 20, a player knows their only avenue to victory is to ask for a hit–a play you would never make in classic blackjack,
Perfect Pairs Blackjack – Perfect pairs is a game with a side bet based on whether you'll be dealt a pair. If you make this prop bet and a pair of any kind is dealt to you, you'll win a 5-to-1 payout at the very least. The 5:1 payout is for unsuited pairs. If you receive a same-color pair on the deal, you win a 10-to-1 payout. If you receive a suited pair on the first two cards you're dealt, you win a whopping 40-to-1 payout. Otherwise, the game is the same as classic blackjack. Players might think other rules would need to be invoked to make up for the chances of hitting the perfect pair, but the house edge is higher on the side bet than it is on the blackjack game.
Pontoon Twenty-One
This is a popular form of twenty-one played in the UK. In this variant, an ace-10 blackjack (called a "pontoon") pays out at 2-to-1. Also, players win when they complete the 5-card trick, which calls for a five-card hand which hasn't busted. On the negative side for the player, all ties except pontoons are won by the dealer.
More Blackjack Games at AllJackpots Casino
AllJackpots Casino has a number of other game variations for blackjack players. A series of games based on the house rules of casinos in a particular area are offered: Vegas Strip blackjack, Vegas Downtown blackjack, Atlantic City blackjack, and European blackjack. Each of these games offers different payouts, dealer rules, and player restrictions.
Spanish 21 blackjack and Super-fun 21 blackjack are also available at All Jackpots Casino. If you want to play the game you're most familiar with, click on the links to the classic blackjack games. Even these titles only represent a small percentage of the blackjack games available at All Jackpots Casino. The Gold Series and multi-hand options give players even more gaming options, so read on to learn about those features.
Gold Series Blackjack – Most of the games I described above provide the option for playing their Gold Series counterpart. These games have richer sounds and better graphics than the older versions of Microgaming blackjack. Game play has been streamlined for your ease of use. While many blackjack players who've used Microgaming blackjack interfaces for years prefer the old-style versions of these games, most new players are going to prefer the Gold Series.
Multihand Blackjack Options – At Microgaming sites, you'll often see the multi-hand version of a blackjack game listed separately, while Playtech andRTG sites tend to mention to players once they've downloaded a game they can play multiple hands at once. If you want to play up to 5 hands at a time, you can do so by clicking on the specific game you want to play. You'll find the classic blackjack multihand game, the Atlantic City multihand variant, the double exposure multihand blackjack option, and so on. In each case, players have the options to place bets on up to 5 hands at a time.
Playing multihand presents a whole other game dynamic. I've heard old-time players suggest you should just place a bet five times as large instead of playing multi-hand, but this clouds the issue. If you're dealt five separate hands, you're more likely to spread out your losses. Sure, the dealer might beat all 5 hands if he or she holds a blackjack, or the house might bust and give you a win on all five hands. But if the house hand is somewhere in between, this provides a player with all sorts of variation in one simple deal. Multihand blackjack is a completely different game experience.
All Jackpots Blackjack Flash Games or Software Download
Players at All Jackpots Casino have the option of gambling using the downloadable software package or the instant play no-download version of the casino with its Flash game interface. The no-download version of these blackjack games use the Adobe Flash player to run the games in the web browser, not on downloaded software. Players at All Jackpots Casino also have the option of playing the free games or the real-money blackjack games.