Aladdins Gold Casino Blackjack Review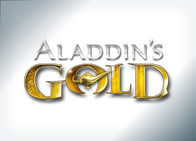 www.aladdinsgoldcasino.com
200% up to Unlimited
Aladdins Gold Casino
First Deposit Bonus of 200% Unlimited
Receive a 200% Bonus on All Deposits for First 7 Days
Play Face Up 21, Match Play, Super 21 & More
This Casino Accepts US Players
Aladdins Gold Casino Highlights
Offers 6 Variations of Blackjack

Play in Weekly Blackjack Tournaments

This Casino Accepts US Credit Card Deposits
Aladdins Gold Casino Highlights
Does Not Offer a Mobile Casino
Aladdins Gold Casino Info
Name:

Aladdins Gold Casino

Website:

www.aladdinsgoldcasino.com

Established:

2006

Jurisdiction:

Canada

Software:

Real Time Gaming

Phone:

1866 465 7285

Email:

support@aladdinsgold.com

Bonus:

200% up to Unlimited

Bonus Code:

N/A - Use Links
Aladdins Gold Casino Screenshots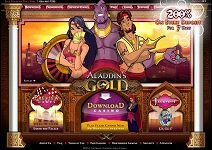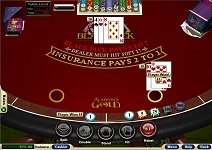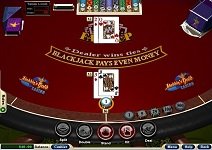 Full Aladdins Gold Casino Blackjack Review
Aladdin's Gold Casino is one of 12 gambling sites owned by the Club World Group out of Manchester, England. Among these sites you're most likely to know, the Club World Group owns Club UK, Club USA, High Noon, Allstar Slots, and Aladdins Gold. Aladdins Gold Casino is one of the 75 or so casino websites powered by RealTime Gaming software, so the blackjack games available are going to be from the RTG blackjack list.
In all, you'll have your choice of 6 different twenty-one game variants, including classic blackjack, traditional games like pontoon, and more contemporary additions like perfect pairs and match play 21. Below is the full list of blackjack game options at Aladdin's Gold Casino. I'll discuss each of these in their own turn.
Read More About Aladdins Gold Casino & Games Here
Blackjack Games at Aladdin's Gold Casino
The basic blackjack game at AladdinsGold Casino uses fairly standard rules. Blackjacks pay at 3 to 2. Insurance pays out at 2 to 1. When the dealer has a soft 17, the dealer must hit. Players can double on any first two cards. Players also can double after a split. You have the option to split twice, allowing for 3 total hands.
While some RTG casinos (like Bovada) are known to use the late surrender option, that isn't the case at Aladdin's Gold Casino. When the dealer peaks for blackjack and has one, players only lose their original bet. These rules are middle of the road for blackjack players. Note that RTG claims its default number of decks is 2, but that option is configurable by the local casino operators and you're more likely to play using 4 decks.
BJ and Perfect Pairs – BJ and perfect pairs is much like the classic twenty-one game, except it has a side bet. The perfect pairs side bet is straightforward and easy to remember: whether the player is going to receive a pair on their deal. The only complication is whether you get a suited pair or not, because the payouts on the rarer sort of pair is much bigger.
When you get any sort of mixed color and suit, this hand pays out at 5 to 1. If you happen to get a pair with the same color, but not suit, this pays out at 10 to 1. When you get a pair with both the same color and the same suit–a so-called "perfect pair"–you receive a 30 to 1 payout.
The perfect pairs side bet is far from perfect, of course. While standard blackjack has a house edge under 1%, the side bet has a house edge around 6%. If you play classic blackjack, you'll get back $99+ of every $100 you wager, on average. If you play the perfect pair side bet, you'll get back about $94 of every $100 you bet, on average. Playing the side bet is throwing away money most of the time, but the chance to get a 30 to 1 payout is an exciting diversion for many blackjack players looking for a kick of adrenaline.
Face Up 21 – Face-up 21 is the RTG equivalent of double-exposure blackjack. If you come to Aladdin's Gold Casino looking for double exposure, play face-up 21. This is the game where you get to see both of the dealer's cards. The price you pay for this advantage is payouts on a blackjack are only 1-to-1, instead of the nicer 3-to-2 payout. Insurance remains the same at 2 to 1.
In face up 21, the dealer always hits on a hard 16 and a soft 17. When the dealer holds a hard 17 or a soft 18, he or she stands. The house edge on face up twenty-one is at 0.85%, which is slightly worse odds than a game of classic blackjack. Anything under 1% still ranks as one of the best games from a player's perspective in a casino, so don't be scared away by the slight dip in payback if you want to test your strategy instincts when you know the dealer's full hand.
MatchPlay 21 – The Match Play 21 bears a resemblance to Spanish 21, since it's played with a Spanish deck. A Spanish deck is a 48-card deck, because it has the four 10s taken out. This increases your chances of hitting the "Match Play 21", which is what you hope to get in this game. A matchplay 21 is a 7-7-7 twenty-one hand, though getting three sevens isn't enough. To get the Matchplay 21, you must hold a 3-card hand full of three 7s, but the dealer also needs to be holding a 7 in his or her hand.
The matchplay twenty-one has other rules to remember. Surrender is always an option. When you split a pair, any blackjacks you get are considered 21s, but don't pay off at 3 to 2 like any other blackjack would. Players can split on three hands, but no more than three. Players are allowed only one double per hand. The dealer hits on a soft 17, while standing on a soft 18.
Pontoon Blackjack – Pontoon is the game with the famous 5-card trick. When you get any 5 cards that don't go over 21, you beat any other hand but the pontoon. The five-card trick isn't called a pontoon, as you might imagine. Instead, the pontoon is simply a blackjack 21: a hand containing an ace and a 10-rank card, whether it's a ten, jack, queen, or king. To offset these advantages, any tie is automatically won by the dealer. Pontoon is the British version of twenty-one, as opposed to the non-British blackjack.
Super 21 – Super-21 is what is sometimes called "Super Fun 21" on other gambling websites. In this game, you get all sorts of advantages, but you lose ties to the dealer and a blackjack pays off at 1:1. When you have those severe restraints on your breaking even, you must imagine all sorts of pro-player rules are allowed. A couple of the rules are meant to encourage players to play bad hands. Better put, players can enjoy a hand even when they have low cards.
These concepts may be taken from the pontoon game from above. If not, they're quite similar by coincidence. Notice how the following two rules are similar to the 5-card trick, though they are more restrictive. If you get a 5-card hand that is 21, this is an automatic win. If you acquire any 6-card hand which is 20 or less, you also win.