Halloween is just a week away and we continue our look at Halloween and monster-themed slot games with Zombies vs. Cheerleaders. Zombies vs. Cheerleaders is a 5-Reel, 25-payline video slot game from Real Time Gaming and is yet another take on the popular zombie genre.
When we decided to review this game, we had high hopes for it but were quickly disappointed to find a game that is somewhat unimaginative.
Simple and Yet Still Underwhelming Theme
The theme of Zombies vs. Cheerleaders is a simple one. The zombie apocalypse has hit a local High School or college and the cheerleaders are the only ones left to take them out. When loading the game, you will first notice that it has a comic book feel to it with comic-style animations. The backdrop is a football stadium that's been ravaged by the apocalypse.
The soundtrack for the game is somewhat suitable for the game and seems like something you'd hear in a cheesy zombie movie on the Sci-Fi channel or a direct-to-DVD movie. Regarding the "video graphics," they are unimpressive. The Royals and Scatter symbols explode, but otherwise you don't get much in the way of animation unless you hit four or more of a symbol.
Lower Paying Symbols Across the Board
Like most RTG slot games, this game uses a credit-based system for payouts. You can bet between .01 and $5 per credit and you must play 25 credits per spin. It is a 2-ways pay game, meaning lines pay from left to right and right to left.
Even with the 2-ways pay, the payouts on this game are somewhat lower than what you'd normally expect. Symbols on this game are a brunette cheerleader, blonde cheerleader, zombie student, zombie football player, and Royals from 9 to Ace.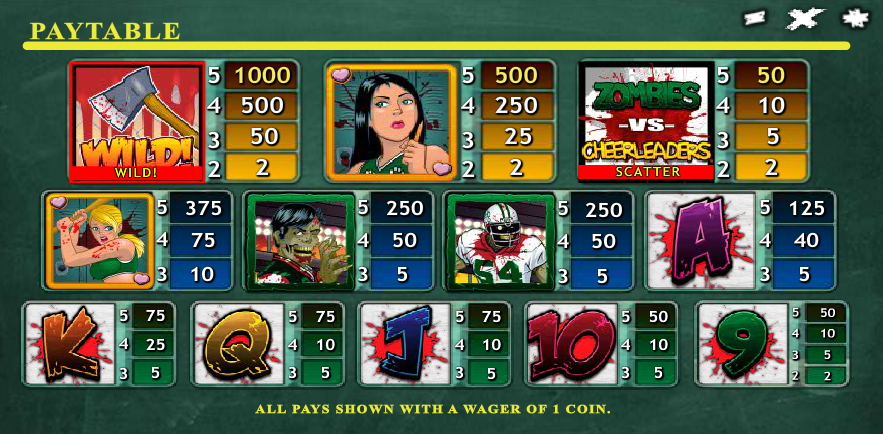 For all royals except the Ace, you have to hit 5 symbols on a line to win more than your bet. For the Ace, you have to hit four symbols. For the other symbols except for the brunette cheerleader, you have to hit four symbols to make a profit.
The wild for this game is an ax and it is a paying symbol during the Battle Feature. Your scatter is a symbol Zombies vs. Cheerleaders logo. It is also a paying symbol.
Battle Feature
If you land three or more scatter symbols on the board, you will unlock the Battle Feature. During the Battle Feature, you will get six free spins. During those spins, all cheerleader symbols Reels 1 and 2 will become wild while all zombie symbols on Reels 4 and 5 will become wild.
The feature is retriggerable, giving you an additional six spins. Two or more wilds on a line will result in a payout in addition to the winning line generated by the wilds.
Random Jackpot
Zombies vs. Cheerleaders is a jackpot slot game featuring a random jackpot. The jackpot was $77,000 on the site we tested. There does not appear to be a qualifier for this jackpot, so you have just as much of a chance to hit this jackpot paying .25 per spin as you would playing $125 per spin.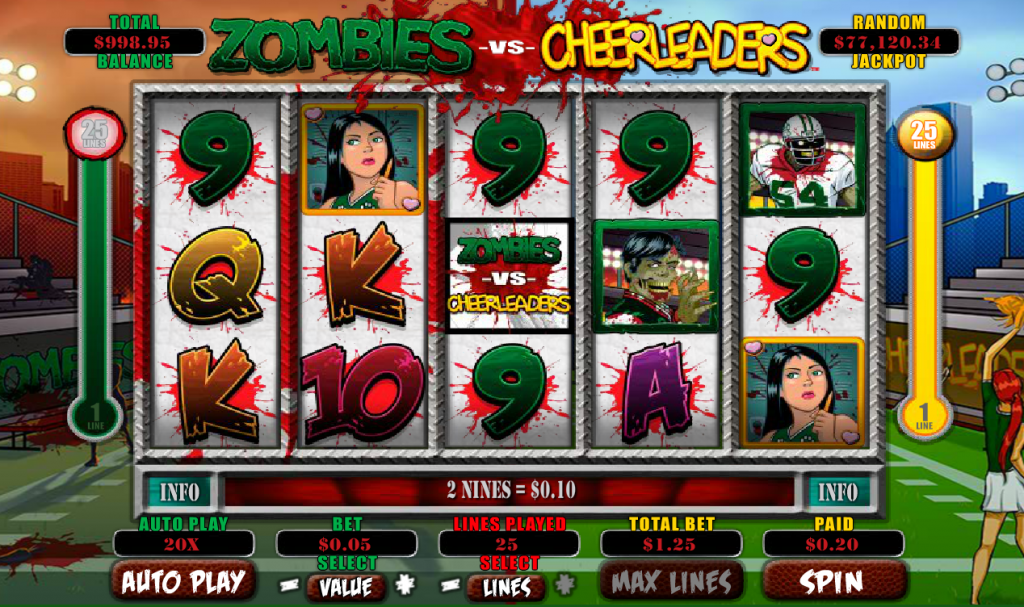 Unimpressive Zombie Slot Worth Skipping
When we review online slots, we try and find the positives of a game. Most games will have at least a marginal appeal to players. This is one of the games where we can find very little to recommend.
The payouts on this game are lower than most slot games at US online casinos, including RTG slot games. Also, it appears to be a higher variance slot game, meaning you will experience higher variance. This is one of the few games we've played where we were unable to unlock the bonus feature in our testing.
Overall, the only redeeming quality we found for this game was the random jackpot. Even with the jackpot, this is not a game we recommend. This game looks to be a random attempt to cash in on the zombie genre, and it definitely falls short in that regard.