Roulette is a table game offered at most online casinos in the United States. The game is action-packed and has the potential for big payouts. Of course, the games are primarily a game of luck and many players end up losing money.
However, with the right strategy, you can improve your odds of winning at roulette. Today you'll learn of some strategies that will help you win more often playing roulette online.
Play European Roulette Over American Roulette
Whether you're playing at Canadian online casinos, UK online casinos, or online casinos in other parts of the world, you'll generally find both European and American Roulette games. When you have the option between the two games, your better play is to stick with European Roulette.
American Roulette is almost identical to European Roulette, except for its wheel has both a 0 and 00. This doesn't change the rules of the game, but it does greatly increase the house edge.
For European Roulette, online casinos generally have a house edge around 2.63 percent. American roulette has double the edge at 5.26 percent. For every $100 wagered, theoretically, you will lose $5.63 at American Roulette as opposed to just $2.63 at European Roulette.
The only time you'd opt to play American over European is if the minimum bets for American Roulette are dramatically lower. For example, if the minimum for American Roulette is $1 and European Roulette is $5, then you opt for American Roulette.
Take Your Bets Outside
Outside bets do not generate the same payouts as inside bets, but they do pay off more often than inside bets. Smart players tend to play outside bets more often to increase their long-term win rate.
You'll get 1 to 1 on your money when playing High, Low, Black, Red, Even, or Odd bets. Dozens and Columns bets pay 2 to 1.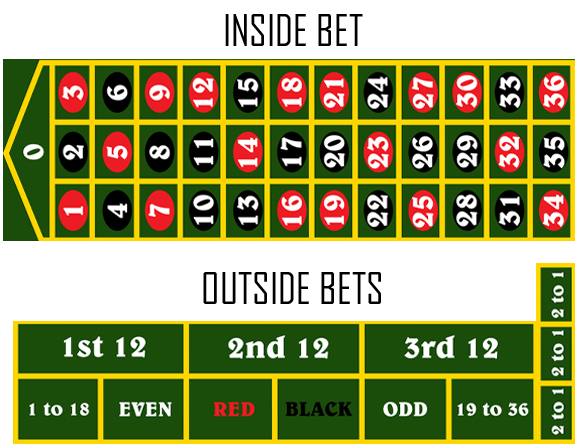 The best strategy for playing outside bets is to bet the minimum and play multiple bets. This helps to hedge your risk. For example, if you play Odd and Black and a Red 15 hits, you'll break even.
An alternative strategy that may help you win more often is to mix a Columns or Dozens bet with an even money bet. Often you'll break even on your total bet when the even money bet hits. When the Columns o Dozens bet hits, you'll be ahead regardless.
Playing Multiple Numbers Inside
The best payoffs in roulette come from inside bets, but they are the riskiest. You can reduce your risk by betting multiple numbers at a time. You can refer to our guide to playing roulette for the various ways you can bet multiple numbers.
When playing multiple numbers, we recommend you play Corner or Six Line bets. This allows you to bet four to six numbers on a single bet. Payoffs on Six Line bets are 5 to 1 and 8 to 1 with Corner bets.
Straight and split bets should generally be avoided. The odds for these bets are a bit long and the goal is to increase winnings by taking the least risk.
Limit Your Losses
The majority of people that play roulette will lose money. You're going to lose money at roulette at some point, so you want to limit your losses whenever possible. As such, it is a good idea to set a loss limit for each session.
For example, if you have a bankroll of $200, you will want to set a loss limit of 25 percent of your total bankroll. This means that you're playing with $50. For games with a minimum of $1, this will give you plenty of play and ample opportunities to win.
If you lose $50, you quit the game for the day. Online roulette games run around the clock and will be there tomorrow. Setting a loss limit sounds counterintuitive to the rest of this article, but it isn't.

By setting and following a loss limit, you protect your bankroll when you're on a losing streak. It ensures you are able to come back another day and play again. It won't help you win in a single session, but it a key component of a long-term winning strategy.