One term that you'll hear commonly thrown around in the online slots world is volatility. Online slots are classified based on their volatility, which is essentially how often that an online slot machine pays out.
While volatility may seem like a foreign concept, it's actually an easy one to grasp. Today, we will break down the types of volatility you'll find in online slots and how you can use volatility to pick which games you play.
What is Slot Volatility?
Whenever you see an online slot game classified based on volatility, the operator or casinos is referring to the average risk with playing a particular game. This risk is based on individual sessions rather than the long-term.
Some players tend to confuse volatility with the payout rate of a slot game. This is commonly known as "Return to Player" or RTP. RTP refers to how much a game will payout over the long term. If a video slot game has a 97% RTP, that does not mean that you will get 97% of your money back in a single session. Over time, the machine theoretically will pay that much.
With volatility, you are looking at the short term. It will tell you whether you can experience looser payouts, average payouts, or a tight machine.
Volatility Classifications in Online Slots
When looking at slot volatility, there are three primary categories you need to know. This is important because the volatility of a slot game can change drastically depending on the game or the online casino. Here are the types of volatility you can experience in online slots.
Low Volatility – Slot games that offer low volatility, you receive more frequent payouts but the payouts will be on the lower side. These lower payouts may or may not return a profit on your spin. These games do produce the occasional Big Win, but the odds are against you. These games are for those that want to max out their playing time, want to clear online casino bonuses or want to reduce the overall risk.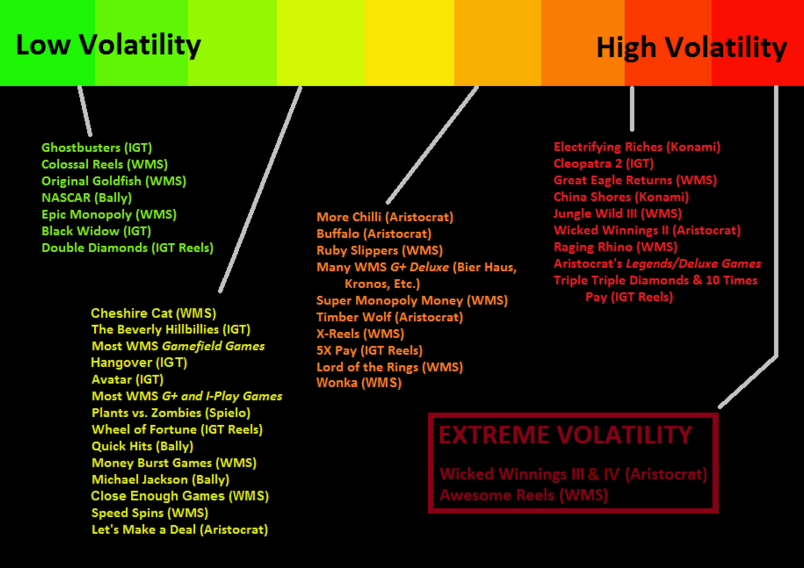 Medium Volatility – These are the most common form of slot games. Medium volatility provides a balance between lower payout wins and larger wins. You'll have better odds of hitting a big win or hitting the jackpot than you will with low volatility games. Medium variance is for players that want a shot at a big win but don't want to have drastic fluctuations in their online casino bankroll.
High Variance – These games give you the best odds of hitting a big win or a jackpot. However, the tradeoff is that you'll get a few small wins. Jackpot slot games like Mega Moolah are high volatility games where you will see large shifts in your bankroll. You're going to risk more to play these games, but when you win, you'll generally win big.
How to Locate a Slot Game's Volatility
You can find the volatility of the majority of online slot games with a little research. Some online casinos will offer filters allowing you to sort by volatility. Others may list the volatility of the game on the website.
If you go into the settings or info menus of the game, you may find the volatility of the game listed. On a rare occasion, you'll find online slots that allow you to pick your volatility level.
Another option for finding the volatility of a game is to visit the website of the manufacturer. For example, if you're playing a Microgaming slot game, you can go to their website and search for information on the game. The manufacturer will generally list the volatility and RTP of their games.
When other methods fail you, you can also do research on sites such as this one for online slot reviews. Reputable online casino review sites will be able to give you an idea of the volatility of a game. These reviews can be helpful when the volatility information of a game is not readily available.
Importance of Volatility
Volatility is important information that you need to know when making a decision on which online slot games to play. New players are going to want to maximize their bankroll or clear an online casino bonus. As such, low volatility slots are the best bet.
The average player will probably want to stick with medium volatility slots as they give you a chance to win big without draining your bankroll. Players who like to gamble and high rollers will probably gravitate to high volatility slots as they give you the chance to hit the jackpot.
Now that you know the essentials about slot volatility, it is time to put that information to use. Check out our list of reputable online casinos in the United States for the best mix of slot games.