Online gambling has a language all its own. You've likely heard us speak about variance in terms of online slots but may not know exactly what it means. Simply, variance in slot games refers to the amount and frequency that a game pays out to players.
Variance is an important concept to understand when choosing slot games and today we will help you understand variance in online slots.
Variance Defined
Some concepts related to online slot games, such as RTP, refer to long-term expectations of a slot game. When talking about a game's variance, companies are talking about short-term expectations. This is generally a single session.
When you know the variance of an online pokie game, you have a general idea of whether you can expect a winning session or how long your buy-in will last in a game.
Don't confuse this with RTP, which the rate that an online slot will pay back. Most players assume that a high RTP will mean that a game is low variance. That is not the case. RTP only refers to how much a machine will pay back to players.
Variance Levels in Slot Games
While variance seems like a difficult concept to understand, it is quite simple. There are three variance categories that slots fall under. They are as follows:
Low Variance Slots – When you play slots with low variance, you will generally experience a longer playing session. That's because these machines will pay multiple small wins. The tradeoff is that you're not going to hit a lot of big wins. Even if the game has a bonus feature, you'll generally only get a medium-sized win at most. Low variance slots are best for beginners or those looking to stretch their online casino bankroll.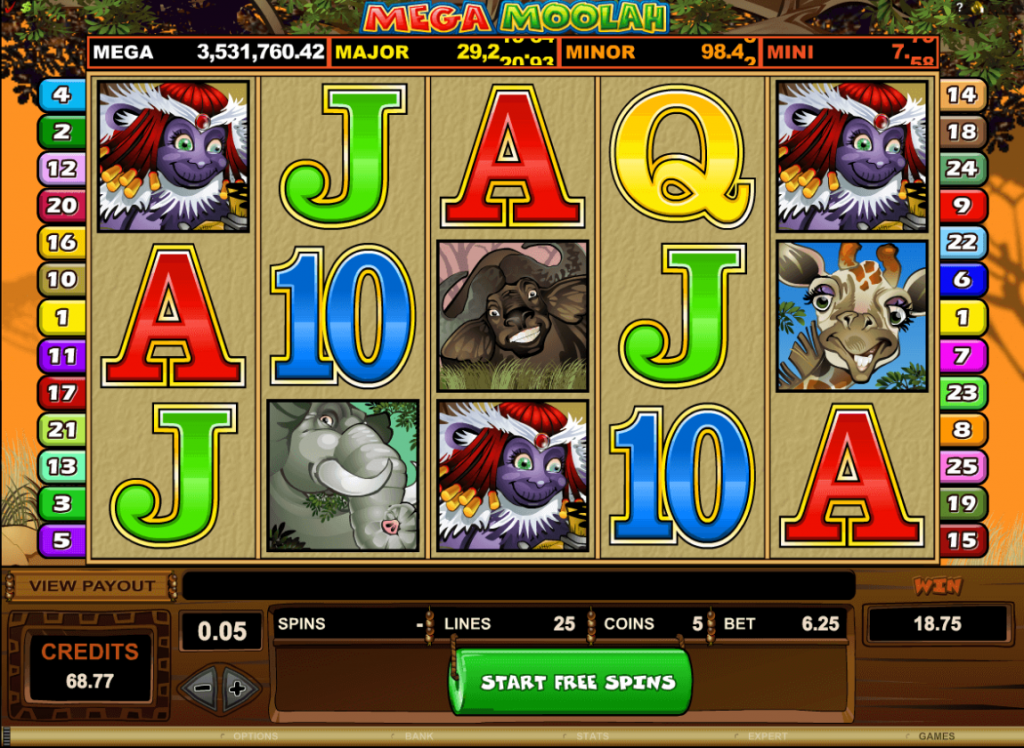 Medium Variance Slots – Medium variance slot games are the sweet spot for regular slot players. These games give you a mix of wins. You'll generally get small and medium-sized wins and still have a real statistical chance of hitting the occasional big win. You generally won't get to play as long but when you do win, you'll win more.
High Variance Slots – High variance slots are those that don't pay out frequently, but you have a greater chance of hitting a big payout. Jackpot slot games such as Mega Moolah are prime examples of high variance slots. You'll get the occasional win but you're playing for the big payday. High rollers and those that only care about winning the big money frequent these types of online slots.
The Value of Variance
The primary value behind understanding variance is that it will help you make better decisions on which slot games to play. Most of us want to win more or maximize our online bankroll and variance can help us do that.

For those that enjoy playing slots and want to maximize the amount of time they play at online casinos, look for low variance slot games. If you want to win a little more often but don't mind risking more of your bankroll, medium variance slots are going to be the best option.
For those that are only looking for big wins or are jackpot hunters, high variance slots are what you're looking for. Keep in mind that you will spend more and deposit more frequently playing high variance slots.
How to Find the Variance of Slot Games
Understanding the variance of online slots is easy, but finding the variance of a machine requires a bit of work. Most online casino companies will list the RTP of their games but don't generally list the variance of a game. This is when you have to do your research to find the variance.
You have two options. The first is to look for reviews of slot games or news reports of those games online. Don't just stick with one review, but check out a few to see the general impression of the game. Occasionally you will find news reports on new slot games that will list the variance.
The other way to find the variance of a slot game is to actually play the game. In a couple of sessions, you will be able to determine the variance of the game. Most non-jackpot games will be in the low to medium variance range. Jackpot slot games are almost always high variance. Some lower jackpot games may be medium variance, but the jackpots are generally small.
Most US online casinos have a mix of low, medium, and high variance online slot games so they can appeal to all players. By understanding variance, you can make better decisions when choosing an online slot game, giving you a better chance to win when playing at online casinos.