Casino gambling is enjoyed by people around the world, and that includes celebrities. Celebrity gamblers tend to forego gambling at online casinos and try to spin up their bankrolls as posh casinos around the world.
Some celebrities only bet small stakes or make the occasional gambling excursion, while others are prolific in their betting. Today, we will take a look at 5 popular celebrities who enjoy gambling at casinos.
Michael Jordan
Michael Jordan is considered by many to be the greatest player in NBA history. However, he is also a well-known gambler who has gambled on everything from blackjack to high stakes golf. There are wild stories of Jordan losing millions at craps, golf, and other crazy bets.
According to one story, Jordan would bet on something as mundane as luggage. After the Dream Team returned to the US after Olympic gold in 1992, Jordan bet that he would be the first player to get their luggage. He ended up winning the bet for $900.
When Jordan retired for the first time in 1993, it is rumored that he was actually serving a secret suspension for his gambling activities. While that was never proven, it didn't stop him as there have been reports since that he still occasionally gambles.
Shannon Elizabeth
Shannon Elizabeth is perhaps best known for her stint as Nadia in the American Pie franchise. However, poker fans also know her as a fierce competitor at the tables. For a few years following the poker boom, Elizabeth was seen at live casinos around the world playing in various forms of poker.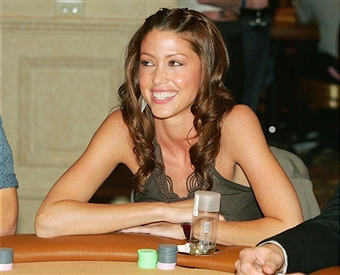 Her biggest score in live poker came in 2007 when she finished third in the NBC National Heads-Up Championship. Her unlikely run earned her $125,000. In 2010, she finished runner-up in the $5,000 Ante-Up for Africa Charity Event at the 2010 World Series of Poker.
Her last live poker tournament cash was in 2013, but she has lifetime earnings of $235,866 in poker tournaments.
Tiger Woods
The worlds best known professional golfer has a history of gambling at live casinos around the world. According to reports, when Tiger was regularly playing at the largest casinos in Las Vegas, he would be as much as $25,000 per hand in blackjack.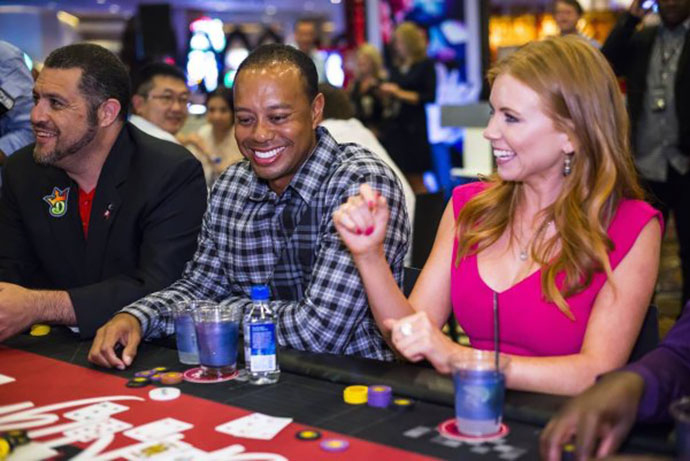 Woods also had a list of demands that he made of casinos when he gambled. One was that his table would be regularly surrounded by beautiful women. This may have led to some of his infidelities with former wife Elin Nordegren.
Tiger's exploits wound up getting his play limited at the MGM Grand Casino in Las Vegas. He can only gamble up to $1 million at the casino. If only we all were able to have such "limits" placed on our play.
Kevin Hart
Comedian and actor Kevin Hart has made headlines in recent years for his exploits in the world of poker. Hart has become a global ambassador with online poker room PokerStars. Hart compares gambling at online casinos to drinking. He says that people can do so without becoming addicted or it taking over their lives.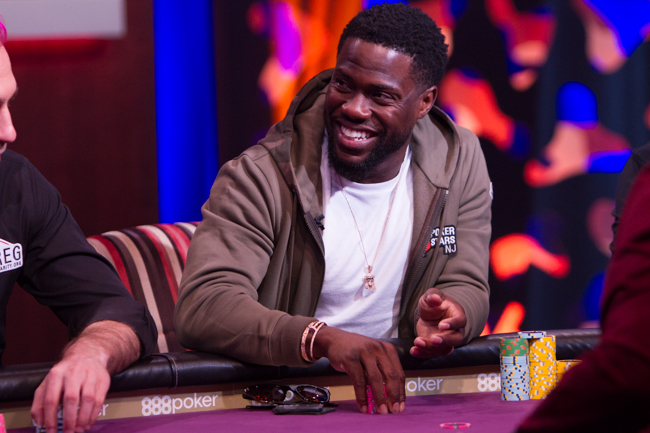 Hart has played in several high profile live poker events over the last couple of years but has yet to make any money. He also took on a massive prop bet earlier this year with poker pro Antonio Esfandiari. Hart gave the pro 35:1 odds that he couldn't win a boxing match against Hart. The fight took place and Esfandiari stunned everyone by actually winning the fight.
It's unknown the exact amount won by Esfandiari, but we estimate it is no less than $350,000.
Queen Elizabeth
When you think of the Queen of England, you don't think of casino gambling. However, Queen Elizabeth is known to be an avid fan of horse racing. In fact, Her Majesty owns several thoroughbred horses.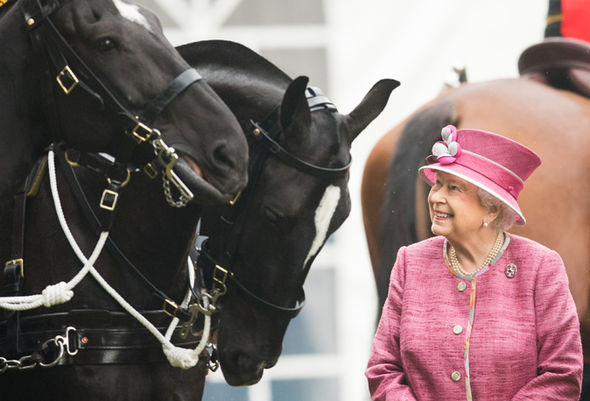 Her love of gambling is probably genetic. According to some reports, the Queen Mother was an avid fan of casino games and gambling. She owed millions in gambling debts upon her passing. It is unlikely that we will see Queen Elizabeth rack up any form of casino debt.