Last week, we told you about the five worst bets you can make at online casinos. This week, we will give you the 411 on the five best bets you can make at online casinos.
Generally, online casinos will give you better odds than live casinos and smart players can greatly reduce the house edge. This will give you the best odds for growing your online bankroll. Better still, some of these tips can be used by beginners, giving everyone excellent odds of walking away a winner while playing at online casinos.
Online Slots With RTP Greater than 98%
Generally, online slots would be considered one of the worst bets you can make at US online casinos. However, the great thing about online slots is that some online gaming companies like NetEnt and Playtech will create games that have an RTP of 98% or higher.
This means that 98% of all money put into the game will come back to the players. In live casinos, you are looking at somewhere between 80 and 90% RTP on most games. Online poker generally starts in the 95% RTP range. The best games pay back 98% or greater.
Blood Suckers is a popular game paying 98% or better. Aladdin's Lamp is another. One of the most popular online slot games around is MegaJoker and it pays a whopping 99% back to players.
Blackjack
If you know anything about casino odds, then you knew that blackjack would be on this list. Generally, the house edge in blackjack is in the 1.8 to 2% range, making it one of the better games to play at the casino. For those that are well versed in blackjack strategy, you can lower these odds even further.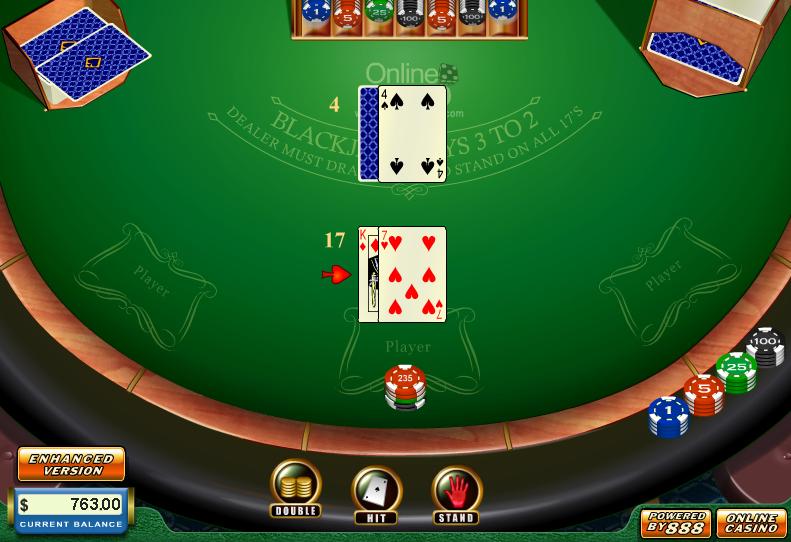 A solid basic blackjack strategy can push the house edge down to around 1% while playing perfect strategy will push the house edge to as low as 0.5%. All this assumes that you avoid any potential side bets and insurance bets at the table.
Baccarat
Baccarat has often been referred to as a high roller game. However, many lower stakes players have learned that Baccarat has one of the lowest house edges in the casino. The key is to avoid playing the tie bet. The tie bet has a house edge of 14.36%.
Bets on the Banker have a house edge of 1.06% while bets on the Player have a 1.24% advantage. If you always bet on the Banker, the house will only get .60 of every $100 bet.
Full Pay Video Poker Machines
Video Poker as a whole has a lower house edge than most of the games at online casinos, but if you know how to read video poker pay tables and play perfect strategy, you can put the odds into your favor.
Video Poker games with pay tables of 9-7 or better are generally referred to as Full Pay Video Poker games. Theoretically, you can get the machine to pay out more than 100% if you play perfect strategy. 9-7 Jack or Better or 10-7 Double Double Bonus are a couple of prime examples of pay tables that result in greater than 100% payouts.
No Deposit Online Casino Bonuses
What's better than gambling with someone else's money, and that's exactly what you can do with No Deposit online casino bonuses. Generally, these bonuses come in the form of Free Spins but occasionally a casino will give you a small amount of bonus cash.
While it is true that these bonuses have a playthrough, you are still able to take advantage of them with no risk on your part. These offers aren't always advertised on the main website, so make sure you're signed up for promotional emails from your favorite online casinos.