Online casinos are always looking for innovative ways to draw in players. That's why you're beginning to see more alternative slot games offered at US online casinos. Spinball is one such video slot variant.
Spinball is a new video slot by Tom Horn Gaming that incorporates both slots and pinball. On the surface, this looks like a fun concept but we walked away feeling a bit frustrated with the game.
Spinball Rules
Spinball is a bit different from your standard video slot game. Instead of reels, you play a modified version of pinball. You place your bet and a ball is launched on a pinball board and you accrue winnings by hitting various bumpers on the board.
The good thing about this game is that you're guaranteed to win with each shot as there are three bumpers at the top. You'll generally get no less than .02x to .04x in winnings on each spin. The game continues until your ball falls into the drain.
Like many pinball games, you have various ways to rack up points and keep your ball alive. They are as follows:
Bouncers – Standard pinball bumpers where you will earn between 0.1x and 0.3x your bet.
Left Ramp Booster – Shoot the ball up this ramp and your ball will be sent to some concealed bouncers where you will earn 0.3x your bet on each one hit.
Re-launch Spin Eye – Near the flippers at the bottom there is a red Spin Eye. When it is lit and you hit it, the ball is launched back up into the game.
Flippers – Standard pinball flippers that can launch your ball back up into the game. However, you are unable to control the flippers.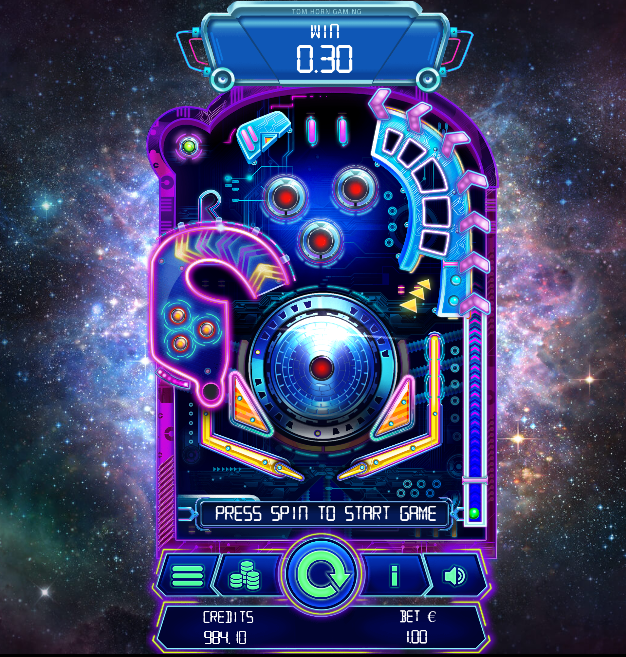 Free Spins Path
This game does offer free spins in the form of the free spins path. It is located in the upper right corner of the game and when the ball is launched up the ramp, you will win between 1 and 5 free spins.
The free spins round does not offer anything in the form of multipliers or bonus features. Also, the free spins games are not retriggerable. Free spins are played at the triggering bet.
Not as Fun as Standard Pinball
When we first saw this game, we were intrigued. If the game played anything close to standard pinball, players might have a decent shot at scoring a big win. After playing it, we were rather unimpressed.
The first thing we noticed off the bat is that you cannot control the flippers at the bottom of the game. This was an immediate turnoff as you're reliant on the computer to control the flippers. Unfortunately, the flippers are controlled very randomly.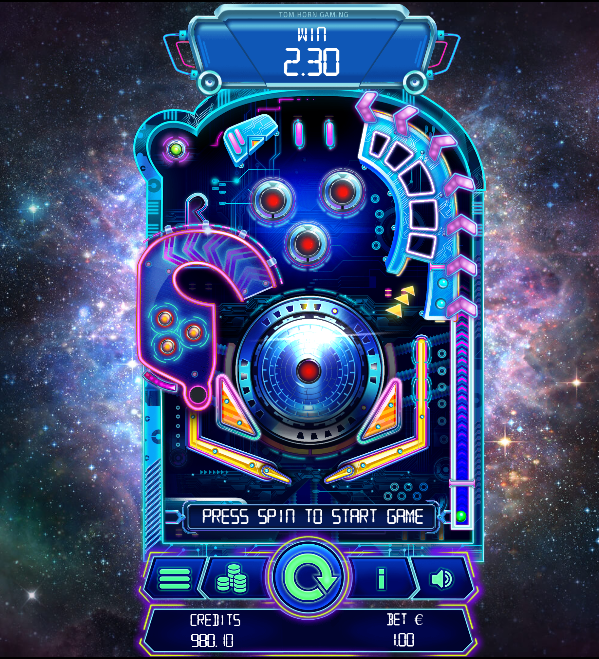 Often, the flippers will flip at the wrong time and often they only flip once. For example, if it flips the ball up, the next time the ball comes near the flipper, it may not activate at all.
Next, it is very difficult to rack up a substantial payout. We only turned a profit on a spin about three or four times. Generally, the spin only returned around half of our bet. This is very discouraging as you steadily watch your balance drop with few upticks.
The minimum bet for this game is $1, so low rollers may get a bit frustrated quickly. Spinball is a medium to high variance video slot game that gives you a different take on your standard slot title. However, the low payouts and lack of authentic gameplay make it one you should probably avoid.
For slot games that are more worth your time, check out some of our partner casinos, including Ignition Casino, Cafe Casino, and Roaring 21 Casino. They have slot games with big payouts and awesome bonus features.