Pai Gow Poker is a popular online casino table game that you will find at Canadian online casinos and online casinos globally. It is a bit more involved than other table games like blackjack or baccarat but is still relatively simple to learn.
Today, you'll learn the rules of Pai Gow Poker. It only takes a couple of minutes to learn and is particularly suited for those that already know how to play standard poker. Note that these rules apply primarily to playing Pai Gow Poker online. Live versions of the game may have slightly different house rules.
Pai Gow Poker Rules
The object of Pai Gow Poker is to make two poker hands, a five-card poker hand, and a two-card hand. The five-card hand is the "high" hand and the two-card hand is the "low" hand.

The high hand must be higher than the low hand. For example, if your two-card low hand is a pair of tens, then the five-card hand must be a pair of jacks or higher.
The Pai Gow Poker deck is a standard deck of 52 cards with a joker added. The joker is not an automatic wild card. It can be played as follows:
To complete a straight
To complete a flush
When it cannot be used to complete a straight or flush, it plays as an ace only.
Note that this game is best suited for those who already have a basic knowledge of how to play poker. If you are not comfortable making multiple poker hands without help, then this may not be for you.
Playing a Hand of Pai Gow Poker
Pai Gow Poker is a relatively simple game to play at real money online casinos. After a couple of hands, you'll get the hang of playing it. Below is how a hand of Pai Gow is played:
Place a bet on the Bet circle on the table.
You will be dealt seven cards face up with seven dealt to the dealer face down.
Pick two cards for your low hand. Remember, this hand must be lower than the high hand. Don't worry, the online casino software will point out if you're trying to set a low hand that's higher than the high hand.
After selecting the two cards for the low hand, click the button to indicate you're done.
The dealer will then show his hand and your hand is compared to his.
If both your hands win, you will 2 to 1 on your bet minus commission. If you lose both hands, you lose your bet. When a dealer wins one and you win one, the bet is a push.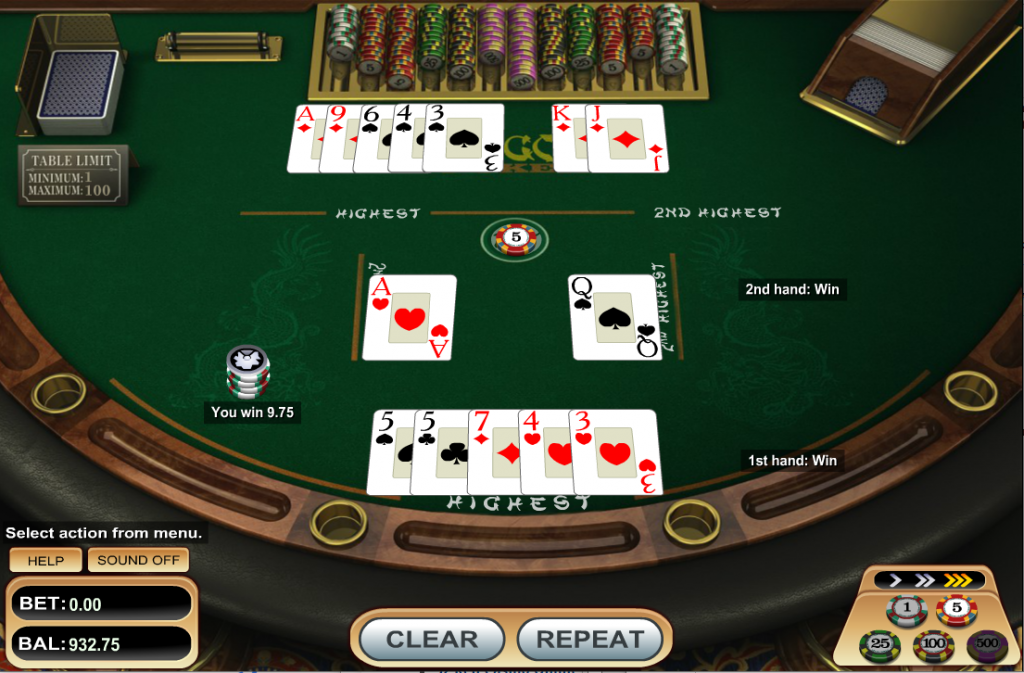 Note that it is important that you set your hands correctly. Failing to do so will cause you to foul your hand, and this means you will automatically lose. Luckily, online casino software will prevent you from fouling your hand. This warning applies to those playing live Pai Gow Poker.
Understanding Commission
The majority of Pai Gow Poker games that you play will take a commission out of your winnings. Often, this commission is about 5 percent. This is about five cents out of every dollar won. If you bet $5 and win $5, you will actually only receive $4.75 with the house taking the other .25.
Games with no commission have about a 1.3 percent house edge. Games with a commission have about a 2.8 percent house edge, provided that you are playing a solid strategy.
Play Pai Gow Poker at Online Casinos
Pai Gow Poker is very popular at live casinos and that popular has carried over to online casinos. Casino Max is one popular online casino that offers Pai Gow Poker. If you're lucky, you may even run across Pai Gow Poker games with no commission, although that's somewhat rare.
Now that you know the rules of Pai Gow Poker, why not try the game out. In a future article, we will provide some basic strategy tips to help you win more when playing Pai Gow Poker.