Roulette is a staple of both live and online casinos around the world. Many players enjoy online roulette because of the high odds and exciting action. Others enjoy it because there is a myriad of way to bet the game.
While roulette may seem difficult, it is actually an easy game to learn. Today, we will teach you how to play roulette. Note that these rules apply to American Roulette and European Roulette.
Playing a Round of Roulette
Roulette is one of the easiest games to play at real money online casinos. You place bets on the outcome of where a ball will land on the wheel. A standard roulette wheel has both red and black numbers ranging from 1 to 36. For European Roulette wheels, there's also single zero. American Roulette wheels have both a zero and a double zero.
You'll place bets on the roulette table prior to the spin of the wheel. The table will feature both numbers from the wheel plus other betting options for spin outcomes.
One reason roulette is popular is that you can play a round quickly. First, players pick a spot on the table to place their bets. After bets are placed, the dealer begins spinning the wheel. The deal then throws a ball that will rotate around the edge of the wheel.
Note that online roulette works a bit differently than live roulette. All betting will conclude before the wheel starts spinning. The ball will roll around the wheel multiple times and then eventually fall into a numbered slot. The dealer then collects losing bets and pays out winning bets.
Guide on Roulette Bets
Roulette offers more ways to bet than any other table game at the casino. We will now give you the lowdown on the different types of bets you can make at a roulette table.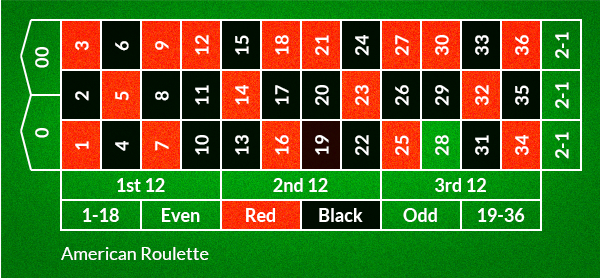 A roulette table has various sections. The main section of the table is your numbers from 1 to 36. Wagers placed in this section are called inside bets. Here are the various inside bets you can make:
Straight – Paying 35 to 1, you're betting on a specific number, such as 5.
Split – Paying 17 to 1, you're betting on adjacent numbers. Place your bet on the line between the two numbers to make this bet.
Street – Paying 11 to 1, you're betting on three numbers on a line. Bets go on the corner of the row you wish to bet.
Six Line – Paying 5 to 1, you're betting two lines at once. Place your wager on the corner shared by the two lines to make this bet.
Corner or Square – Paying 8 to 1, you're splitting your bet amongst four numbers. To place this bet, put your chip on the corner shared by the numbers.
Trio – Paying 11 to 1, you're betting three numbers that include the zero. You make this bet by putting your wager on the shared line between the zero and the other numbers.
Basket – You're betting on the zero and the first line together. For American Roulette, the 00 is also included. This bet pays 8 to 1 in European Roulette and 6 to 1 in American Roulette.
Roulette features other bets outside the primary number group. These are known as outside bets. Here are the bets you can make. These bets are nowhere near as lucrative because they hit much more often.
Below are the outside bets that pay 1 to 1:
Red – If the outcome is a red number, you win.
Black – If the outcome is a black number, you win.
1 to 18 – Outcome must be 1 to 18.
19 to 36 – Outcome must be 19 to 36.
Even – If the outcome is an even number, you win.
Odd – If the outcome is an odd number, you win.
The following outside bets pay 2 to 1:
1st 12 – The outcome must be 1 to 12 to win.
2nd 12 – The outcome must be 13 to 24 to win.
3rd 12 – The outcome must be 25 to 36 to win.
Columns – You'll bet on one of three columns. If the numbers in that column hit, you win the bet.
Now that you know the basics of playing roulette, it is time to try it out. You'll find online roulette at most online casinos such as Slots.LV, Golden Lion Casino, and Cafe Casino. In a future post, we will give you some tips on how to win more money at online roulette.