For those that like the classic feel of Fruit Slots, then you should check out Red Chilli Wins. Red Chilli Wins is a 5-Reel, 9-payline fruit slot game from Playson. It offers the classic feel of old school Las Vegas fruit slots but with the potential of huge wins thanks to the Hot Chilli Pepper Wild.
This game doesn't have a ton of bells and whistles. It also lacks bonus games or bonus features like you see on many video slot games. However, it is still a fun game that fans of fruit slot games should try out.
Updated Take on Fruit Slot Games
Old school fruit slot games are three-reel slot games with a static payline. Red Chilli Wins is an updated version of fruit slots but offers a 5-Reel, 9-payline video version of the game. Like with standard fruit slots, you will have classic symbols like cherries, oranges, and watermelons. You also have a Red Chilli Pepper Wild that can generate big wins.
The graphics for this game are pretty average like you would expect from a fruit slot game. There's little in the way of sound. There's no background music and you get standard winners music when you win. Big wins generate a celebratory tune, but that's about it.
Mix of Low and High Paying Symbols
Like many games of this type, you will find a sold mix of lower and higher-paying symbols. The low paying symbols you'll only turn a profit when you hit at least four on a payline. Higher paying symbols pay at least 2.5 and 5x your initial bet when you hit three on a payline.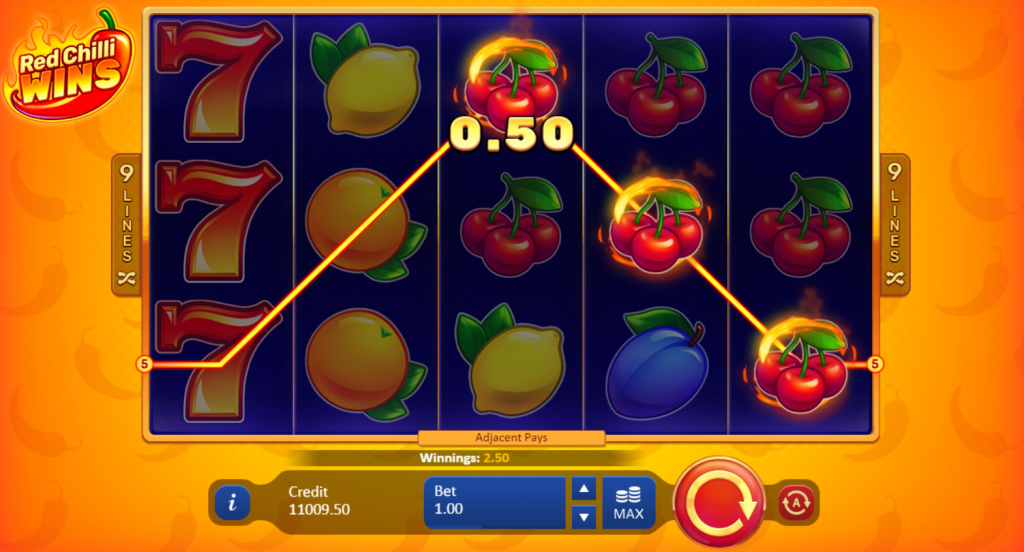 The low paying symbols are plums, oranges, lemons, and cherries. They pay .5x for three on a line, 5x for four of a kind, and 25x for five of a kind. Watermelons and Grapes pay 2.5x for three of a kind, 15x for four of a kind, and 75x for five of a kind.
The 7 symbol is the highest paying symbol for this game. You get 5x for three of a kind, 50x for four of a kind, and 250x for five of a kind.
Hot Chilli Pepper Wilds
The flaming chilli pepper symbol is the Wild for this game. However, it works a bit differently than standard wilds. First, it will only appear on Reel 3. Next, each symbol will have a multiplier of either 1x, 3x, or 5x.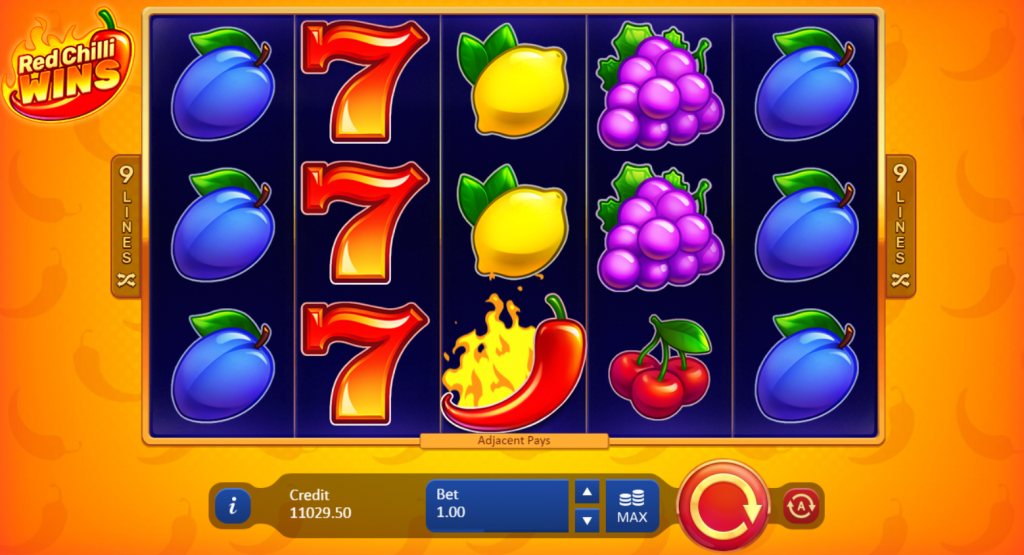 The Wild will substitute for any symbol in the game. We were able to hit a couple of nice wins when multiple peppers hit the reel with either a 3x or 5x multiplier.
Medium Variance Slot Perfect for All Bankrolls
Red Chilli Peppers is perfect for all bankrolls with bets ranging from .10 a spin all the way to $100 per spin. However, we should point out that this game is medium variance and can lean towards high variance. If you're a player that likes frequent wins, this game is not for yours. There will be times where you can go several spins in a row without hitting a win of any type.
In our testing, we hit several nice wins and one relatively big win. However, the gaps between those wins might cause some people to abandon the game. As such, this is a game for those that don't mind a little risk.
This game is available at US online casinos, Australian online casinos, and online casinos offering Playson gaming. While it doesn't offer the bells and whistles of the average video slot game, it does offer the classic fruit slots with the opportunity to score big wins.