There's no voice more iconic in the sport of boxing than Michael Buffer. Boxers agree that when he announces you in a fight, it gets you ready to go to war with your opponent.
Recently, Relax Gaming teamed with Michael Buffer to release their first network slot game. Let's Get Ready to Rumble is an awesome new boxing title featuring outstanding graphics, bonus game features, and Michael Buffer's signature voice. Learn more about this fun new boxing-themed slot game.
Lowish Pay Symbols
Let's Get Ready to Rumble is a 6-Reel slot game with 466 ways to win on a 6×4 grid. It features a high action soundtrack along with stellar graphics.
While this game has a max win of 238,940 credits, the pay symbols are a bit lower than average. Only four of nine symbols have the ability to pay more than your initial bet on a single payline.
Below is a look at the symbols and their pays:
Boxing Tape (Red, Yellow, and Blue) – Low paying symbols paying between .2x and .5x your bet.
Ring Microphone – Pays between .3x and .8x your bet.
Ring Bell – Pays between .3x and .8x your bet.
Boxing Glove – Pays between .3x and .8x your bet.
Title Belt – Pays between .3x and .8x your bet.
Boxing Ref – Pays between .5x to 1.4x your bet.
White Fighter – Pays between .5x to 1.4x your bet.
Black Fighter – Pays between .5x to 1.4x your bet.
Michael Buffer – Pays Between 1x and 4x your bet.
Keep in mind that these pays are based on a single line pays, so you can still score solid wins when multiple lines pay off.
The wild symbol for this game is a speed bag. Stacked wilds for the game are punching bags.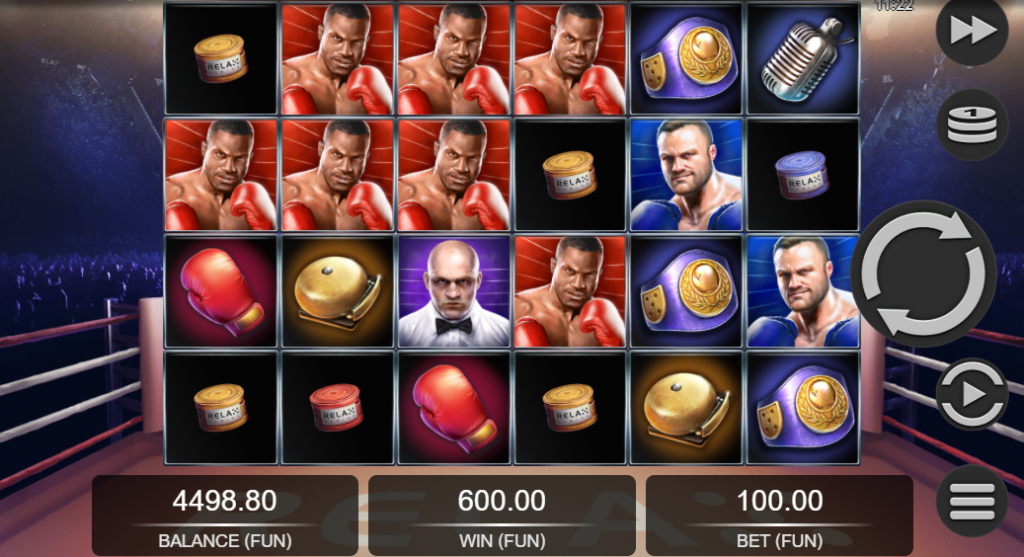 Rumble Spin Bonus Feature
This game does not have a scatter, but it does have three random bonus features. The first is the Rumble Spin bonus. This free spins bonus is randomly triggered and has several add-on features that activate at random. Those features include the following:
Cross Wilds – Three to five wild symbols are placed on the board randomly. This feature can be triggered up to eight times.
Uppercut Wild – The sixth column is replaced with a stacked wild.
Wild Hook – This will move the Uppercut Wild to column two or three.
Title Fight – This expands the play area by four rows, two above and two below. This creates 1,436 connected ways to win.
Sticky Spin and Wild Stacks
The Rumble Spin bonus is not the only bonus feature available. Below are the other two randomly triggered bonus features:
Sticky Spin – This can trigger on any winning spin and locks winning symbols in place for a respin. If another winning symbol hits, an additional respin is triggered. This continues until a matching symbol fails to hit.
Wild Stacks – This also triggers randomly on any spin and can place between 2 and 5 stacked wilds on the board.
Fun Game for Boxing Fans
Let's Get Ready to Rumble is presently available at any online casino offering Relax Gaming products. If you're a fan of boxing-themed slot games, you will likely enjoy this game. However, for those looking for a game that has a lot of potential for big wins, this may not be the best choice.
This is a low variance slot game, which generally means you get a lot of smaller wins but few bigger wins. In our testing, we got a few small and medium-sized wins but were never able to trigger any of the bonus features.
Let's Get Ready to Rumble has an RTP of 96.4 percent, which is good but not excellent. This game is a fun game to play if you are into the theme. Otherwise, you may want to find another game that gives you more opportunities for a big win.