If you're a fan of online poker in Pennsylvania, today is a historic day. PokerStars has officially launched in the state and has become the first regulated online poker site in Pennsylvania. The announcement was made late last week confirming the launch and the site is presently in its soft launch period.
Now that online poker is officially in Pennsylvania, it is a matter of time before we see other sites launch. However, for now, the market will be completely ring-fenced as the country awaits the outcome of the appeal of the DOJ on the Federal Wire Act lawsuit.
PokerStars Soft Launch Has Begun
On Wednesday, the news the poker world was waiting for was revealed. A spokesman for the Pennsylvania Gaming Control Board confirmed that Mount Airy Casino was about to launch both their online casino site and their online poker site. This meant one thing. PokerStars was about to launch.
PokerStars soon confirmed that they were bringing their online poker site to Pennsylvania and that the soft launch period would begin on November 4th. This makes PokerStars the first online poker site to launch in that state and makes it the fourth US state with operational regulated online poker.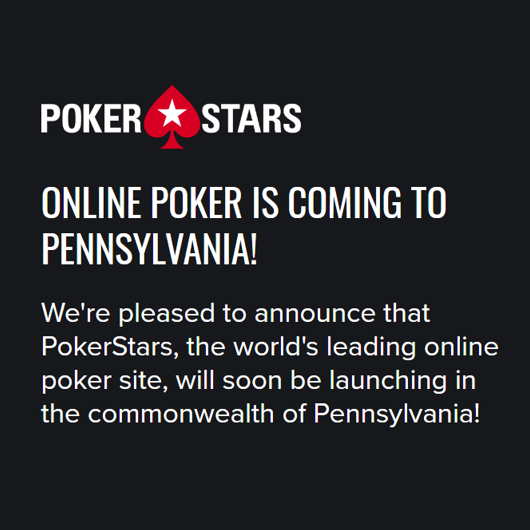 For those unfamiliar with what a soft launch is, it is basically a testing period for the online poker site. Players will be able to register for their accounts, make deposits, and play on the website until midnight on November 4th and 5th.
During this time, both the operator and regulators will monitor the site and technology to confirm that it complies with regulations. If everything checks out, PokerStars PA will launch for continuous play starting Wednesday, November 6, 2020.
No Shared Liquidity – For Now
The opening of PokerStars in Pennsylvania is exciting and great news for the industry as a whole. However, keep in mind that only those located in Pennsylvania will be able to pay on the site. PokerStars PA will not be linked with PokerStars NJ. That will not happen for a while yet.
The reason is that Pennsylvania regulators decided to comply with the new interpretation of the Federal Wire Act as released last year by the DOJ. As such, the entire PA online gambling market is intrastate. This was done in anticipation that the revised opinion is the one that remains in place after any legal challenges.
The DOJ set a June deadline for compliance but a lawsuit by New Hampshire forced them to change the date. Now, the DOJ is appealing a ruling that the Wire Act only applies to sports betting and set a new date of January 2020 or the conclusion of legal proceedings.
At this time, the appeals process is playing out and many states are paying close attention to the outcome before proceeding with online casino regulation.
Expect Other Sites to Launch Soon
Online casinos are often reactionary in releasing products. As such, you can expect the launch of PokerStars PA to prompt other online casinos to move forward with plans to launch online poker. There are seven casinos licensed to offer online poker with two of those likely to be the next ones to launch online poker.
Harrah's Pennsylvania is partnered with 888 Holdings and is expected to launch WSOP.com sometime soon. Pennsylvania would be the fourth state to offer products from 888 for online poker. WSOP.com is presently operating in Nevada and New Jersey while 888 runs all online poker sites in Delaware.
The other casino likely to launch online poker is Valley Forge. They are partnered with partypoker. Partypoker is operating in New Jersey and Pennsylvania will be the second regulated US for partypoker.
Most estimates put the first online poker site at the end of 2019, and now that we are slightly ahead of that estimate, it is likely we could see multiple online poker rooms online before the start of the new year.