Since the early 2000s, poker has become one of the most popular games at online casinos in the United States. However, most online casinos around the world do not have an online poker room attached to them. Fortunately, some casinos offer Poker3 Heads-Up Hold'em as an alternative.
Poker3 Heads-Up Hold'em is an online poker game found at some online casinos. It has most of the elements that you find in Limit Hold'em games but plays a bit like a standard casino table game. Today, you'll learn how to play Poker3 Heads-Up Hold'em and a basic strategy for playing the game.
Rules of Poker3 Heads-Up Hold'em
Poker3 Heads-Up Hold'em is a Betsoft version of old school Limit Hold'em machines that you see in live casinos. You're playing a heads-up game of Fixed Limit Texas Hold'em against one of four opponents. Those of you that already know how to play Texas Hold'em will acclimate to the game quickly, but for the rest of you, here are the basic rules.
First, you must pick your opponent. You can choose from the following opponents:
High Roller – This well-dressed gentleman is the toughest player in the game. You'll need your "A game" to play him.
Guy With Headphones – This is your standard "pro poker player" who has a tight-aggressive style of play.
Wanna-Be Pro – This player is wearing sunglasses and wishes he was a pro. He has a loose-aggressive style of play.
Casual Player – Your basic beginner who doesn't have a real strategy.
Next, you will select how much to bet. You can bet .20, .50, $1, $2, $4, or $5 per bet. Once selected, the game will begin.
For those completely new to Texas Hold'em, it is a modified game of Five Card Stud. You make your best hand using two hole cards in your hand and the five cards on the board.
Poker3 Heads-Up Hold'em Hand Walkthrough
For those that already know how to play Texas Hold'em, the betting for this game works slightly differently. This game doesn't use blinds, but instead, players put up an ante before each hand. The ante is also how much you will bet for each street.
After you place your ante, you will receive your two hole cards. If you wish to continue, you will place a bet. Your opponent will then act. Raises are not allowed, so they will either call the bet or fold. If they fold, the hand is over.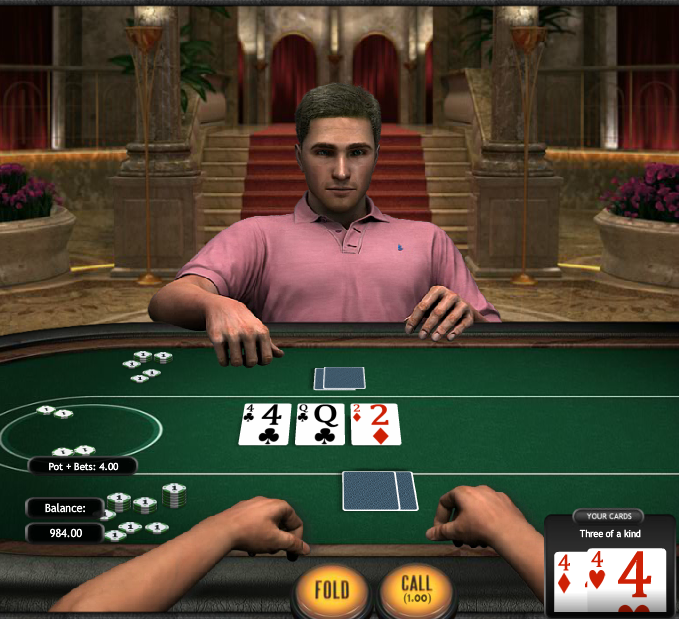 If you and your opponent bets, the first three community cards are placed on the board. This is known as the flop. You'll again decide whether to bet or fold. If you bet and are called, the fourth community card will be dealt. This is the turn.
On the turn and river, bets are doubled. If you bet $1 on the deal and the flop, you will bet $2 on the turn and river. If you bet and are called, the last community card is dealt. This is the river. You'll get one last chance to bet. Once you bet and the opponent makes the call, your hands will go to showdown.
When you hold the best hand at showdown, you win the pot. If the opponent wins, the casino gets the money. If you both have the same hand, you chop the pot.
At the end of each hand, you can choose to play again or adjust your stakes. You can also change your opponent at any time.
Poker3 Heads-Up Hold'em Strategy
Poker3 Heads-Up Hold'em is essentially Limit Hold'em with modified betting rules. As such, a solid strategy will help you win more money. If you already know how to play Limit Hold'em, you likely already have a winning strategy in mind.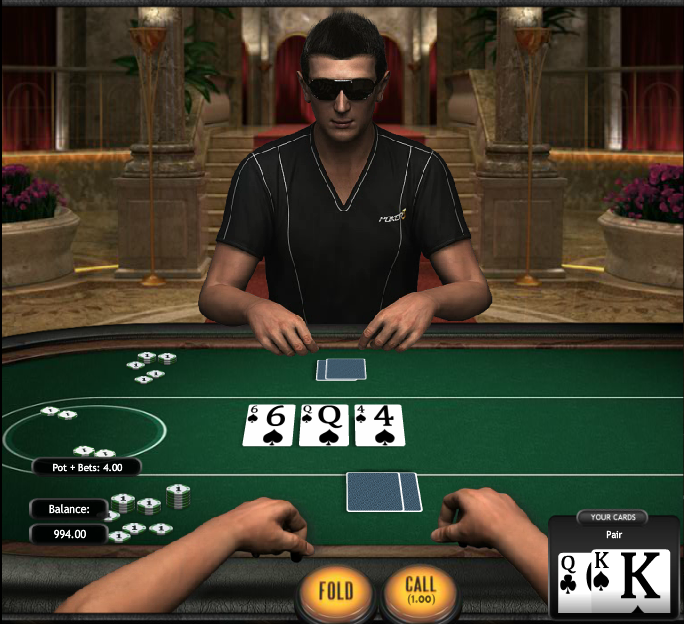 For the rest of you, we're here to help. You don't want to play every two cards dealt to you, so we have some basic charts on what to play in this game.
First, we will start with what hands to play pre-flop.
Any pair
Any combination with an ace.
K-8 through K-Q
Q-8 through Q-J
J-8 through J-10
Suited connectors (9-8 of clubs, 7-8 of diamonds, etc)
On the flop, you want to continue when you have a hand or have a good chance of making a winning hand. Here are the times you want to continue after the flop.
You have a made pair
Open-ended straight draw (5-6-7-8 as an example)
Flush draw (At least three of any suit)
Over cards to the board (Such as A-K on a board of 4-6-8)
Straight draw and overcards to the board
Next, you are not going to be able to bluff efficiently in this game. Limit Hold'em is not the best bluffing game. At the river, most bets will be called if your opponent has any form of a hand. As such, if you don't have a pair or better by the river, your best bet is usually to fold.