Plentiful Treasure is a popular 5-Reel, 243 ways to win, online slot game from Real Time Gaming. The game features a fun Japanese treasure theme with multiple wilds and four progressive jackpot prizes. Learn more about the game and the prizes available.
Static Paytable Unless You Play Max Credits
Plentiful Treasure is a 5-Reel, All Ways Pay, online slot game from RTG. It has a Japanese theme with various symbols representing Japanese culture and wealth. Royals are the base symbols with other symbols including teapots, dragons, rings, and more.
This game features a bet multiplier that increases each time you activate a Golden Symbol. There are five symbols in total. The default game starts at 8 credits. Choose a second symbol and you'll play 18 credits. Three symbols cost you 38 credits. Four symbols cost 68 credits.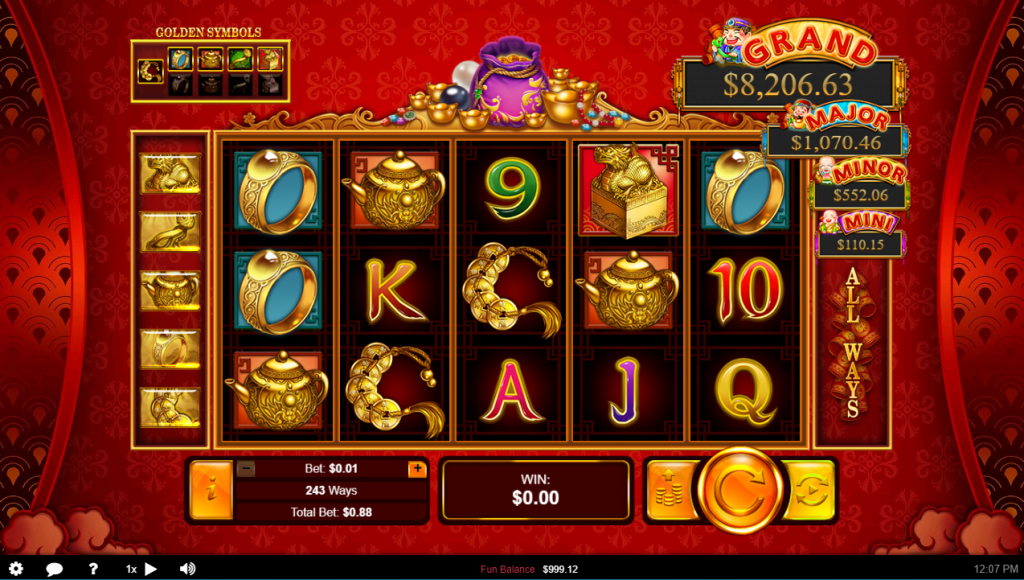 Play all five symbols and you will play 88 credits per spin. Depending on your chosen stakes, you'll play .88 to $8.80 per spin. When you play one to four Golden Symbols, payouts are determined by the default payout table. If you play all five, payouts are determined by the Golden Symbols payout table.
Unless you are playing a single Golden Symbol, most symbols will not turn a profit unless you catch five on a payline. Royals will never turn a profit once you play two or more Golden Symbols.
Unless you plan to chase the progressive jackpot, your best play with this game is to play a single Golden Symbol.
The Pearl symbol appears on Reel 3 and acts as a wild for everything except the scatter and jackpot wild. When it becomes part of a winning combination, it will pay a multiplier on that prize between 1x and 5x. The multiplier is determined by the number of Golden Symbols you're playing.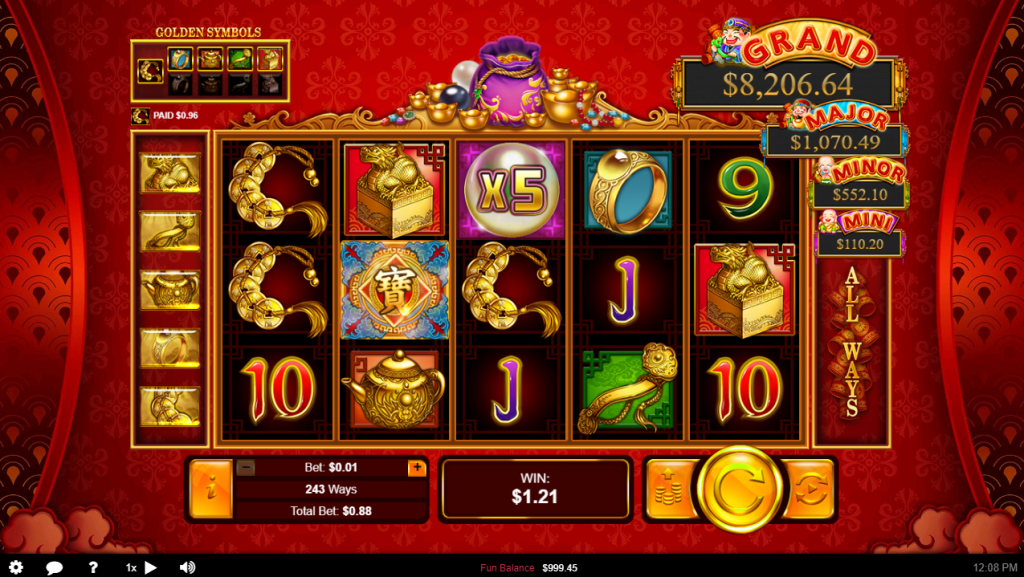 The Jackpot wild symbol appears on Reels 2, 3, and 4. It not only plays as a wild, but it can also trigger a jackpot. We will go over that in a moment.
Free Games Feature
The cauldron acts as the scatter for this game. When you land three scatters on a payline, you will trigger the Free Games Feature. You'll get 8 free spins and all of the Royals will be removed from the board. This gives you greater odds of hitting a big win.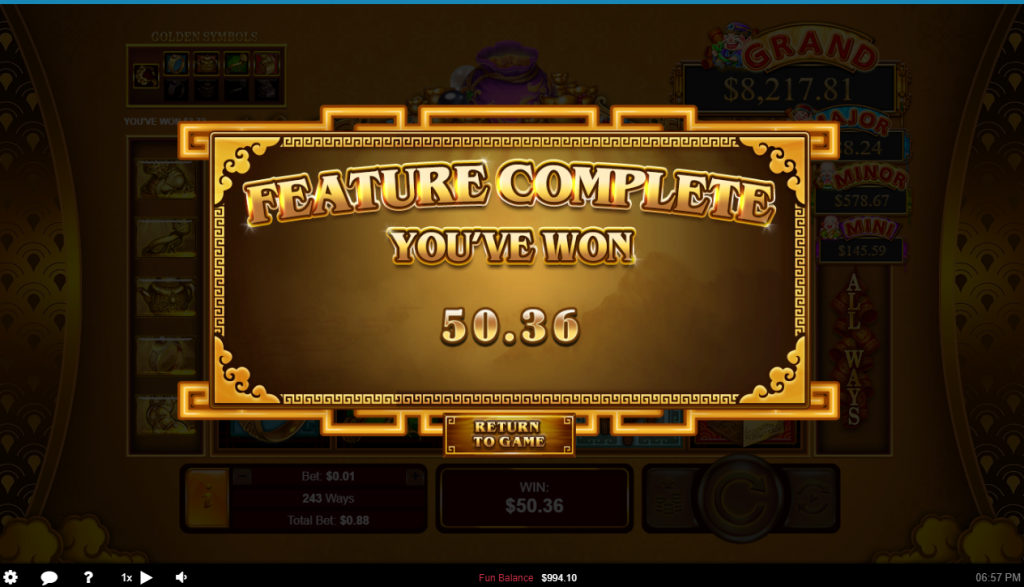 Note that three cauldrons must land on a payline in order to trigger. Also, the game is re-triggerable. It took a little while but we were able to finally trigger the game and scored a nice win. This was fortunate as this win saved our session.
Four Jackpots Available
This game has four progressive jackpots available. To qualify for a jackpot, you must have two or more Golden Symbols activated. Whenever a Jackpot Wild appears on your screen, there is a chance that a jackpot will be awarded.
You must play two or more Golden Symbols to qualify for jackpots. Play 2 and you qualify for the Mini jackpot. When playing three, you will also qualify for the Minor jackpot. Play four and you will also qualify for the Major jackpot. When you play all five Golden Symbols, you will qualify for the Grand jackpot and all other jackpots.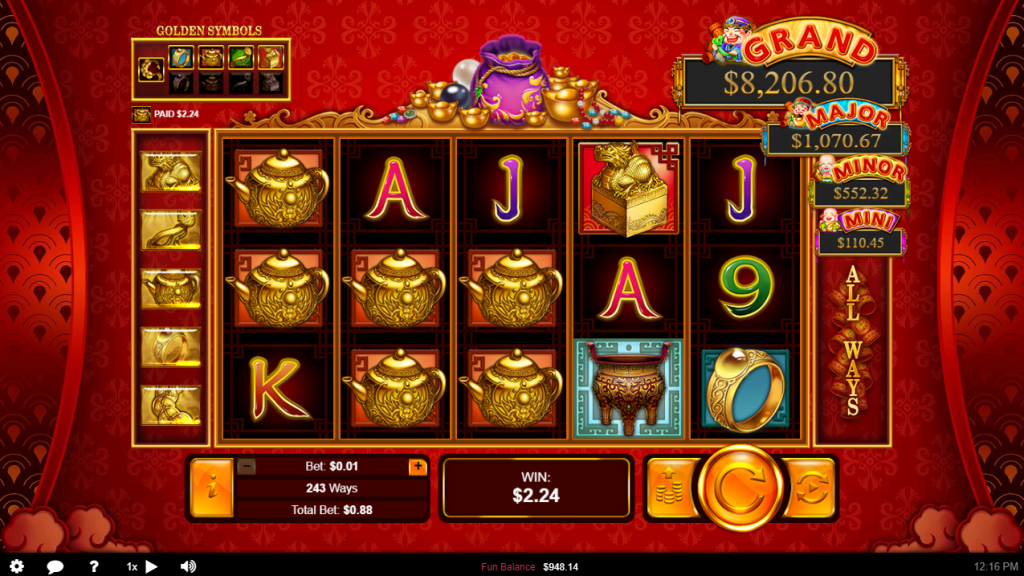 If more than one jackpot prize is available, the Gold Coin Feature will be activated. Twelve coins will appear on the screen. When you click on a coin, one of four Japanese gods will appear. Match three coins and you will win that jackpot.
The jackpot prizes on this game are on the smaller side, ranging from $100 to $10,000.
Plentiful Treasure Only Good for Jackpot Hunters
To be honest, the only thing we really enjoyed about this game was the sounds when you unlocked a win. Unfortunately, they were somewhat few and far between compared to other games. This is classified as a Medium variance slot game, but we found it to be more like a Medium-High variance.
This game is available at Slotto Cash and other US online casinos offering RTG games. If you're looking for a game to help you clear an online casino bonus, this isn't going to be a game for you. For those that like to chase progressive jackpots, this may be a good choice provided you don't mind chasing smaller jackpots.