Perfect Pairs Blackjack is a variant of blackjack that you will find at popular online casinos around the world. It is a standard game of blackjack with a unique side bet that pays you when you're dealt a pair.
The game is easy to learn and perfect for those that like to buck conventional strategy and play side bets. Today, you'll learn how to play Perfect Pairs Blackjack and the payouts available.
Perfect Pairs Blackjack Rules
Perfect Pairs Blackjack is your standard game of blackjack but with a fun side bet. The rules of the game are like most other forms of blackjack. The object is to make a hand as close to 21 as possible. Your hand is compared to the dealer's hand. If your hand is superior, you win. When the hands tie, you push. Otherwise, you lose your bets.
In this game, the dealer will stand on a soft 17. Blackjack pays 3 to 2. Insurance is available and pays 2 to 1. The minimum bet is generally .10 with a max bet of $500. For the side bet, the minimum bet is .10 with a max of $250.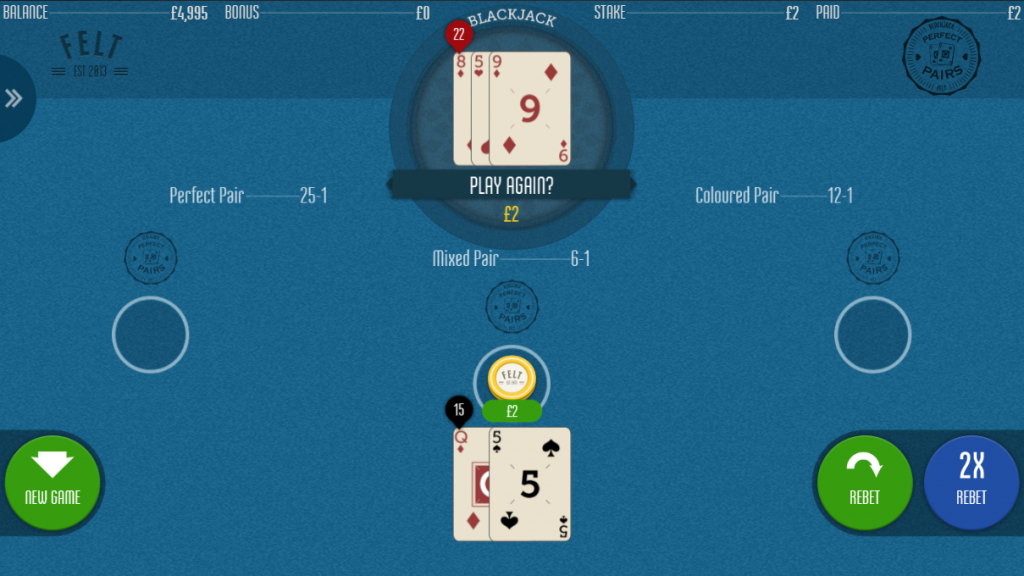 You likely already know how to play a hand of blackjack, so instead, we will go over some of the rules of this variant. First, you can split on any pair or any 10 point card value. Also, you can double down after any split. You can only double down on 9 through 11 only.
You can only split once during a hand. Also, you are allowed to hit split aces. Finally, any 21 hit after splitting is just considered 21 and not a blackjack.
Next, let's talk about the rules of the perfect pairs side bet. To play the side bet, you must put up at least .10 before receiving cards. If you are dealt a pair, then you win the bet. Otherwise, the bet is a loser.

The side bet is only applicable to the primary deal. For example, if you get dealt K-J, split and catch a pair of kings, you will not win the side bet.
Perfect Pairs Side Bet Payouts
The perfect pairs side bet is fairly lucrative, paying out a minimum of 6 to 1 whenever you hit a pair. Below is a quick rundown of the perfect pairs side bet payouts:
Perfect Pair (Both cards same suit) – 25 to 1
Colored Pair (Both black or red) – 12 to 1
Mixed Pair – 6 to 1
If you are dealt the queen of spades and queen of clubs, this is considered colored pair, and pays out 6 to 1. The perfect pair must be the same suit, such as two aces of spades. Remember, this only applies to the first two cards you receive. If you catch a pair after splitting, you will not receive a side bet payout.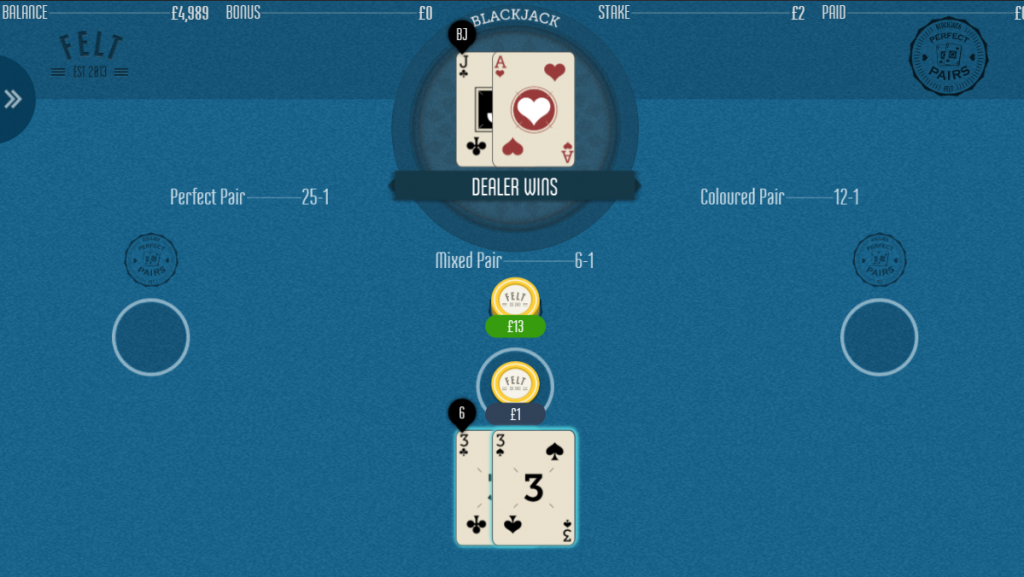 Note that the perfect pair side bet pays out regardless of what the dealer holds. For example, during our testing we received two black threes but the dealer was dealt blackjack. We lost the main bet but received 12 to 1 on our $1 side bet.
Play Perfect Pairs Blackjack at the Best Online Casinos
Perfect Pairs Blackjack is a fun variant of blackjack you can find at US online casinos such as Ignition Casino, Sloto Cash, and Casino Max. With a side bet that can pay up to 25 to 1, it is enjoyed by those that like to take a little extra risk.
The base game is easy to pick up and the side bet can provide a much-needed boost to your bankroll. If you're ready to add a little something extra to your blackjack game, this is a game worth checking out.